My Favorite Porridge
One of my go-to breakfast options is A vegan and gluten-free Healthy Porridge that is perfect To start your day during the colder months of the year. Filling and with a ton of Nutrients.

Healthy Superfood Porridge
Prep Time

10 mins

Total time

10 mins
  Vegan, Gluten-Free
Author: Vicky Heiler
Recipe type: Breakfast
Serves: 1
It is hard to think back to a time where a large latte to-go was "breakfast" for me. I can't even imagine starting my day with nothing but caffeine and cow's milk anymore. Not that I don't consume any dairy (dear cheese, I love you), but I have completely stopped drinking cow's milk and made having a well-balanced, filling breakfast a priority over the past year or so. Starting the day with a full stomach doesn't only help with the concentration at the office, it also gets your metabolism going. Once you start skipping the regular milk and opting for nut milks instead, it is surprising how quickly most meals actually pass as vegan. I am not vegan and probably never will be, but I am well-aware of the impact the meat and animal industry has on our environment. Which is why I try to be a lot more conscious with what I eat and how often I consume animal products. Aside from eggs once or twice per week, to me breakfast is such an easy meal to opt for vegan options.
The more the temperatures drop, the more I find myself craving something warm in the morning. That's why a healthy porridge recipe is my go-to choice when it comes to breakfast. It is not only super quick in preparation, but you can also vary the toppings on a daily basis to change things up a bit. It keeps me full until lunch time and provides me with a lot of natural energy. Even though I do not have an official intolerance to gluten, I do try to keep my gluten consumption to a minimum, which is why I always buy gluten-free oats and porridge.
---
Ingredients
---
Healthy Porridge: Vegan & Gluten-Free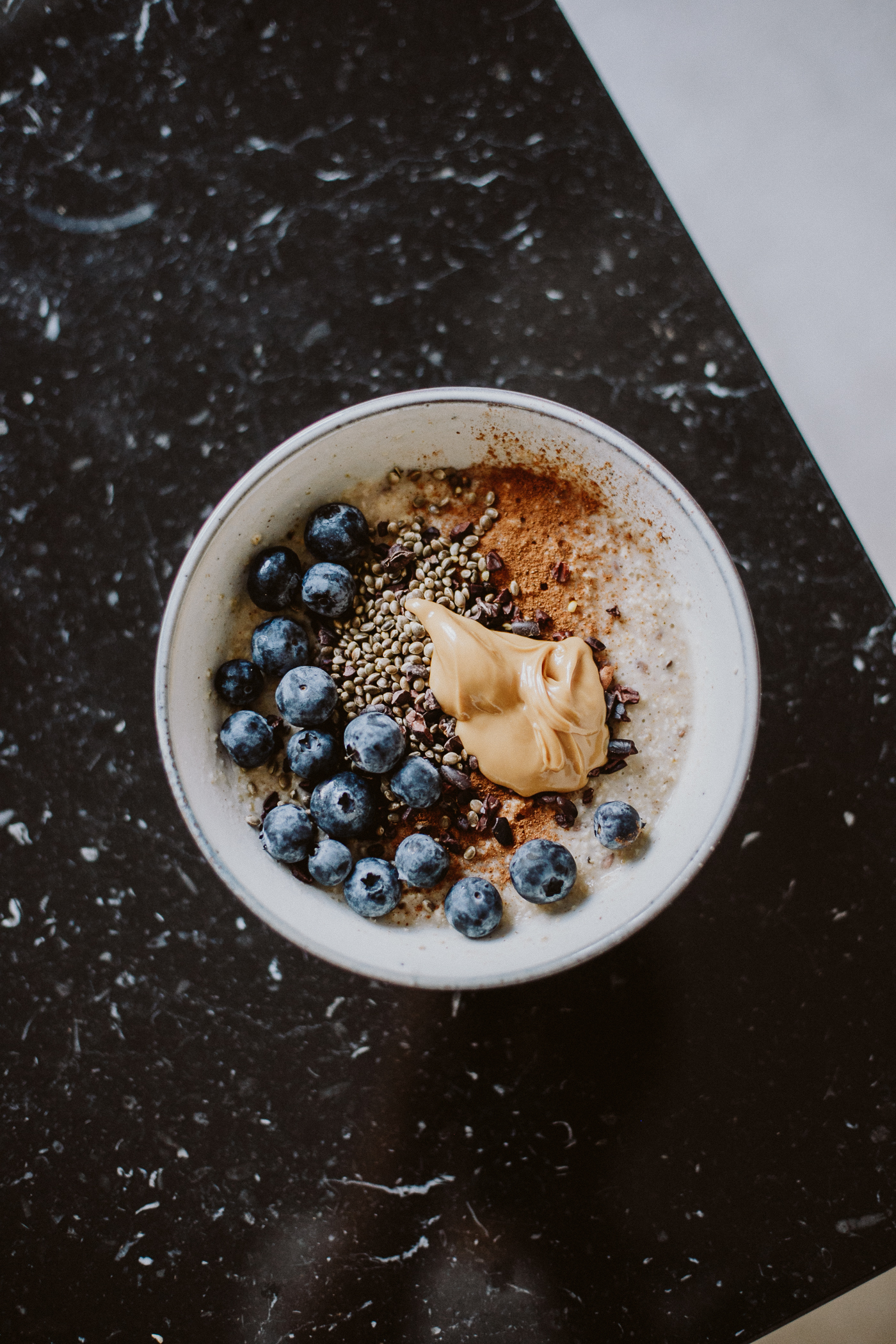 50 gr gluten-free porridge or oats (I use the "Hafer Basis Brei" by Hammer Mühle)
150-200 ml water
pinch of ground cinnamon
1 tsp raw cacao nibs
1 tsp hemp seeds
1 tbsp nut butter (peanut or almond)
50 gr fruit of choice
Eat diamonds (or porridge) for breakfast and shine all day!
Instructions
---
Bring 150 to 200 ml of water to a boil in a small pot.
Prepare 50 gr of gluten-free porridge in a breakfast bowl.
Add the hot water, stirring frequently. Let porridge soak for 3-5 minutes. Stir in more water if you prefer a smoother consistency.
Toppings: ground cinnamon, 1 tsp cacao nibs, 1 tsp hemp seeds, 1 tbsp peanut or almond butter + 50 gr fruit. I usually prefer berries (fresh or frozen), figs when available and banana is also amazing with the nut butter.
Looking for more healthy options to start your day? Be sure to give my sweet potato breakfast recipe a try. Especially during this time of the year a warm breakfast is such a great way to start the day!
---