Changing Corners
Let me tell you one thing: Nesting is an actual thing when you are expecting a child. All of a sudden I am finding myself purchasing items to help organize the kitchen drawers (who knew you could color-coordinate tea bags?)… and it just happens to be the perfect excuse to organize and re-decorate every last corner of the apartment. Aside from the fact that we are busy furnishing a nursery at the moment, I have also found some time to upgrade other areas of the apartment. Nothing major, just a few changing corners here and there that end up making all the difference.
One of my favorite way to upgrade an area is by adding side tables and decorative objects. It is an easy, non-permanent change that can totally pull together the rest of the room without costing a fortune. Together with Leiner.at, I have taken on the challenge of styling a beautiful side table duo in three different ways: for luxe living, practical in the (home) office and bedside beautiful.
Depending on what room you are looking to elevate with a side table here or there, these are some pointers to keep in mind:
for the living room: look for accessories that are timeless, yet come with a certain luxe factor. Since the side tables are made of marble tops and metal caging, I love the idea of glass for candles and vases. Decorative items are a must for the living room, but don't go overboard. My rule of thumb (also for the coffee table) is 1 vase, 2 to 3 candles + 1 or 2 coffee table books.
for the home office: form follows function when it comes to a workspace environment. Meaning: things should always have a purpose. A desk should be clean and organized, which is why a smaller side table is the perfect place to store inspirational magazines or working utensils that you may want to keep within reach but away from the desk. Another personal must for me are snacks. Instead of decorative vases, I like to opt for pretty bowls or platters for the office to keep a few fresh berries, nuts or a croissant to go with my morning coffee on hand.
by the bed: bedside tables are a given and always come with a purpose. Not only is it a wonderful place to put down a book, keep your favorite lotion on hand or charge your phone over night, but I feel like the nightstands also function as a frame for the bed itself. Not many people enter our bedroom, but creating a beautiful and cozy sleeping environment is key to a good night of sleep. While having one table on each side of the bed is the classic way to go, the duo from Leiner is extra special when placed together. And for those with a bed that is not free-standing but rather tucked in the corner of the room, the perfect place to create extra space. While our lamps are fixed to the wall, the double (bed)side table allows for separate surfaces that hold both your lamp and books + accessories!
For more side table inspiration and all the decorative objects to go along with it, be sure to check out this curated page with Leiner.at.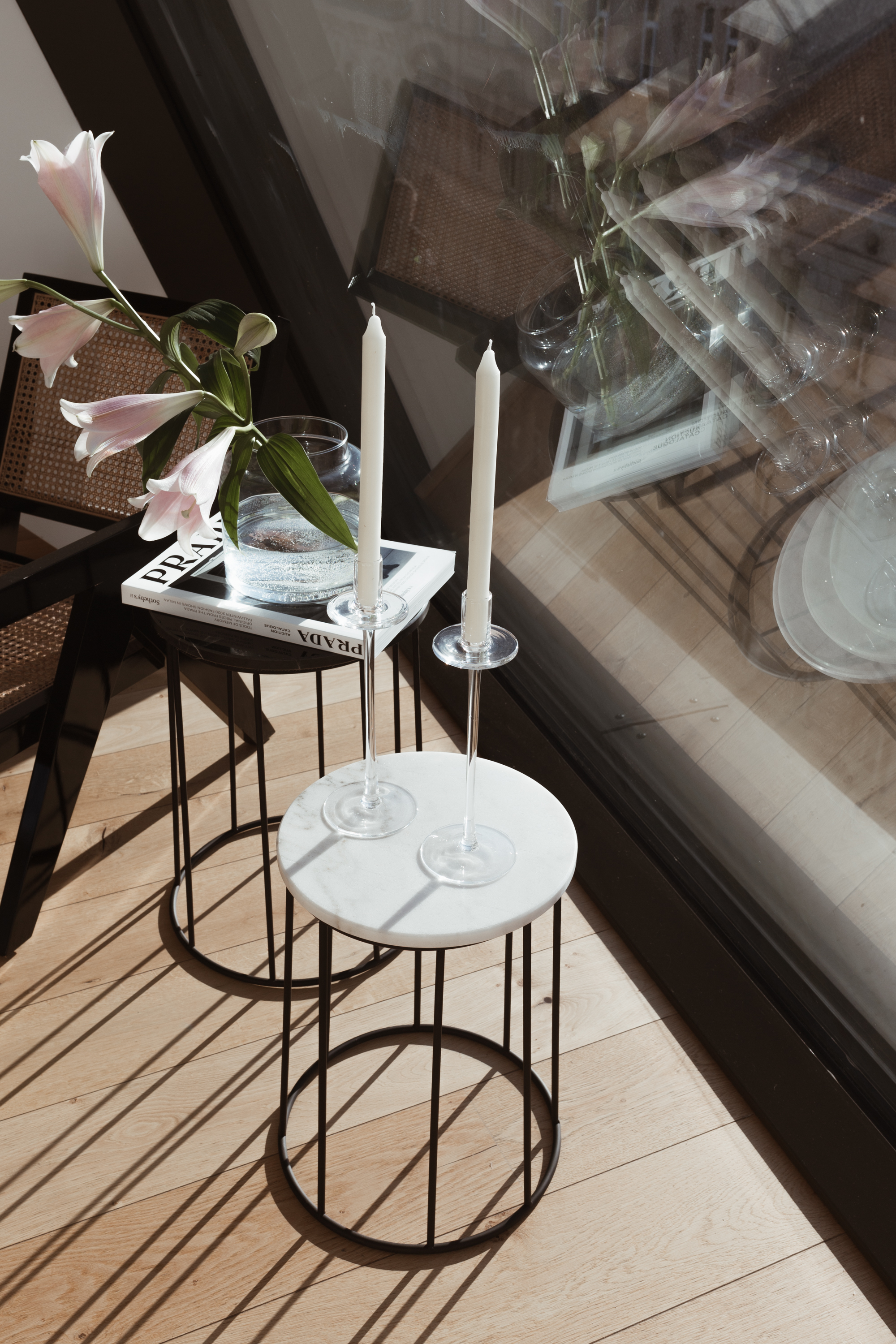 in paid collaboration with Leiner.at