The Chedi Lustica Bay
Visiting a newly opened hotel always has pros and contras. A few advantages and a whole bunch of possible risks. While it is exciting to be amongst the first to explore a new destination, rest your head on a fluffy fresh pillow and dip your feet in the pool before thousands that will follow, you can also end up serving as their personal human guinea pig. Hence, I was a bit on the fence of visiting The Chedi in Lustica Bay, Montenegro just 2 months after it opened its doors in July and only 3 weeks after the official grand opening at the end of August. Spoiler alert: no guinea pigs spotted in the region of Lustica Bay! Read all about our 3-day weekend in Montenegro + the most recent Orascom development in today's The Chedi Lustica Bay Hotel Review.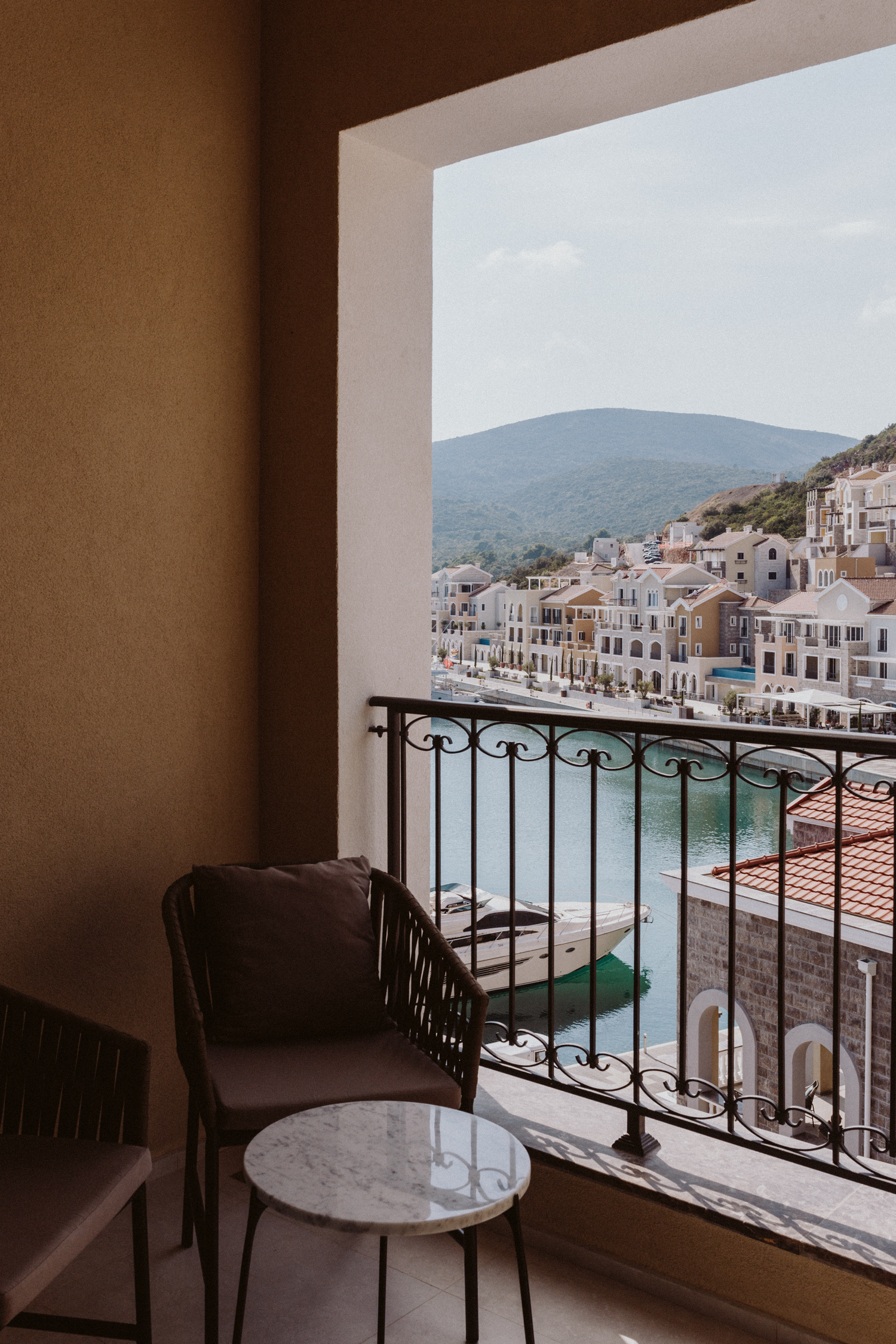 The Chedi Lustica Bay Hotel Review
Before you visit The Chedi in Lustica Bay, it is worth knowing, that unlike other free-standing hotels or resorts, it is part of a bigger development project. The entire bay is new. And the hotel is located in the heart of it, with many of its amenities (such as the beach or gym) shared with other property owners of Lustica Bay.
What I liked:
the rooms: we were booked in a grand deluxe room (no. 4005) and the room was surprisingly spacious, lots of closet space, 2 toilets, a full kitchenette and balcony that came with a stunning view over the pool and marina. It also included a beautiful walk-in shower, free-standing tub, bath products by Aqua di Parma, a built in TV (upon request they even provided us with an HDMI-cable to connect our laptop aka Netflix to the screen) and a fully stocked mini bar. Definitely a 5-star room!!
the food: we had lunch at the hotel's restaurant "The Spot" twice and loved both meals. My favorite was the cold beet soup and grilled octopus, but every single thing we ordered was delicious. We also loved our lattes by the pool (ask for iced coffee with almond milk – so good!), drinks by the bar and the daily breakfast buffet which included plenty of healthy options like made-to-order egg dishes, fresh carrot juice, porridge and extra berries upon request.
the beach: Montenegro is not known for sandy beaches, which I personally don't mind as it comes as no surprise and in combination with crystal clear water. The beach in Lustica Bay is shared by residents and hotel guests, located a 2-minute walk from The Chedi. While I would wish for slightly more fancy sunbeds, there was always a lot of space and availability, small tables for your belongings and an umbrella for every set of sunbeds.
the marina: since The Chedi in Lustica Bay is part of a whole new development, it is embedded in the new marina. This means that you do still have some construction going on (again, no surprise with such a new destination on the map) but it also means that you have other restaurants, small boutiques and a supermarket on site. A lot of the stores are still in development and the marina still feels very "new" but we loved having a grocery store (open daily until 10pm) just 2 minutes from the hotel to stock up on snacks.
the staff: Sometimes, when you visit a newly opened hotel, it feels like the staff hasn't really gotten into the groove of things yet and still needs a bit more routine. At The Chedi Lustica Bay, we were greeted by super friendly and very competent staff throughout the entire stay. Aside from the pool service, which could be a bit more motivated and pro-active, we would have never guessed that everyone was so new there! Especially Nikolai at the front desk was a big help, spoke fluent German and was always by our side the second we needed anything, be it taxis or information on local excusions.
the spa: Last but definitely not least, I want to touch on the spa, which was pure bliss and everything we had hoped for our anniversary getaway! We have a few friends who have been to The Chedi in Muscat, Oman and can't stop raving about the spa experience there. Upon our arrival, we immediately booked treatments (classic 60 min thai massage) for the following day. At 75€ for a 60-minute treatment at a fancy hotel spa, I found the price to be more than fair. The massages were so good, that we booked a second round for our last day. Again, the massage was great! Even though I managed not to work out all weekend, I stopped by the gym and was more than impressed! Unusually large for a hotel with a really good mix of machines and equipment. Even though Montenegro offers a lot of beautiful scenery to be explored, be sure to schedule in some downtime at the hotel for the spa and fitness!
What I didn't like:
the pool: I haven't been to The Chedi in Muscat, but it is at the very top of my bucket list – embedded in my brain with an epic photo of the luxurious pool. To me personally, the pool at The Chedi Lustica Bay didn't really feel appropriate for the high standard of the rest of the hotel. It is surprisingly small, the chairs are lined up in a way that doesn't feel very exclusive and it is looked upon by the surrounding rooms. Also, the service never offered a menu or drinks, both times that we laid out we had to ask if we could order something after a good 20-30 minutes.
the "fries": Call me ridiculous, but when I order parmesan truffle fries, I don't want huge wedges sprinkled with chunks of parmesan and truffle. Mike and I were so excited when we spotted truffle fries on the menu that the disappointment was written on our faces when the waitress presented us with an unloving plate of potato wedges. As always, I like to point out that this is complaining on a very high level, but at the end of the day, these are the things that stick with me and are worth sharing.
Worth mentioning:
the wasps: When I book a trip, I get very into the research and start reading up on endless hotel reviews. I saw some guests mention the wasps as being very annoying while eating outside. To me personally, this is NOT a valid argument for negative feedback. We had wasps in Vienna all Summer. They showed up the second we started eating outside. The same was the case in Lustica Bay. However, that didn't stop us (and most other guests) from enjoying our breakfast outside with a beautiful view over the marina!
the construction: Another critique that I came across a few times was the fact that construction is still going on in Lustica Bay. Obviously!! The whole development just opened this summer and will take some time to complete. However, the hotel is entirely finished, as is the beach and most other public areas in the marina. Again, not a valid argument in my opinion.
*disclaimer: the room was provided to us, all other expenses (food, massages, tours) were paid for by us.