Broccoli & Sweet Potato Tofu Bowl
Long time no recipe, ey? (This was the last one I shared…) The main reason for the lack of food-related posts is that I have barely spent any time in my own kitchen since the beginning of the year. January is not even over and I have already been to Hamburg, home in the mountains, Berlin and Paris. The little time we did spend at home, Mike was kind enough to spoil me rotten with the best homemade bolognese I have ever had.
For me personally, the more time I spend eating at fancy restaurants and sleeping in hotels, the more I start to crave the things that you might consider "chores". In other words: cooking. That's why I decided to add a home-office-day to my agenda this week. No make-up, a homemade lunch and pilates at 4:30pm. Best idea ever!

Broccoli & Sweet Potato Tofu Bowl
Prep Time

20 mins

Total time

25 mins
  Vegan, Gluten-Free
Author: Vicky Heiler
Recipe type: Bowls
Serves: 1
With a severe tofu craving, I decided to throw together a few favorites of mine (mostly things that I had in the fridge) for a delicious and super satisfying broccoli & sweet potato tofu bowl. I don't have many rules when it comes to my diet, but I do try to include healthy protein with every meal. However, protein doesn't only come in the form of meat, fish or dairy – some of my favorite vegan protein options are lentils, chickpeas and smoked tofu. All of which are the perfect ingredient to build and easy lunch bowl around.
(Don't miss my post about 5 steps to creating the perfect lunch bowl.)
Said and done, I quickly threw a sweet potato into the oven, defrosted some broccoli (something I always keep in the freezer) and diced up a pack of smoked tofu before tossing it into a pan with a bit of coconut oil.
---
Ingredients
---
Broccoli & Sweet Potato Tofu Bowl
150-200 gr smoked tofu
1 small sweet potato (ca. 200 gr)
150 gr broccoli
1 tsp coconut oil
1 tsp olive oil
1 tsp lemon juice
cayenne pepper
salt + pepper
Instructions
---
Wash the sweet potato, cut off ends and slice into wedges.
Place the sweet potato wedges on baking sheet, drizzle with olive oil and season with salt + pepper. Bake at 180°C for 15-20 minutes.
Bring 100ml of water with a bit of salt to a simmer in a pot. Add the broccoli (frozen or fresh) and steam-cook for about 5 minutes. The fresh kind takes a bit longer, the frozen simply needs to defrost.
Pre-heat a pan with the coconut oil. Dice the tofu and grill in pan until golden brown on all sides. Add the cooked broccoli for the last couple of seconds and toss together.
Serve in a bowl with the oven-roasted sweet potato wedges, seasons with a squeeze of fresh lemon juice, a pinch of cayenne pepper and some fresh parsley or cilantro.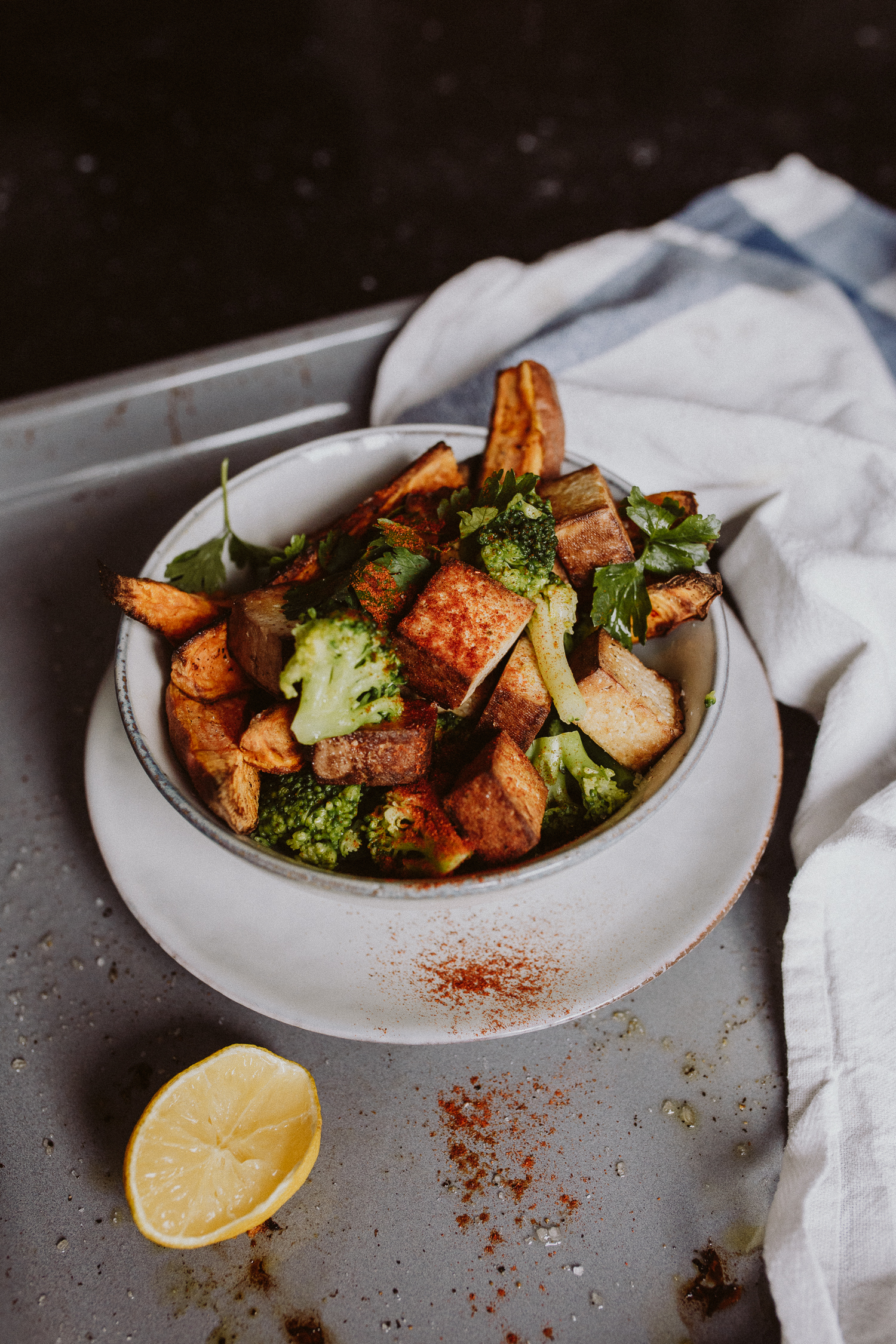 Looking for more food & drinks? Be sure to check out these posts.

---