healthy strawberry ice cream recipe
This Summer, I made it my mission to make good use of my ice cream maker. After whipping up some coconut coffee ice cream for The Daily Dose, I wanted to create something more fruity for round two. So when I spotted a batch of organic strawberries at the grocery store over the weekend, I knew that strawberry ice cream it was. A healthy version of course, because those are the perks of homemade things – you get to decide what goes in it. Turns out that 4 ingredients is all takes for a scoop of pink heaven aka healthy strawberry ice cream!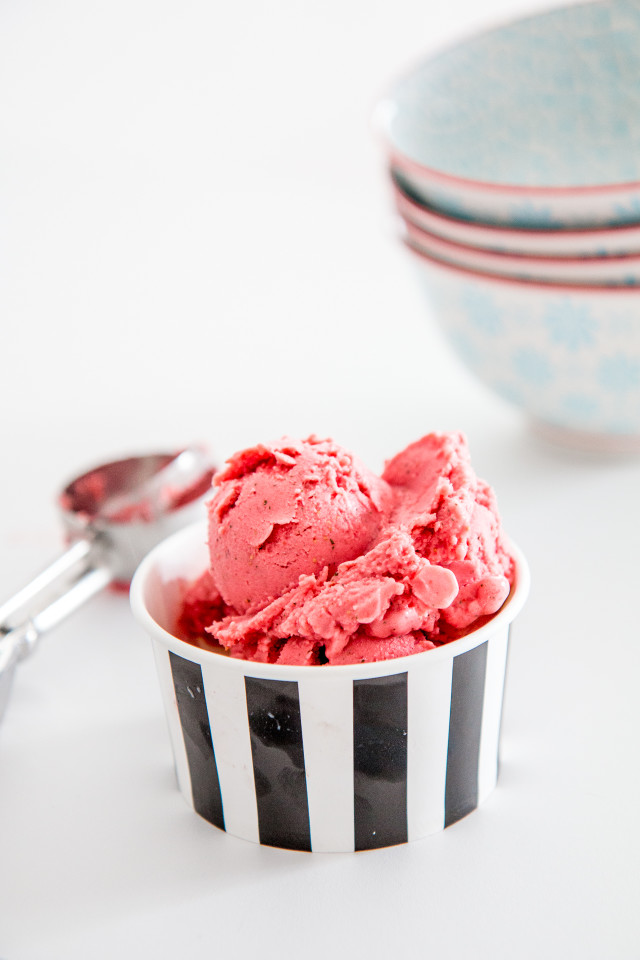 What you'll need:
– 400 gr. fresh strawberries / 128 kcal
– 125 gr. greek yogurt / 152 kcal
– 1/2 lime / 10 kcal
– 4 tbsp (= 50 gr.) agave sirup / 155 kcal
– fresh mint (optional)
First things first: Your strawberry ice cream won't turn out good if the fruit isn't good. Be sure that your strawberries are ripe, full of flavor and organic, if possible. Next, don't be tempted to opt for the "light" greek yogurt. Don't get me wrong, I am all for the less fatty version when it comes to my daily breakfast, but we're talking ice cream here! In order to get that creamy consistency, you need a certain amount of fat – after all, most ice cream recipes call for heavy cream and about 8 egg yolks. I used the Danone greek yogurt. The healthy strawberry ice cream recipe yields about 3 servings of 2 large scoops each, which adds up to just under 150 kcal per serving.
Wash and cut your strawberries, then mix well in a blender. Add juice of 1/2 lime, agave sirup, greek yogurt and fresh mint (optional) –  blend again. If desired, you can also add some chopped strawberries for bits in your ice cream. Freeze according to ice cream maker. Enjoy!