Tulum Travel Guide [Eat, Sleep, See]
I can't believe it has already been 6 weeks since we got back from our magical trip to Mexico. And by magical, I really mean it! Nine days, filled with nothing but sunshine, friendly faces, incredible food and new experiences. Everything from our choice of the hotels to the weather, restaurants and activities we opted for was perfect. No complaints what so ever. Which is big, since the last visit to Mexico in January of 2014 was the exact opposite. I am a positive person, but the trip five years ago was pure disappointment on so many levels. However, after everyone else seems to be enchanted by the Mexican magic of the Yucatan Peninsula, we decided to give it a second chance. And boy, am I glad we did. Which is why I have round up all of our experiences, a huge load of photos and my personal favorite Tulum tips in today's Tulum Travel Guide, including the best places to eat, sleep and see.

All You Need To Know About Tulum:
First and foremost, Tulum City and Tulum Beach are two completely different things. I received a few messages from readers during our stay, saying if I was honestly loving Tulum and that they could not relate. Turns out, they had stayed in the city. A totally different story to the beach… Most of the hotels are located along a single beach road in Tulum Beach. Tulum City resembles more of a rustic scenery. Hotel prices are much cheaper but it is a good 5km from the beach. Also, there are hardly any public beaches in Tulum, which means it is hard to find beach access when you are not staying at one of the resorts along the ocean. There is only one road to get from the city to the beach and traffic can be bad.
Bikes are your best bet in terms of transportation. Most of the hotels offer them to their guests for free, if not, you will find plenty of bike rentals in Tulum – both the city and beach.
Prices for sunscreen & co. are more expensive in the small stores along the beach road. We road our bikes into town one day and bought sunscreen at the big Super Aki for a fraction of the price that we paid for refills along the beach later on during the week.
The best time to travel to Tulum is from November until March, but it is a place that can be visited all year. While it gets super busy (and loud) over the holidays and NYE, we found the end of February and beginning of March to be the perfect time. Unfortunately this is also part of high season, which reflects on the hotel prices.
Even though Mexico in general is not one of the safest places to travel to, Tulum (and most of the Yucatan Peninsula) is an exception. Tourism is one of the main sources of income, hence everyone is keen on making it a safe place for tourists. Not once during the nine days (7 in Tulum Beach, 2 in Coba further inland) did we feel unsafe. We rode bikes on the open roads, walked to places and took public cabs, even for distances of over 100km.
For the airport transfer, I would highly suggest booking a transfer through the hotel or a secure website ahead of time. There is a flatrate of 130$ from Cancun Airport to Tulum and the driver will be waiting for you. Lots of people come up to you, offer you rides and cheap fares. Stick with the pre-booked option to ensure to get to your desired final destination safely.
There is lot of talk about "the algae problem". As you may spot on some of the photos, there is a certain amount of algae that washes up on the beach. Daily. The hotels try their best to clean the beaches (not sure if that is a good or bad thing) but even with the algae around, Tulum is one of the most beautiful places we have ever been to. Definitely not a reason to stay away, if you ask me!
Lastly, cash is king. Many places are fine with credit cards, however, even some of the best-known restaurants (such as Arca or Hardwood) are cash only. However, they will usually take US Dollars as well as Mexican Pesos. There are lots of ATMs along the beach road and in town.
Best Hotels in Tulum:
There are countless stunning properties located along the sandy beaches of Tulum. After a lot of research, we decided on a mix of two different experiences. First, we spent 3 nights at Habitas, a glamping concept, and then moved on to the well-known Be Tulum, sister-property of Nomade and voted as one of the best boutique hotel in the world. Not to compliment myself, but the choice (especially combination of the two) could not have been better.
Habitas Tulum: Set in the natural beauty of the area, there are 40 rooms (read: tents) nestled between palm trees and along the ocean. Both the toilets and showers are outside, there are no closets (no TV, obviously) and no room service. However, the tents are as luxurious as any tent could ever be, equipped with super soft beds, hardwood floors, air conditioning and raised up slightly from the ground to prevent bugs from crawling everywhere. We booked the ocean room, positioned right on the Caribbean with a private outdoor terrace overlooking the beach and turquoise sea. We arrived while it was still dark outside, so the view as I opened my eyes on that first morning left me absolutely breathless. Good to know: the ocean is loud. Mike loved falling asleep to the crashing waves, I had to sleep with ear plugs. Also, we got really lucky with the weather, which made the experience amazing – I am not sure how much fun a tent and outdoor bathroom are when it pours outside…
Also worth mentioning is the fact, that Habitas follows a tribe spirit. This means they are all about expanding your horizon, learning new things and exchanging thoughts and ideas. The hotel offers a lot of free experiences and we took full advantage, including a Mezcal tasting (with crickets to snack on), Kundalini Yoga and a workshop on conscious breathing as trauma release.
The food is to die for – as is the service. All the servers always had a smile on their faces and were happy to chat, help and answer our questions about Tulum while we ate our way through the entire menu, from breakfast to dinner and every single dish was amazing (and so fresh)! We went to the spa twice for treatments, which were – to no surprise – also amazing. My personal conclusion: Habitas Tulum is an incredible and super unique hotel experience, as long as the weather is as amazing as it was during our 3-night stay.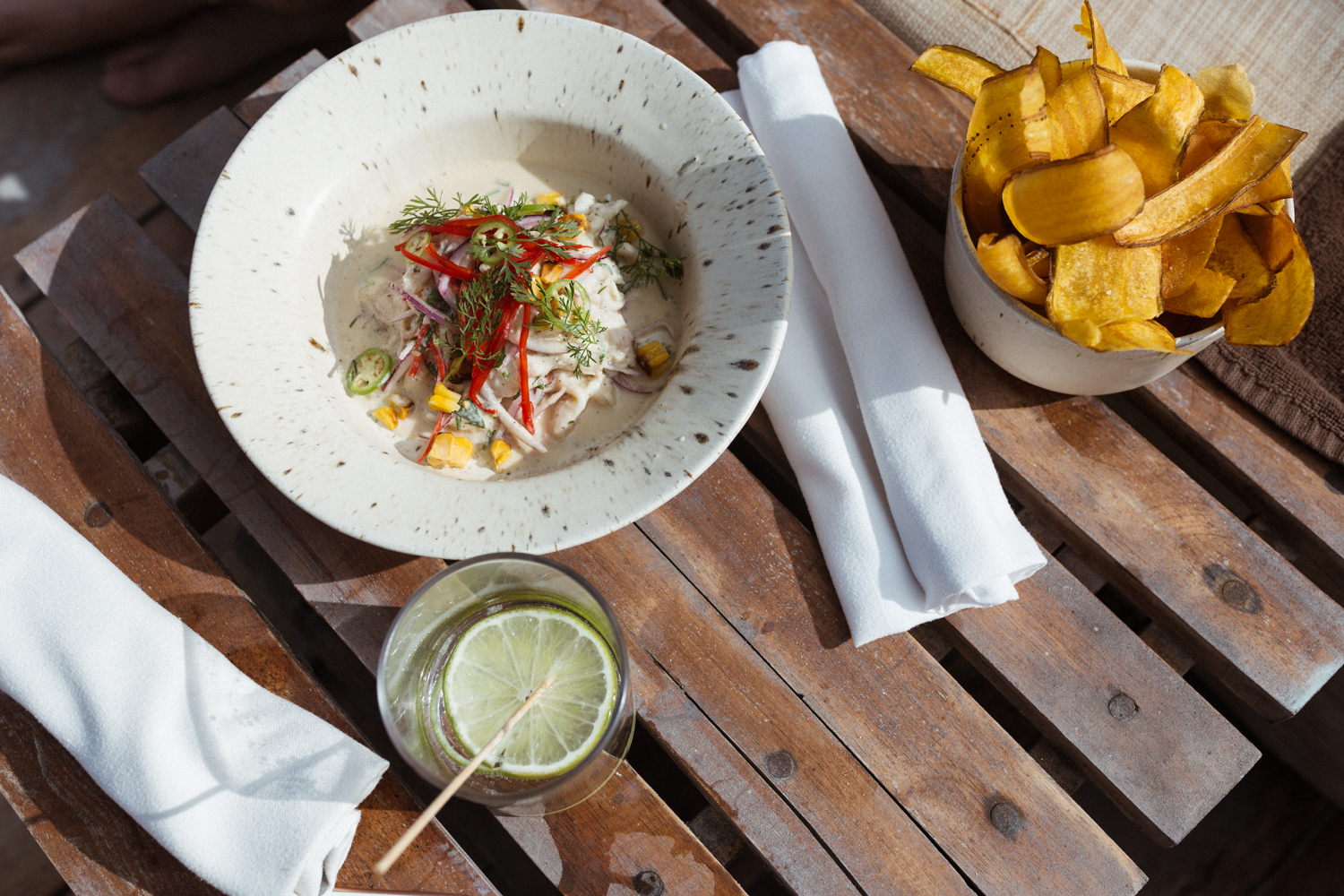 Be Tulum: After a lot of sand between the sheets, crashing waves as a constant background sound and a more rustic (but just as magical) time at Habitas, checking in to a "real" hotel was a welcome change. Even though I would not trade the 3 nights at Habitas for the world, we knew from the beginning that a full week would be too much. Be Tulum was everything we had imagined. The rooms are kept in mystical dark hues that go so well with the magic of Tulum and the infinite views over the jungle. The materials used are of highest quality and the staff was beyond friendly. We started out in a jungle suite for the first nights and then moved to an aqua suite. Both on the second floor. Our rate included a la carte breakfast, which consisted of a huge fruit platter, fresh smoothies, coffee, tea and items from the menu like huevos rancheros or granola and yoghurt. It would have also included fresh pastries and jam, but it was way too much for us to finish.
Generally speaking, Be Tulum has a different vibe than Habitas that reminded me a bit of a laid-back beach club in Ibiza. People stop by for lunch and hang out, drink and tan all day. There are DJs and it is a bit busier. However, the best beach beds are always reserved for hotel guests and while it was busy, it was never too crowded. Located a good 6km bike ride from Habitas, Be Tulum is in an area where most of the foodie hot spots are.

Best Restaurants in Tulum
Breakfast & Lunch
Dinner
Things To Do In Tulum:
In all honesty, Tulum is a beautiful place to simply enjoy the sunshine, ocean and to unwind. However, there are a few things that you can put on your list of things to do in Tulum.
visit the Mayan ruins: At the very beginning of Tulum Beach (around where Habitas is located), you can find the famous Mayan ruins. As it is one of the major tourist attractions in the city, be sure to go as early as possible to avoid huge crowds.
swim in Cenotes: Again, also very popular with tourists, so make sure to get the timing right. From our experience, I can promise you that late afternoons are not the best time. We visited two different cenotes, but were super crowded with a line to even jump in the water. I am guessing early mornings are a better bet.
ride bike: On most days, all we did was ride our bikes along the beach, stop in cute shops along the way (without shopping since prices were insane) and had an acai bowl or iced coffee along the way. Cruising along the beach road after breakfast or in the afternoons was one of my favorite activities of the trip.
stop by the IK Lab art gallery: The famous Azulik hotel (built like a nest in the tree tops) is hard to get in to if you are not a hotel guest. Honestly, we were not down for the ridiculous prices and rude service (at least from the few employees we met at the entrance). Instead, we wandered through IK Lab, the hotels own art gallery. Free of charge, it is a cool place and great to get an idea what the architecture of the hotel is like.
try something new: Tulum is known for its magical energy. We always try to immerse ourselves in the local culture a bit, hence we took part in an ancient cacao ceremony and Temazcal. I tried Kandulini yoga and we tasted the local Mezcal while learning about the tradition. Both, the Habitas Tulum as well as Be Tulum or Nomade Hotel are great to book these kinds of things.
Stay tuned for more Mexico and my Coba Travel Guide next week…