Soho Beach House
Ever since our first stay at the Soho House Berlin, I've fallen head over heels for it. It is a strange feeling of "coming home" to a place that is not actually home. I am pretty convinced it is the interior that sparked my love for the hotel, or possibly the most perfect poached eggs on avocado toast I have ever had. Whatever it is, I love it. That's why some of the other Soho Houses have been on my "must check-in one day" list for a while now with the Soho Beach House in Miami at the very top of said list. For our 10-year anniversary I was able to convince Mike to go there with me and without giving away too much, at the end of the week we both agreed that our choice of hotel could not have been more perfect. The food, the style, the location, the drinks, the daily yoga or bootcamp classes … I loved every minute of our stay and hope to be back sooner than later. So here it goes, my hotel review of the Soho Beach House Miami.
Editor's Note: although the Soho chain is based on a members club system, anyone can book a room at the hotels and during your stay you are free to use all of the facilities and can appreciate the same benefits as members (except certain discounts, ie. 20% off breakfast or spa treatments on certain days).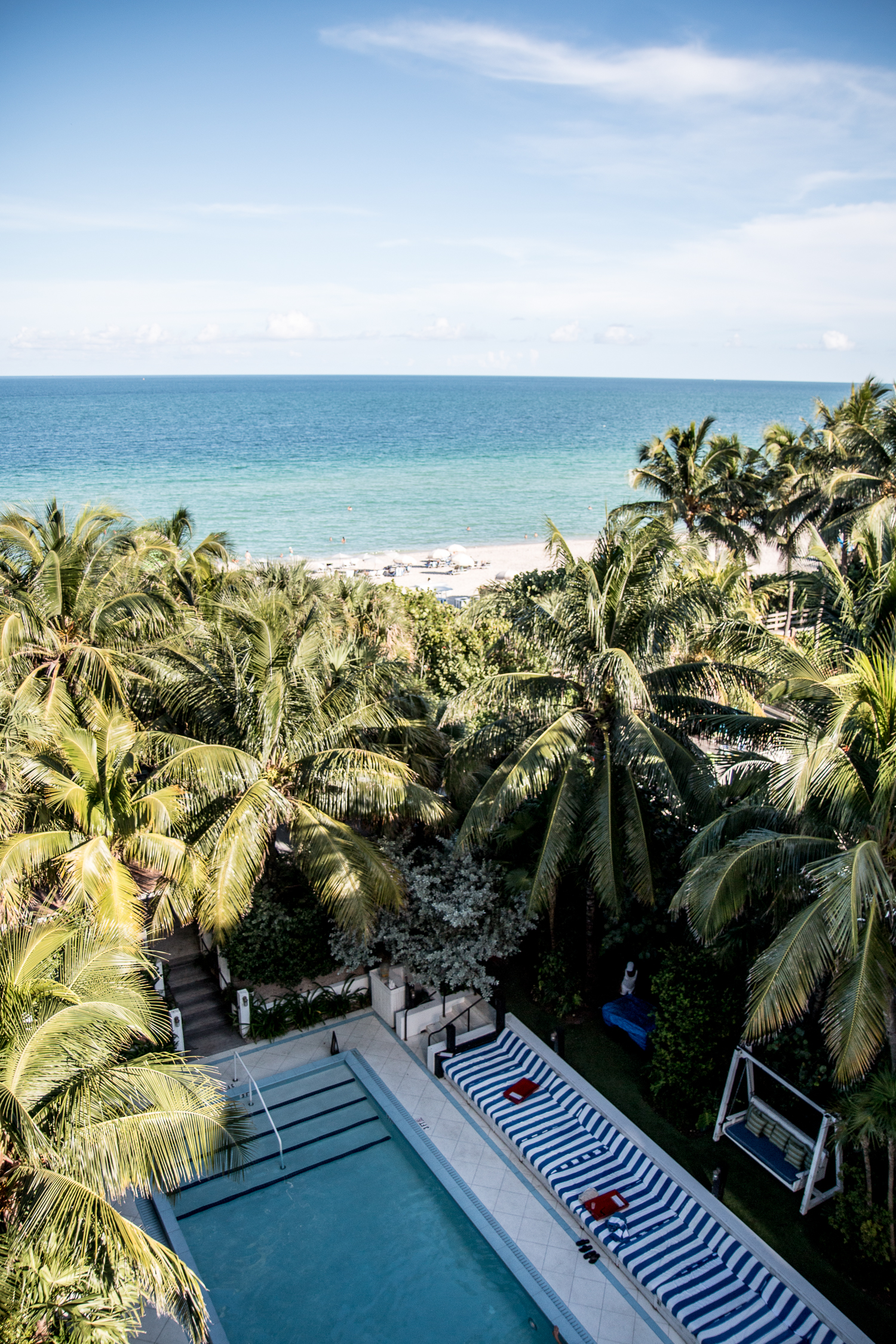 What I liked about the hotel
Being the interior junkie that I am, it is always one of the things that gets me the most when checking into hotels. Needless to say Soho House and I are having a major love affair in terms of interior design. Patterned wallpaper, a mirrored mini-bar and free-standing bathtub, a huge ottoman in the bathroom, pink velvet chairs in the girls changing room, blue & white striped beach chairs and umbrellas with tassels, … the list is endless. Soho House is known for their typical "cozy" style, but I feel like the managed to create a perfect balance of that English coziness paired with a slightly beachy twist to go along with the location in Mid-Beach Miami.
For me personally, vacation is the time I am usually most active in terms of working out and fitness. That's why a place like the Soho Beach House with free (!!) daily classes like bootcamp by the beach, all kinds of yoga or pilates and a really good gym makes me happy. I was most impressed by their array of yoga classes, as both 75-minute classes I took were the best I have ever been a part of! I was sore for a good 2 days after each class but feel like I learned and improved so much. A real treat!
The food!! I can't get over how good every single thing we ate was. We tried our way through all of the restaurants, bars, room service and pool options and weren't disappointed once! Even though I have to admit that with the current exchange rate the prices are a bit hefty. You can calculate about 80$ for 2 people per meal … 18% tip are added automatically (which, coming from Europe, is super weird to get used to).
Even if you aren't staying at the Soho Beach House, be sure to stop by their "feast" (=brunch) on the weekend. It is 50$ per person (40$ if you are a Soho House member) and by far the best best best brunch we have ever been to. Oysters, deviled eggs, turkey roast, mac 'n cheese, bowls of fresh berries and yogurt, an ice cream station, truffled cream cheese, the biggest dessert table I have ever seen … it will literally leave you speechless!
The hotel is not located in South Beach but rather Mid-Beach around 44th street, which we loved. I am not too much of a fan of the buys and loud Ocean Drive, plus the hotel's beach is so beautiful with the finest sand. They also serve food and drinks down there.
It's the little things that make a difference. The mini bar is probably the best-stocked you'll ever seen and I love the fact that they have a coffee machine + unlimited tabs to use, water boiler, english breakfast tea and fresh daily cookies included. The perfect treat before breakfast.
One of the reasons we love the Soho House is because the crowd is always cool and there is always stuff going on. DJs on the weekend, pool parties, movie screenings with popcorn, moonlight yoga, networking events … you literally don't even need to leave the hotel all weekend to have a good time.
If you can, book a room with ocean view. It is seriously so stunning and the sunrises were some of the prettiest I have ever seen. Thanks to the jetlag I was up before 7am every morning and enjoyed our room with a view so much! (Room rates vary depending on season, for us bay view was 250$ per night and ocean view started at 500$ per night)
Last, but not least, I love the amenities in the hotel room. Aside from the usual stuff, they have their line of Cowshed products available for use (meaning: 10 different shampoos, conditioners, scrubs & shower gels) plus a ghd blowdryer and straightener. You guys know how picky I am about that – so big thumbs up for such a good hair dryer that made it possible to style my hair despite 32°C and 94% humidity!
What I didn't like
Considering our car (BMW 4 series convertible) cost 43$ per day to rent, I think the 40$ they charge for valet parking are simply insane. I am the first to spend lots of money on amazing hotels, but those 40$ per day (!!) hurt so much! Especially since the valet managed to return the car to us with a huuuuge scratch on the entire left side + both rims ruined and then pretended like it wasn't them. Luckily we had full coverage on the insurance, but for 40$ per day I would expect the best valet service in the world rather than damages on the car.
The housekeeping could be improved a bit. We didn't get the turn-down service once and things like cotton pads weren't restocked after the second day. I know they have a ton of rooms to attend to, but in Berlin the housekeeping was always spot on, so I am used to a different standard.
This is not something that we didn't like, but do keep in mind that due to the many restaurants and bars + live DJs and great music, it is not the quietest place. We didn't mind this at all, even though our room was right above the members' club, but if you are older or traveling with kids (for which I generally wouldn't recommend the Soho Beach House), it may get a bit louder at times.
At the end of the day, we decided to just pretend like the 40$ for valet parking were part of the room rate and I had my own cotton pads with me anyways, so our stay was still perfect and we had the most amazing time! I'd come back in a heartbeat and can only recommend the hotel.
Hotel Review Soho Beach House Miami