Four Seasons Koh Samui
A hotel that calls itself a Four Seasons resort, when in reality there is just one season to describe it: p a r a d i s e! After a few exciting days in Bangkok, our next stop was Koh Samui for some down time under palm trees and by the ocean. The stunning Four Seasons Hotel Koh Samui in the North-East of the island by Laem Yai Bay, is a tropical paradise like you usually only see in movies. For me personally, I was like the perfect mix of the Maldives and Maui. The resort felt private and luxurious while still offering the perks of a larger island. With an array of stunning beaches, coconut groves and waterfalls, Koh Samui is Thailand's third largest island and the Four Seasons resort is perched on a hillside that offers all of the above. We had a morning yoga session in a small hut tucked between the tree tops, enjoyed the spa in the tropical forest, breakfast with a view and caught some sun down by the sandy beach and privat pool of our villa. It was basically a honeymoon, just with my best friend, so get ready for the Four Seasons Koh Samui hotel review today!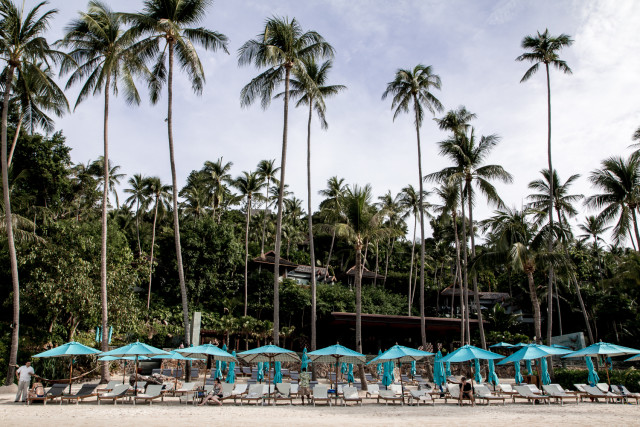 After just a quick 55-minute flight from Bangkok, our stay started in the most luxurious way possible with a privat transfer from Samui Airport (btw, the cutest airport – all outdoors – I have ever seen) to the hotel. With coconut caramel treats, cold towels and water we would have probably been just as happy to spend the next two days in the car, but of course there was so much more in store for us. The check-in at the top of the hill of the resort was simply stunning and it just kept getting better…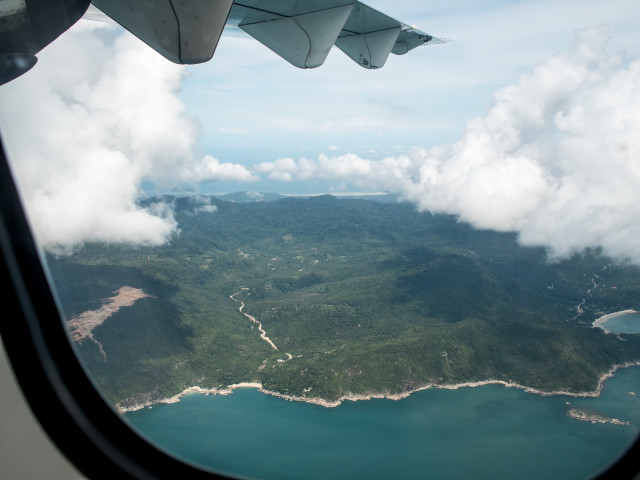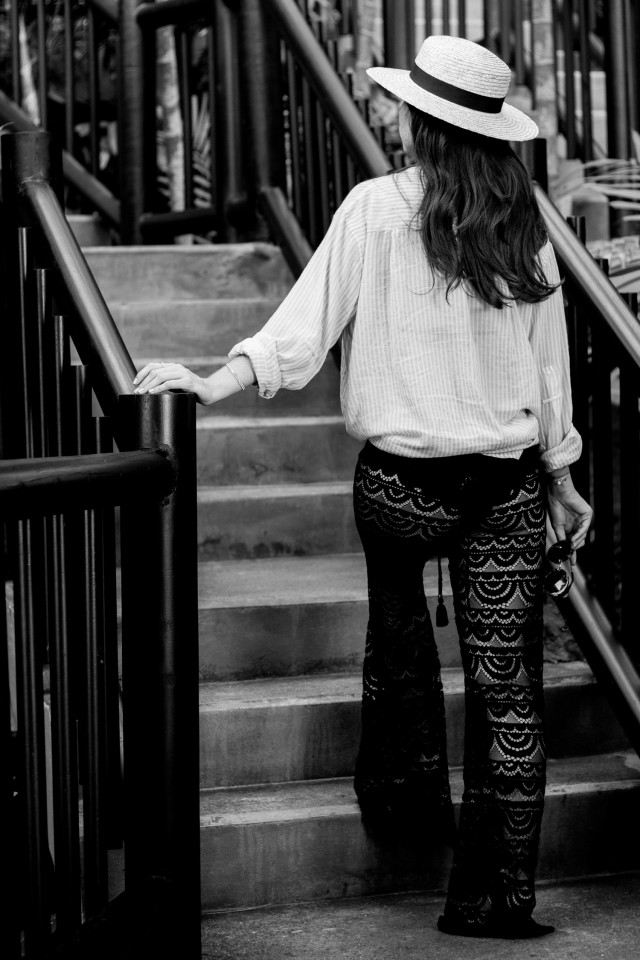 What I liked about the hotel
The resort is an all-villas resort (70 villas & residences) with each their own pool. The bliss of a morning dip before breakfast literally can't be topped and I was pleasantly surprised by how large the private pools were.
I am a sucker for a good interior and the aqua-inspired decor could not have been more spot on. Lots of light, natural stone, blue accents and the most comfortable bed made the villa feel like home in a second!
Even though we were treated to many incredible meals in Bangkok, I feel like it was more European food than traditional Thai. Luckily, the Four Seasons Koh Samui has the KOH Thai Kitchen & Bar with a menu inspired by Southern Thai food. On a breezy hilltop amid a plantation of coconut palms, KOH offers stunning views of the lush island and blue ocean (also where we had the daily breakfast). Authentic Thai classics like spicy prawn soup, slow-cooked beef curry, and green papaya salad made our lunch at KOH my favorite meal of the entire trip.
Fresh coconuts everywhere! They are included for free with breakfast and we developed a sneaky habit of ordering two coconuts at breakfast to bring back to our villa and sip by the pool. My favorite part of the day!
As mentioned above, we took a morning yoga class (offered for free to guests) and it was one of the most impressive classes I have ever taken. The yogi was so talented and created a class that really focused on the basics and building a great foundation. I was so inspired by the class that I started a 30-day yoga challenge right after the trip!
As expected from a Four Seasons property, the spa was absolutely blissful. We had their signature 90-minute Siam Fusion treatment which was a mix of a traditional Thai massage with an herbal stamping method. So good and I would highly recommend splurging on this if you ever happen to be in Koh Samui.
Hair dryer = bomb dot com! Kathi had her amazing ghd dryer with her, but the hotel's hair dryer was literally just as good, so I only ended up using that. Major thumbs up, even though you probably won't need to style your hair while on the island! Just like you won't really need shoes other than flip flops (even for dinner) or fancy clothes. Gotta love the island life!
Even with 92% of the rooms booked, the hotel felt so serene and calm, which definitely contributed to the honeymoon-feeling!
Last but not least, I wanted to touch on the prices quickly. Even though the nightly rates are definitely on a 5-star level, I was positively surprised by the pricing on site in terms of food, beverages and spa. One night we ordered room service and literally binged on 3 main courses and 2 servings of mango sticky rice for dessert for a total of 60 Euro. Considering the usually high prices at 5-star hotels, I appreciated the more realistic approach at this resort! I am sure the geographic setting in Thailand has to do with this (a meal on the street = 3€), but it was still very refreshing to dine on such a high level for a fair price!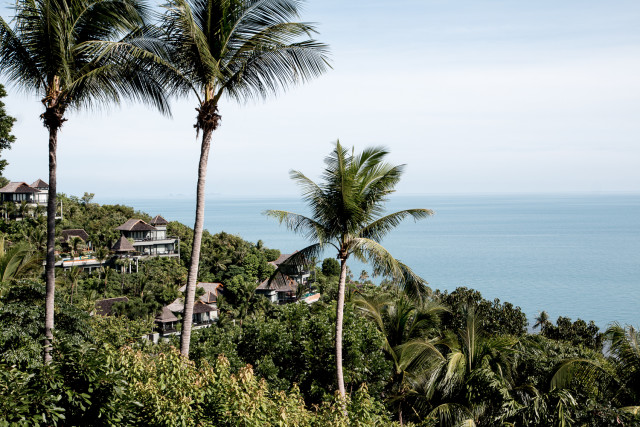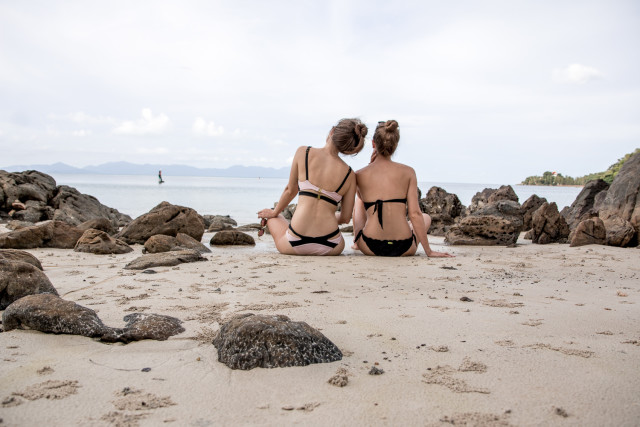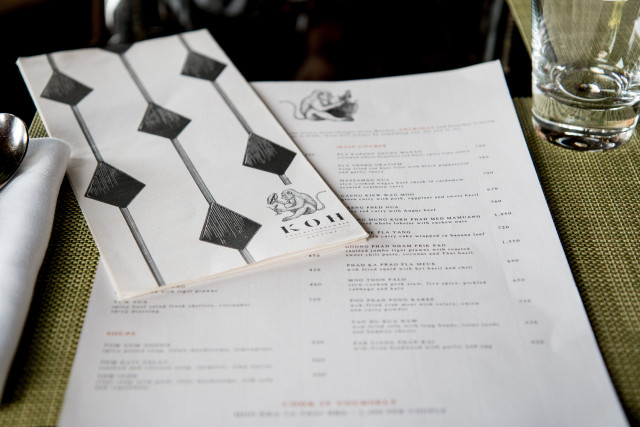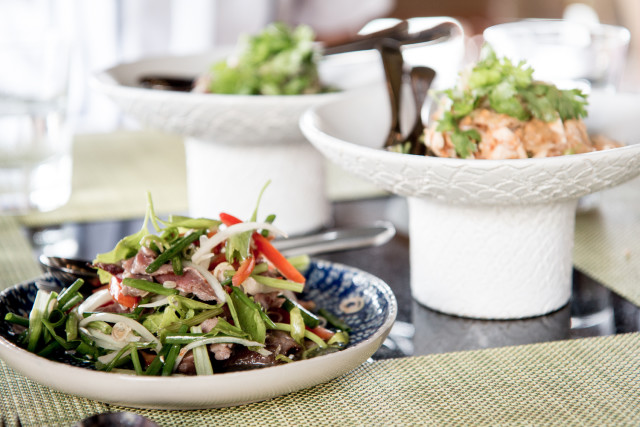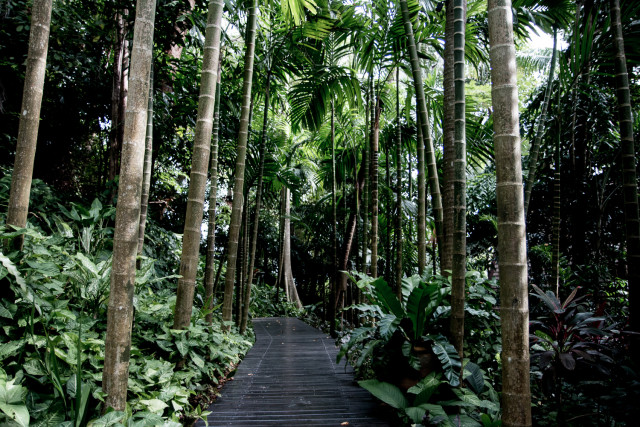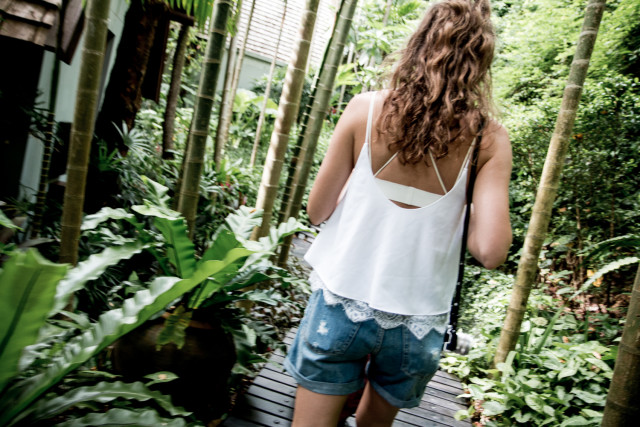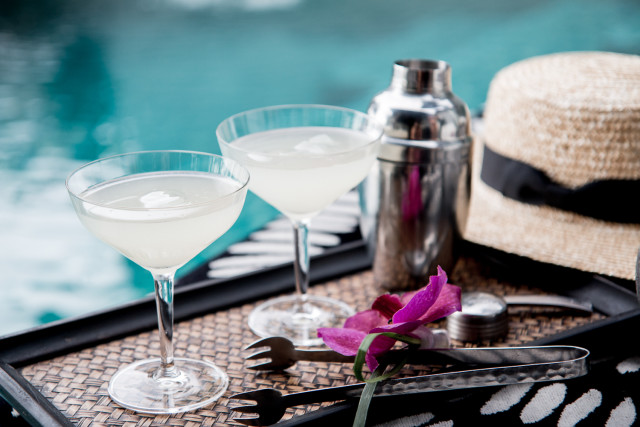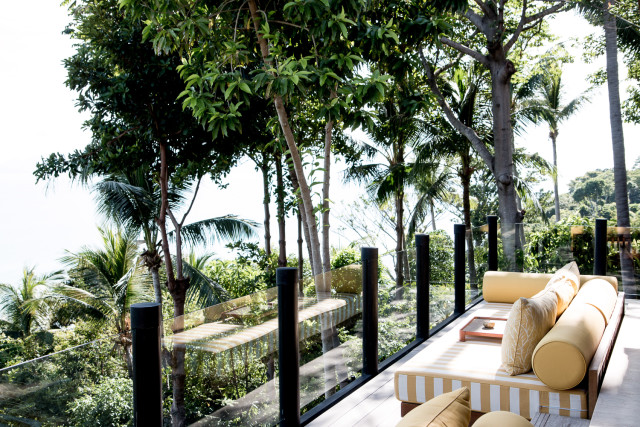 What I didn't like
It has been 3 weeks since the trip and I still can't think of a single thing I didn't like. The only thing I would keep in mind is that due to the fact that the villas are spread out all over the hill, the distances can be quite long. There are golf cars and drivers available for transport, which you simply call for, but a walk down to the beach from our villa would have probably taken us a good 15-20 minutes. To me personally, this is not a negative aspect since I loved our morning walk to breakfast, but I know some people don't like being tied to calling for transport or may not be able to walk due to health reasons. So this is just a f.y.i.
Four Seasons Koh Samui hotel review
*a huge thanks to the Four Seasons for the amazing stay!