Peekaboo
There are bags, and then there are bags. The Fendi Peekaboo definitely belongs to the latter. As much as I have loved (and still love) every single bag I purchased over the years, I have recently found my craving for timeless staples to increase while my appreciation for louder pieces that catch the eye immediately has been decreasing. Muted colors, designs that have been around for years and will (most likely) be around for years to come, and most importantly: bags that are practicable and can fit more than my iPhone 8 plus.

"the peekaboo is simple, complex and timeless."
– Silvia Venturini Fendi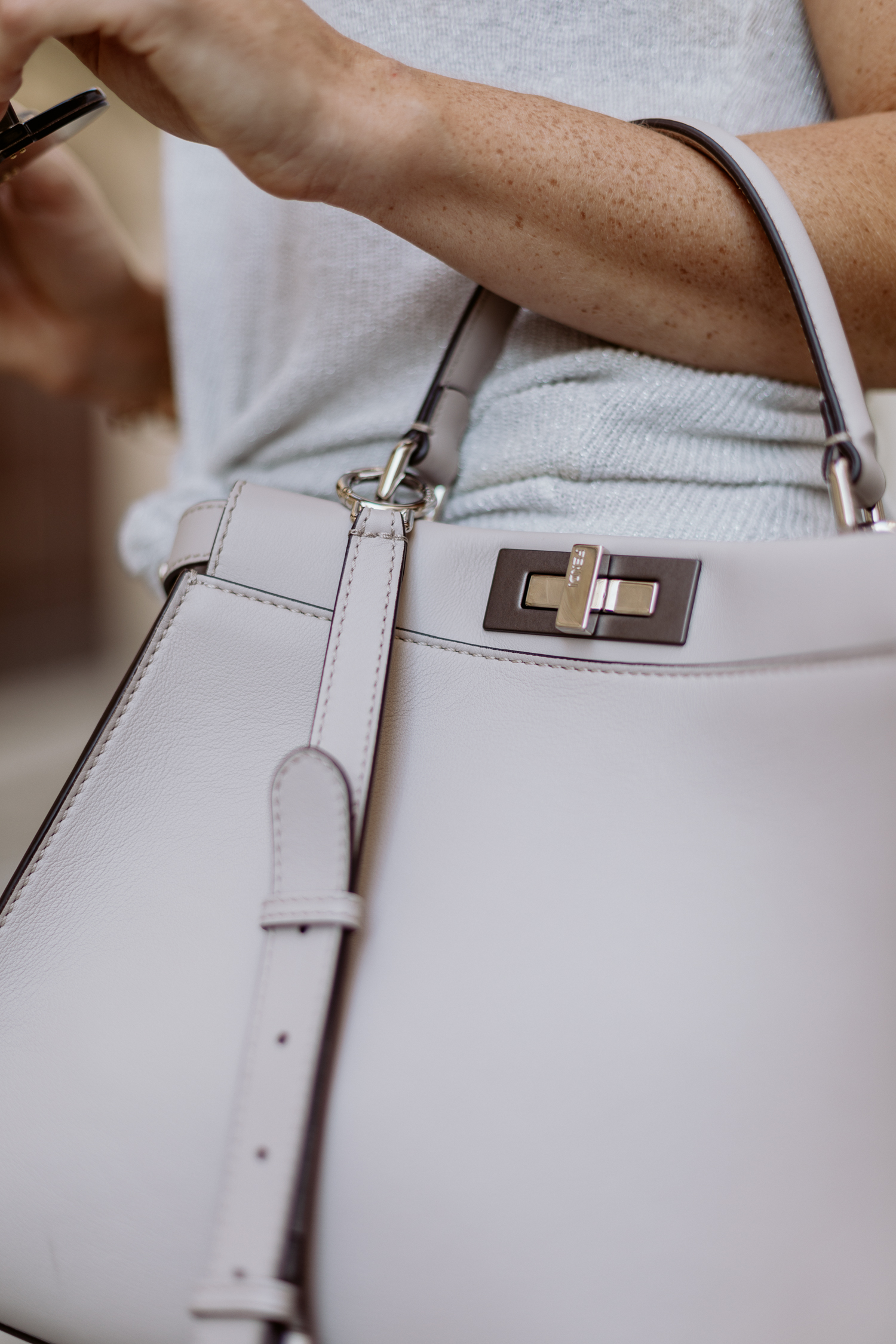 During said transition, I decided to part ways with a few of my designer bags. I don't think it is ever easy selling something that you spent a lot of money on at a previous point in time. Even though I own numerous expensive designer pieces (not tons, but more than enough), it doesn't mean that each and every purchase is not well thought out and special to me. It requires saving up and appreciation to spend a month's rent on a bag. And when you see that appreciation fade, it is time to say goodbye and make room for something new.
Said and done, I sold a Valentino bag, my red suede Saint Laurent bag and a Stella McCartney Falabella. The Falabella was not an easy decision because it was amongst the first designer bags I ever bought and one I originally thought I would have forever. But at the end of the day, it rarely left the back of my closet and I knew there was a bag more special waiting for me.
Fendi Peekaboo Regular: Powder Grey
It is hard to believe that the Fendi Peekaboo bag has only been around for 10 years (released in 2008), because to me it feels like such a classic. Remember when it was on my wishlist a few months back? Well, now it is mine and I have a feeling it won't leave my arm any time soon. During the summer months, I plan to wear it with hues of white and blue – like today's outfit – and come Winter, the deep red lining will come in handy to work with heavy knits and darker colors.
Long story short: Welcome home, Peekaboo!
outfit details: Mango top, Le Petite Trou bra, Zimmerman palazzo pants (similar), Fendi Peekaboo bag, Superga sneakers, Jimmy Choo sunglasses (on sale!)