Vancouver Travel Guide
Somewhere between Downtown and Coal Harbour…
My love story with Vancouver started back in 2008. Almost 2 years after Mike and I started dating, we booked our first trip to British Columbia to visit his family in Vancouver. It was May and we stayed for 3 weeks, 1 of which was spent abroad a cruise ship in Alaska. We drove up to Whistler, crossed the border to Seattle, stopped by Victoria Island and ate way too much cheesecake all throughout. Since then, I have been back 4 times (Mike even more than that), and with every visit I fall more and more for the Canadian Westcoast. Vancouver has everything, if you ask me. It has a downtown, the ocean, the mountains, great food and 4 seasons.
It happens before you know it: Suddenly, you're smitten with Vancouver — its endless coastline, glassy downtown, the extravagant nature that surrounds and permeates it.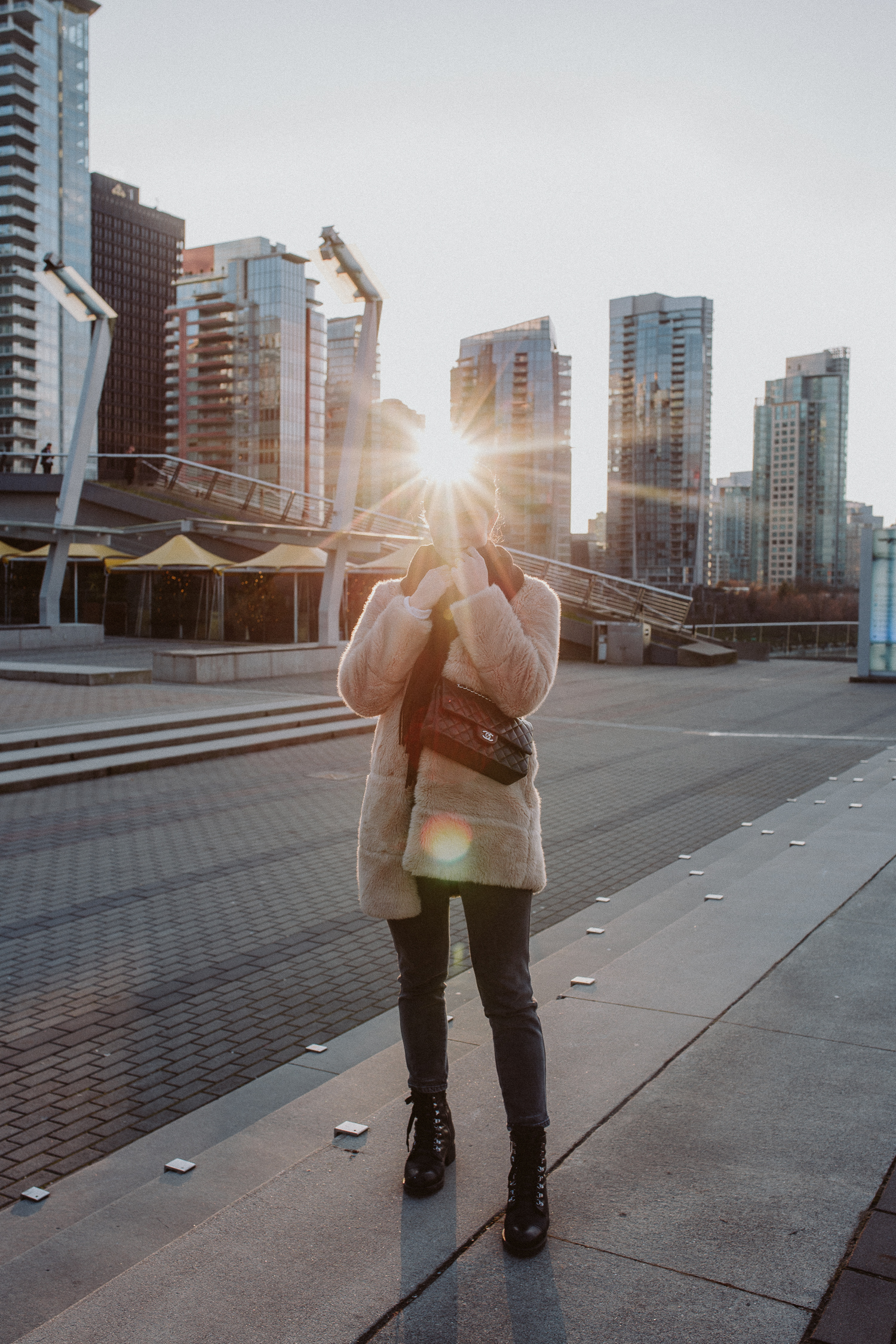 Even though the most recent visit was only a super short 3-day stay from Saturday until Tuesday, we got incredibly lucky with the weather (sunshine all day, every day) and made the most of our time by staying at the Fairmont Pacific Rim situated on the water, close to the downtown financial district and Coal Harbour. In between lots of quality time with the family, we managed to squeeze in a few amazing foodie spots that we didn't know before and some time to explore the city.
My Vancouver Travel Guide
where to stay:
Fairmont: Last time, we stayed at the Fairmont Waterfront, which was stunning for NYE with floor-to-ceiling windows and a great view over the water, this time we opted for the neighboring Fairmont Pacific Rim, which is the younger, slightly more modern sister. The location is more or less the same (aka perfect!), the water bus to North Vancouver takes off literally just steps from the hotel, the skyrail from the airport also arrives right then and there and most of the restaurants were in walking distance.
The Rosewood: We have never stayed at The Georgia, but Mike's cousine used to work there and it has been highly recommended to us from multiple sources. First opened in 1927, the legendary Hotel Georgia quickly established itself as the city's most fashionable retreat and one of the best hotels in Vancouver. After an extensive renovation in 2011, it was unveiled as Rosewood Hotel Georgia.
where to eat:
what to see:
Ride Bikes in Stanley Park: The 405-hectare public park borders downtown Vancouver and is almost entirely surrounded by waters of Vancouver Harbour and English Bay. Kind of like the Canadian version of Central Park. Super close to the city but so much nature! It is great for a walk, lunch by the harbour or riding bikes – the latter being my favorite. Mike and I borrowed bikes at the hotel and rode around the entire park. It takes about 1.5 hours and is a beautiful way to experience the park.
Ambleside Park: Another park? Yes! One of my favorite things about Vancouver is the fact that the air smells so fresh, the mountains meet the ocean and lots of places to enjoy the outdoors. Almost every year that we have been, we walked along Ambleside Park with Mike's aunt and uncle, which offers a great view of downtown hiding under the Lion's Gate Bridge. Plus, the drive through Stanley Park and over the bridge is quite a sight itself. Just next to Ambleside, you'll find the Park Royal shopping area with a huge Aritzia, the original Lululemon store and a few fun restaurants. So plan extra time for shopping or a bite to eat!
Whistler: If you have more time in Vancouver than just 2 or 3 days, I would definitely recommend a day trip up to Whistler. It is great for skiing in Winter but also beautiful during the warmer months. The drive up is very scenic and worth a sight by it's own, plus you'll pass waterfalls on the way. We were up there in May once and really loved it!
Gastown: Vancouver's oldest neighbourhood, Gastown grew from a single tavern founded by John 'Gassy Jack' Deighton back in 1867. Today, it is a lively area for foodies with great restaurants and bars – including the highly recommended Nelson The Seagull and Tuc Craft Kitchen, where we had breakfast during our last stay in the city.