Sur La Table: Our Tableware
This would be a great blogpost to quote Britney's famous lyrics "Oops, I did it again…". With "it" being the fact that I spent way too much money on handmade ceramics. By no means, do we have too little tableware, but with Summer just around the corner, I suddenly felt the need for a hint of subtle pink on the table – and much to my surprise, Mike did not have a strong opinion against it. Admittedly, however, he was only informed on the subject once the two huge boxes arrived in the mail. With these kinds of purchases, I find it best not to consult a male opinion beforehand. Instead, I let a visually appealing and ready set table do most of the talking. And while I was at it, I decided to take some photos to share a peek inside our kitchen cabinets with you. Our tableware, to be exact.
For The Table
---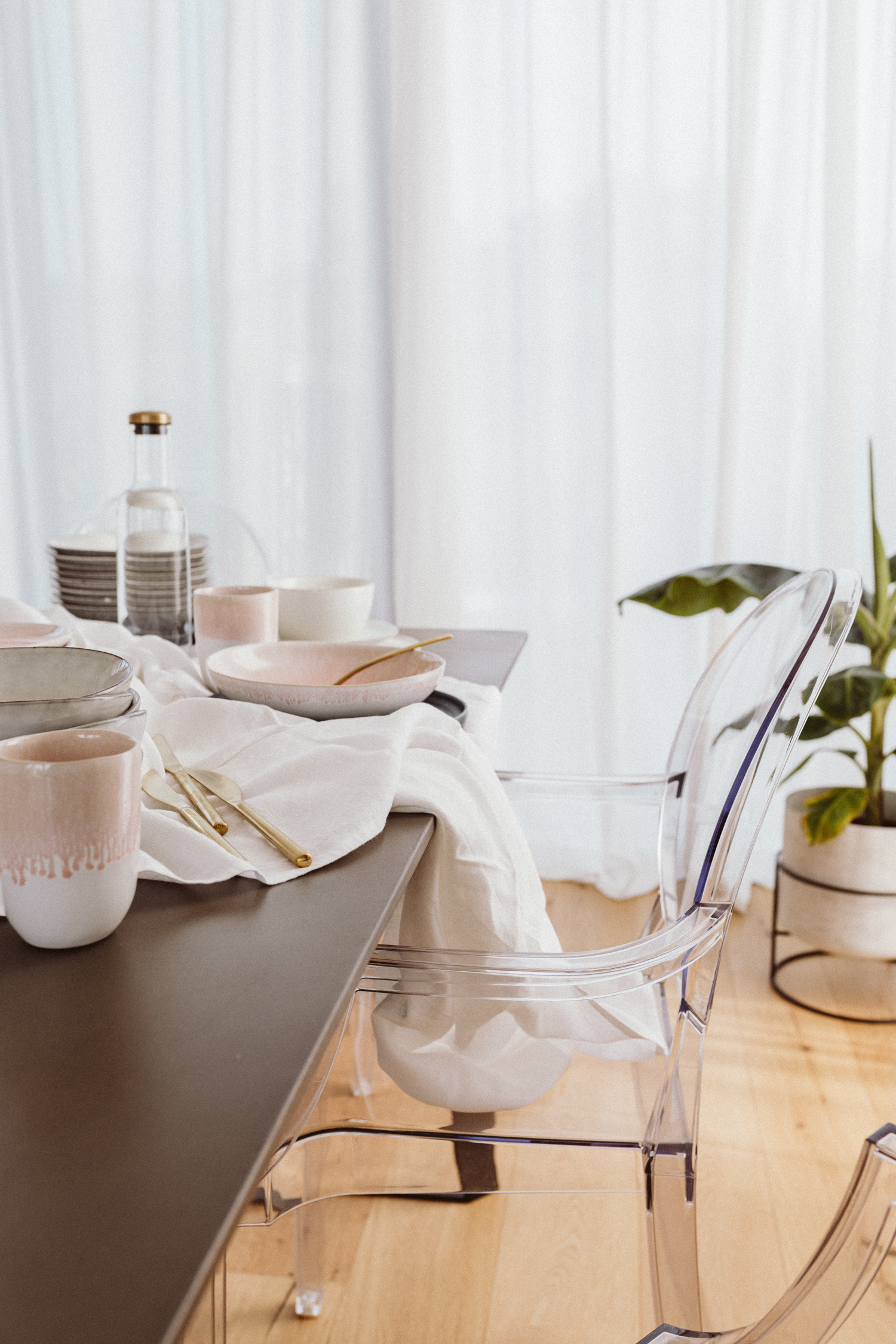 Even though it is a constant work in progress (read: me, always adding to it), I feel like I have found brands, colors and styles over the recent years, that work well with the rest of our interior decor, are not too seasonal (we will ignore the light pink for a second…) and combine well with other brands or styles.
Our Tableware: The Brands
There are a lot of options out there when it comes to ceramics. From affordable to super pricey. From very rustic to super delicate. From simple and plain to extravagant and colorful. For me, it was important to have dishes that are special and beautiful without costing a fortune, since sooner or later a plate or two are bound to end up in broken fragments on the floor. The most expensive part of our tableware collection are the large dinner plates with golden rims (56€ for a set of 2), which I decided to wish for from my parents for Christmas two years ago. The rest was either from affordable brands like H&M Home, scored on sale or bought in bulk to bring down the price a bit. The following brands can be found in our tableware collection: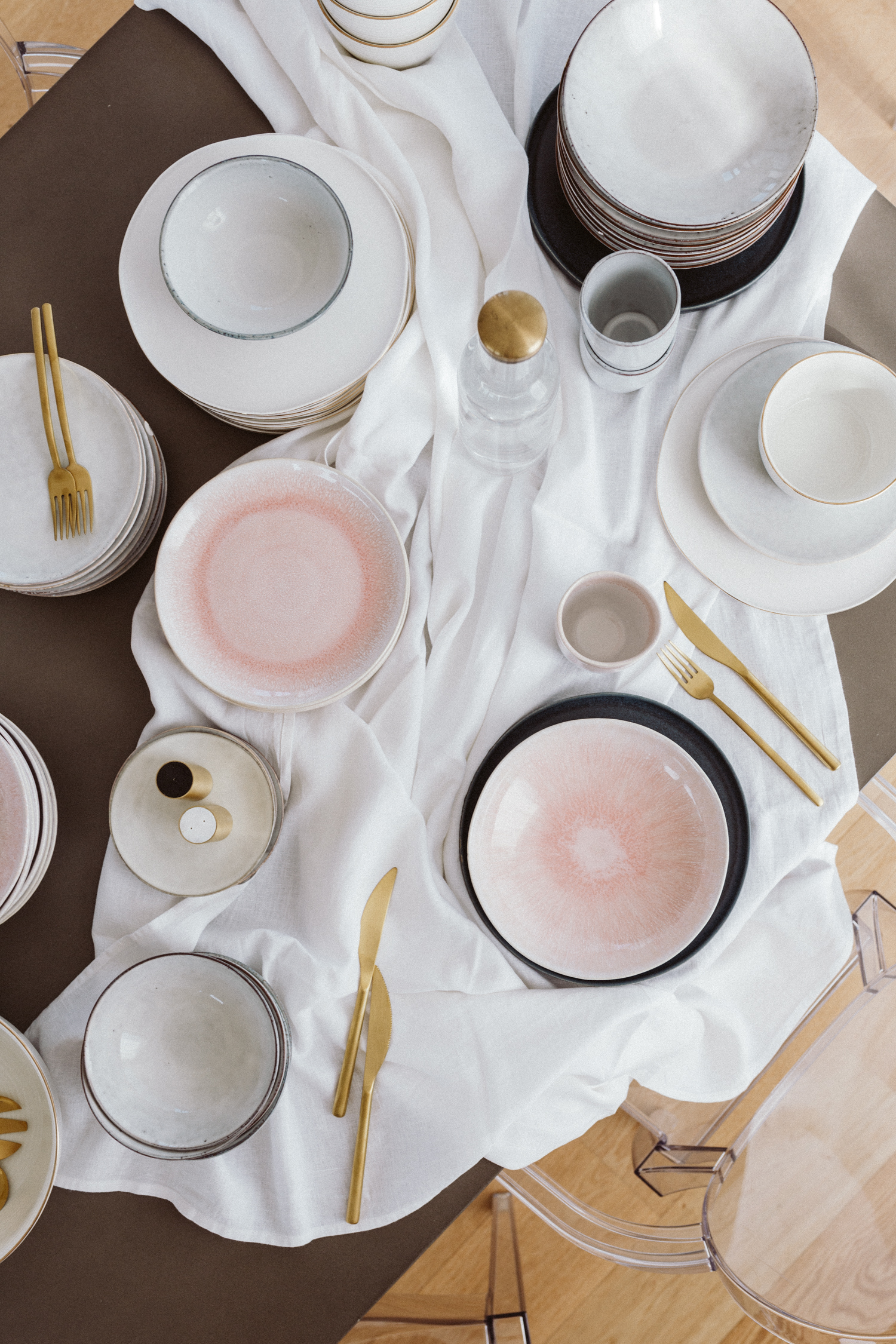 Broste Copenhagen: The base of our every-day-dishes is the "Nordic Sand" collection from Broste. We have 8x breakfast plates, 8x soup dishes, 8x cereal bowls, 10x coffee mugs, 6x tiny butter plates (a stupid measuring mistake on my behalf), 4 serving platters, 1x golden salad cutlery, 10x gray water glasses and 4x white marble storage jars with golden details. For price reference, the breakfast plates rund at 49€ per 4 plates and the coffee mugs are 54€ for 6.
H&M Home: The most affordable pieces in our kitchen cabinets are from H&M Home, being small salad/muesli bowls (egg-shell with gold rims) for 7€ a piece + a matching large salad/serving bowl that was around 20€.
Rosanna: One of my most priced possessions and probably the most timeless part of our tableware assortment are the large dinner plates from Rosanna called the "Pacifica Plate White S/2". As mentioned above, the price for a set of two plates is around 56€/66$.
Motel A Miio: The newest addition on our table is a variety of Motel A Miio handmade ceramics from their peach-colored Alachofra collection. I recently spotted the collection on sale and totally blame the 40€ voucher I still had on the fact that I spent almost 300€ on new dishes, including 8x breakfast plates, 8x deep pasta dishes, 4x large mugs, 2x large plates (from a different collection) + 1x vase. Usually the individual pieces are priced somewhere around 20-24€, but the sale was almost 50% off, so I paid 11-13€ for each dish.
Menu: The simple Scandinavian design 1L water bottle that we always have on the table is from menu with a sleek design and golden lid.
MADE.com: Our dining table is a solid concrete resin top with matt coated metal legs. A more masculine piece that works well with the acrylic chairs and is a beautiful backdrop for the more feminine dishes. This was actually a piece that Mike picked for the apartment and I could not be happier with the choice.
Golden Cutlery: One of the most frequently asked questions I receive every time I post my meals, is about our golden cutlery. Unfortunately, I have no recollection of the name of the brand and we have had it for many years. All I know, is that it was originally ordered from Amazon.
House Doctor: Last, but not least, the super sleek salt and pepper shakers were a moving-in gift from my best friend. I had my eye on them ever since I saw them at a local breakfast spot and she managed to find out where they are from.
Get the look: Handmade Ceramics