HOW TO: 5 tips for a productive morning.
Being self-employed for almost 3 years now (yay!) has been one of the greatest lessons in life to me personally. I feel like I have grown and learned so much. It has taught me better time management, to be more organized (at least I try), to take responsibility and to have discipline. And it has also given me a lot of freedom!
In theory, I could sleep until noon, eat ice cream in bed and stay in my P.J.s all day. But I don't! Why? Because that's not what success looks or feels like. The one thing that was the most important to me personally after quitting my "normal" job in 2014 was to keep a morning routine. That is also the reason why we decided to get an office for The Daily Dose. Getting up with an alarm clock, getting dressed and having that first cup of coffee by 8am is something that I personally couldn't live (or work) without.
So, what does my morning look like?
5 Tips For A Productive Morning
7:30 – Don't Snooze! I know it is tempting, and trust me, my significant other is the king of snoozetown, but try to get up right as the alarm rings (in my case at 7:30 on most days). This sets the tone for the rest of the day, and since there is no snooze-button for emails or meetings it's better to live without it.
8:00 – Food Is Fuel! I used to be part of team "no breakfast, just coffee" and was happy with a big latte to go. Last Summer, I made some changes to my eating habits and started having breakfast as the first thing after getting up (as well as drinking my coffee black = no more lattes). I have gotten used to it so much, that now I actually wake up hungry. And believe me when I tell you that the morning cup of lungo tastes so much better with a big bowl of porridge!
8:30 – But First, Nespresso! Instead of picking up coffee somewhere on my way to work, I started celebrating my morning coffee at home. I have been the proud owner of a Nespresso machine since my college days (which actually feels like ages ago), and hitting the lungo button in the morning is definitely a small celebration to start the day. Even though I drink about 2-3 cups of coffee throughout the day, none of them taste quite like that first sip of caffein in the morning! Sitting infront of my inbox with a cup of coffee to keep me company is definitely a must. My personal go-to Grand Cru is the rich and full-bodied Fortissio Lungo, which is a rich coffee, flecked with sweet cereal and malty toasted notes, that offers a pleasant bitterness with an exquisite fullness on the palate thanks to its round and smooth texture. In other words: The perfect way to start your day and work through some emails! What is your favorite lungo moment?
9:30 – Hair & Make-Up! It may sound silly, but to me, getting dressed and looking the part is definitely part of the game. While you'll usually find me by the laptop with my glasses on for the first few hours of the day, I always head to the bathroom after breakfast to put on make-up and finish getting ready. It may just be my imagination, but when I am put together I instantly feel so much more ready to conquer the world!
10:00 – To Do Lists! Around 10am, Kathi and I usually meet at the office. Luckily it is only a short walk away from our apartment, so I literally leave the house 5 minutes before. I am a big fan of to-do lists. Not only is it easier to keep an overview of what has to get done, but crossing off things from the to-do list is also one of the most satisfying feeling ever, right? After the to-do list is done, it is usually time for round two of coffee. This time, no glasses and at my desk in the office instead of the coffee table in my living room.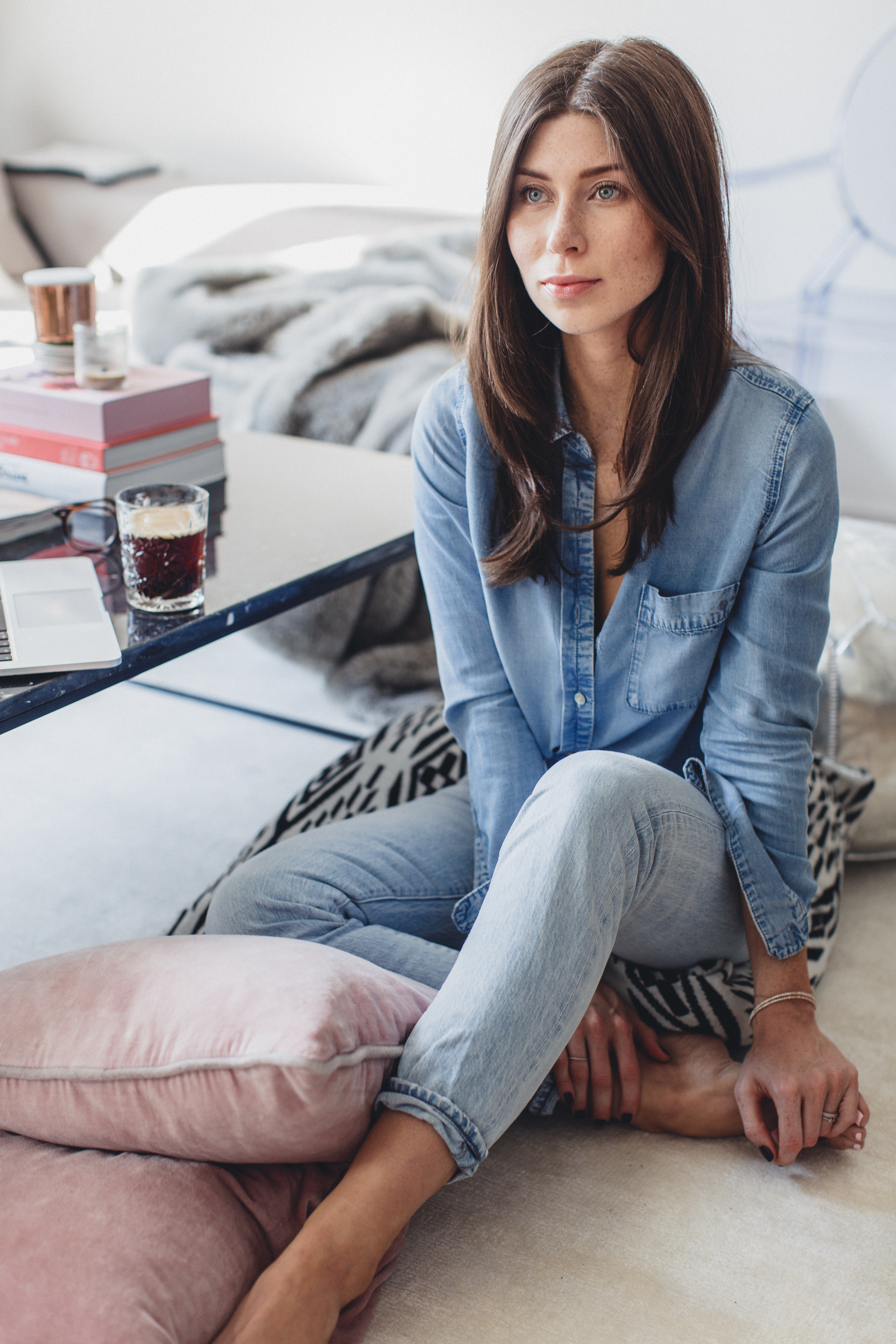 *photos: Sonja Petrkowsky
**in friendly collaboration with Nespresso