RECIPE: thai summer rolls + 2 dipping sauces
This past weekend I FINALLY made something I have been craving for weeks: thai summer rolls. Up until now, I've only ever had them at restaurants, because quite frankly they impressed me too much and I figured they would probably be pretty hard to make. Well, last Saturday, my cravings finally got the best of me and I set out on a hunt for the ingredients. Turns out the hardest part of the whole meal is actually the shopping, after that it's basically just a bit of chopping and rolling. I went to 3 different places for everything (Meinl am Graben, Billa & Naschmarkt – for those of you from Vienna), but in the end these babies turned out SO good and even Mike was blown away (he is pretty hard to impress, trust me). Really, what I am trying to say is: if you love summer rolls as much as I do, you definitely have to try making them yourself. You won't regret it!!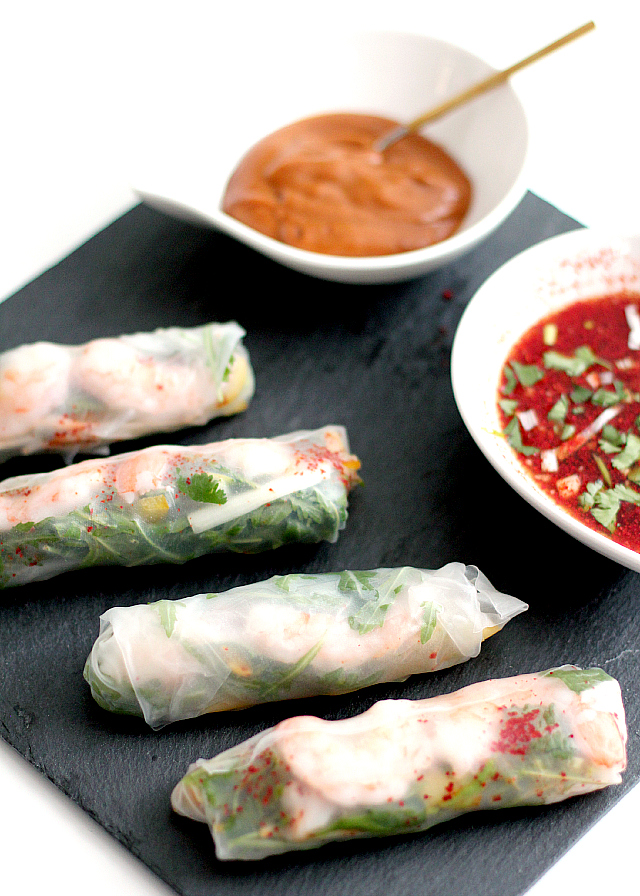 For the rolls:
– sheets of rice paper (we had 4 rolls per person as our dinner)
– shrimp (or tofu if you prefer)
– fresh mint & cilantro
– chili flakes (optional)
– thinly chopped veggies (ie. bell pepper, cucumber, carrots, spring onion, cabbage, …)
– lettuce greens (I only had arugula on hand, but it still tasted great)
Before you start rolling, prepare all your ingredients. I used yellow bell peppers, cucumber, spring onion and arugula to stuff my rolls, as well as fresh cilantro and mint – which are a must! I also sliced the shrimp in half and used about 2-3 halves per roll. Next, prepare your rice paper according to the directions on the package (soak in cold water for 10-15 seconds). The rice paper is kind of hard to handle – rips easily – so you have to be really careful when taking it out of the water. Then, for preparing the rolls, I worked on a wet kitchen towl, which helps with the sticky rice paper. Simply lay all the ingredients along the middle and then fold, as you would do with a burrito. And that's it! Easy as that & absolutely delicious!!
For the dipping sauces I wanted 2 different kinds. One peanutty saté sauce (store bought) and one sweet & sour chili sauce.
Here's what you'll need for the chili sauce:
– 2 tbsp rice vinegar
– 2 tbsp soy sauce
– 2 tbsp maple syrup
– juice of 1 lime
– chili flakes (to taste)
– chopped cilantro
– chopped spring onion
Simply mix everything in a bowl and adjust to liking, by adding more or less of the maple syrup and chili flakes.