CRAVINGS: birthday girl
It's been a while since the last Sunday Cravings, but with my birthday coming up next weekend there are plenty of things I am currently craving! Over on The Daily Dose I already shared my wishlist, and today I wanted to share a little outfit craving for the party next Saturday. Even though I definitely like feeling special on my birthday, I also want to be able to celebrate the night away without being stuck in a tight dress or uncomfortable clothes. Usually, for my birthdays I stick to a typical "Vicky outfit". Black skinnies or leggings, a silky top, statement earrings or necklace and a clutch. Throw in a pair of amazing heels and the look is perfect – at least in my books! This year I'll be celebrating at my favorite restaurant with an intimate family dinner, followed by a party at the bar with around 30 people. If I had a little extra change, these items found on GIRISSIMA.com would go straight into my shopping bag! What would you guys wear to your own birthday party?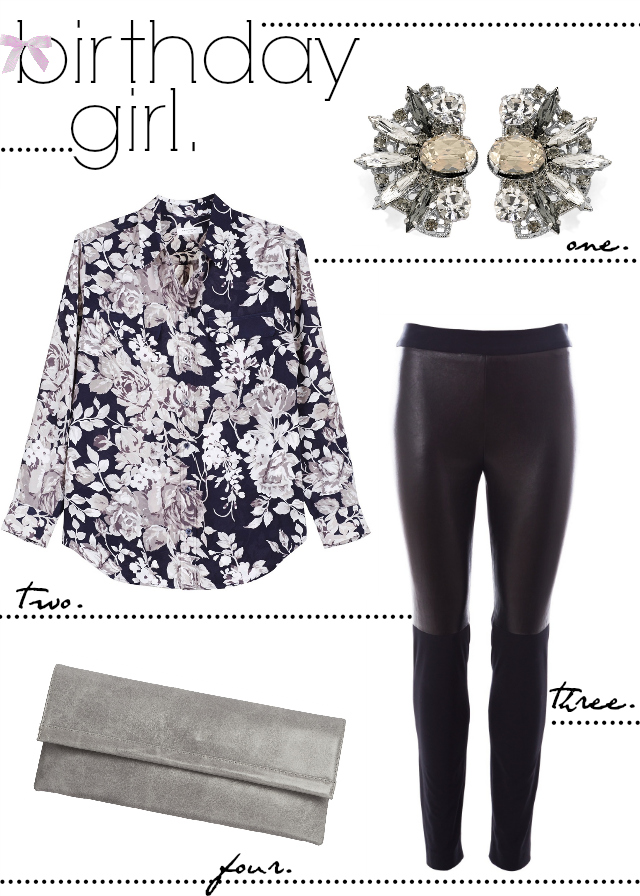 1) It wasn't until about 6 months ago that I discovered Anton Heunis jewelry! Especially the gorgeous earrings are definite show stoppers and would be perfect for a celebration!
2) You guys know my weakness for Equipment blouses. And even though I prefer my simple white one as an investment pieces, for my birthday I'd love to have this floral version! (psst, on sale for -40% right now!)
3) You can never go wrong with black skinny jeans or leather leggings.
4) This simple gray leather clutch works perfectly with the blouse and is a color that is still missing in my closet. Yes please!!!
*in collaboration with Girissima.com