HEALTHY LIVING: Bootea Teatox – Review Of Week 1
Guess what? I've been tea-toxing! I haven't posted about it on Facebook or Instagram (@vickyheiler) because I didn't want to hype the whole thing, and also because I wanted to take some time to test it before writing about it. First things first: for those of you that don't know what tea-toxing is, it is basically detoxing by using tea (in combination with a healthy diet and exercise) to flush out toxins from your body. Simple as that. I've been playing around with the idea ever since Anna told me that she ordered her Tiny Tea back in December. But then with Christmas, our vacation and everything else I totally forgot about it. That is until about 2 weeks ago when I first discovered Bootea on Instagram. I decided to go with Bootea UK instead of other detox teas because it was the only one that actually listed ALL of the ingredients online, instead of just writing "chinese herbs". I am now done with the first 7 days of teatox and wanted to share my experience so far with you.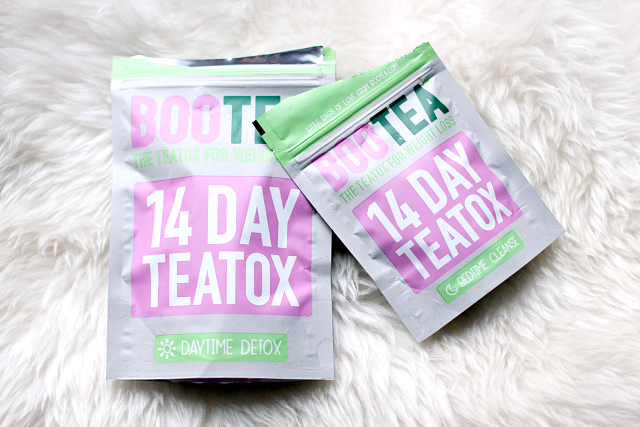 There are multiple reasons why people detox, supposedly you can loose weight, skin will clear up, more energy, better sleep, improved metabolism, … the list goes on. For me personally, it was a tiny bit about weight loss and mostly about my skin. As most of you know by now, I have suffered from eczema all my life, and am basically willing to try everything and anything to stop the itching. The super dry skin condition is something I have learned to live with over the years, but if there is a chance of making it go away I am more than happy to try something new.
About the weight: I am actually very happy with my weight at the moment (and have been for the last year or so). I am blessed in a way that I actually prefer healthy food over unhealthy stuff, so I know I eat well, and I also exercise regularly. For me, those are two key components to being healthy and happy. However, for some reason I just can't crack the last kilogram on the scale. I've been hovering around the same weight FOREVER and thought that the teatox might help with that. On day 1 I weighed in at .8kg, and as of yesterday, day 7, I was at .3kg. To me, that doesn't really mean anything, because 500gr. is a completely normal range for the weight to move in on a day to day basis. But who knows, maybe the number I am hoping for will come around by the end of day 14 🙂
My experience so far:
– The teatox costs 20 British pounds for 14 days (on my Paypal account that equaled about 26€). You'll receive 14 daytime individual tea bags and 7 night cleanses (for every other day before bedtime). On Instagram, I saw that some people complained about the long shipping time – for me it took 6 or 7 days for the tea to arrive after placing the order online. Definitely ok in my opinion.
– The tea actually tastes really good!! I was expecting it to taste of grass and weird herbal stuff. The daytime tea has a strong lemongrass flavor and the night cleanse has peppermint in it. I love both of those flavors, so I really like the tea.
– There is an online eating plan to help you with healthy eating for the teatox. Alcohol, coffee and meat should NOT be consumed during the 14-day period and I also read on another teatox website that dairy should be left out. I have not had coffee or alcohol during the teatox, however I did have organic meat on 3 occasions and dairy once.
– I feel great even without consuming coffee. But I miss my morning routine – especially when I smell my colleagues fresh hot cup of coffee!
– My skin looks great, a little more even and "glow-y". (But I also am currently trying new products, so I don't know if it is those products or the tea.)
– For the night cleanse they mention that it has a laxative effect and that you should be by a toilet about 8 hours after drinking it. Personally, I have not had any symptoms of that kind so far. Not once in the past 7 days did I have a sudden urge to use the toilet (t.m.i.?).
– As mentioned above, I've experienced a  "loss" of 500gr. (about 1 lb), but it could also just be the daily variation.
– I have exercised as usual (3x per week). And ate like I usually would, just minus coffee, alcohol, meat (when possible) & dairy products.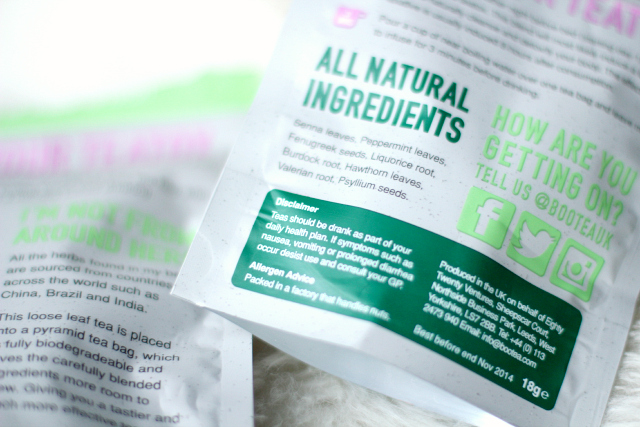 Looking for more posts about detoxing? I've also tried a few juice cleanses and created some healthy recipes. Be sure to check them all out!