RECIPE: roasted roots.
Have you ever tried cutting out sugar entirely from your diet? If not, then let me tell you this: It is a nearly impossible task. You would not imagine how many things have added sugar in all forms, shapes and sizes. Glucose, fructose, maltitol, … you name it, they've got it! Unfortunately, I am stuck on a no-sugar diet by doctor's orders until August, so mission impossible has become mission possible.
The first day at the grocery store, I started browsing labels of foods that I was 100% sure would be sugar-free. Nope. Sugar everywhere. In some form or another. I am not allowed any form, however, so I quickly found myself back in the fresh produce section and stocking up on organic vegetables. Since I can't eat anything raw either, I skipped the tomatoes and cucumber for the Greek salad in favor of lots of root vegetables that are easy to digest. Time to get creative in the kitchen!
But let's back-up for a second: What am I actually allowed to eat at the moment?
vegetables: (sweet) potatoes, zucchini, eggplant, parsley root, fennel, pumpkin, carrots, red and yellow beets, parsnip, mushrooms, avocado, asparagus, garlic, onion, artichoke.
lean meats & fish: beef, chicken, venison, trout, char, sea bass, salmon.
dairy: hard (but not aged) goat and cow cheeses, no sheep.
grains: buckwheat, rice, corn & quinoa
other: almonds, soy, unsweetened rice- and soy milk, fresh herbs, spices (not too hot)
While lunch and dinner are ok, breakfast is a whole other story. But I'll share a recipe or two for that later on. Toady, it's all about some super delicious roasted root vegetables topped with almonds and goat cheese.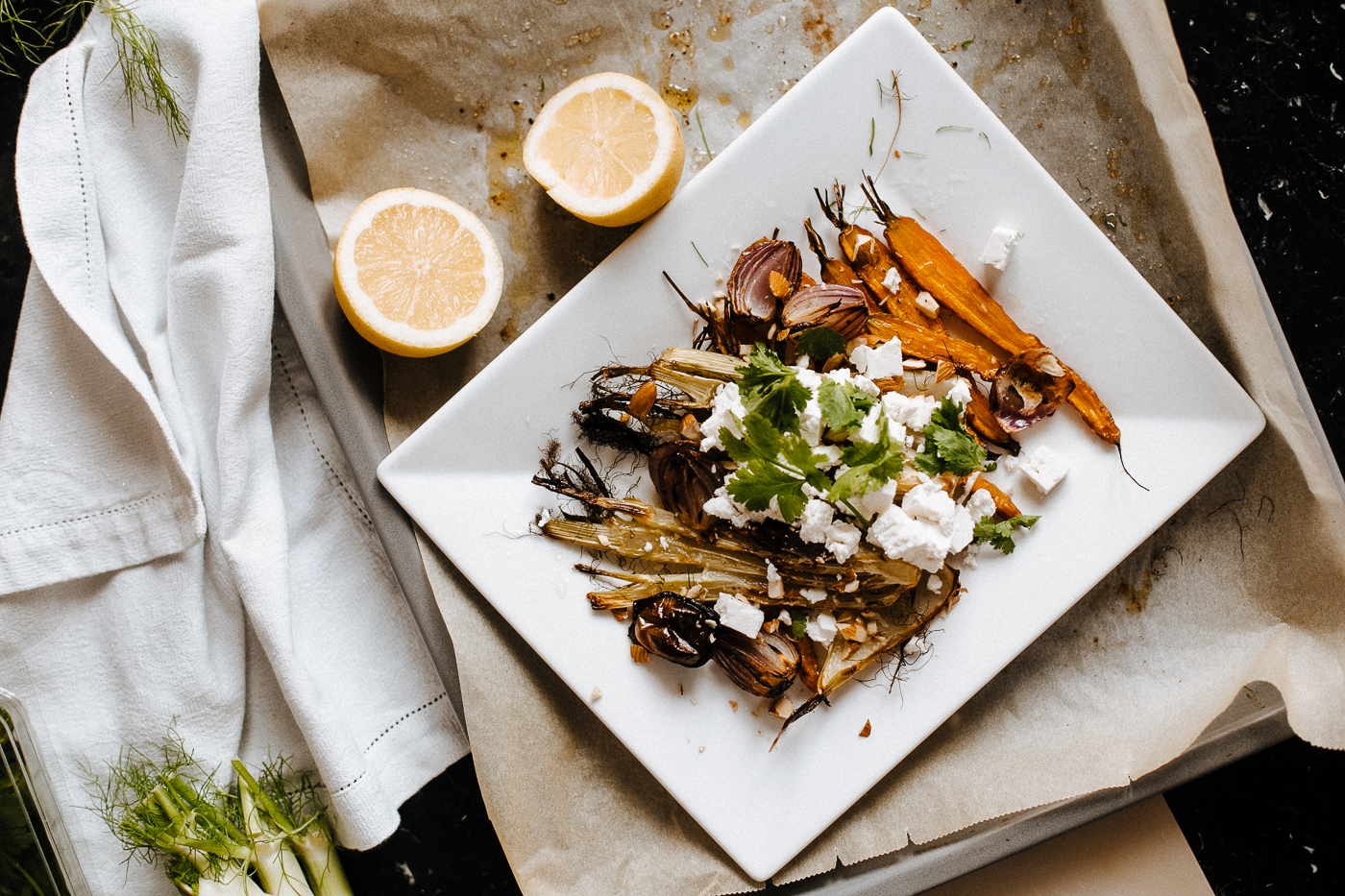 What you'll need:
3-4 small carrots
half a fennel bulb
1 red onion
1-2 tbsp olive oil
salt, pepper
juice of half a lemon
5-8 almonds
50 gr goat cheese (or feta)
fresh cilantro/coriander
Pre-heat the oven to around 180°C, then wash and prepare the vegetables on a baking sheet. Lightly drizzle with olive oil and season with salt + pepper. The baking time may vary depending on your oven and the size of the vegetables. For me it was around 20-25 minutes – in some ovens this step may take up to 30-40 minutes.
Once out of the oven, arrange the grilled root vegetables on a plate or platter (it also makes for a great side-dish with grilled chicken), drizzle with lemon juice and top with chopped almonds, crumbled goat cheese and fresh cilantro. Enjoy!