HEALTHY LIVING: time to detox
Some of you may have already spotted a little detox-preview on my Instagram account (@vickyheiler), and so I thought it was time to give you a more detailed update after completing my first 2 days of nothing but liquids with Detox Delight. First things first: I know detoxing is experiencing a certain hype right now, and I know some of you are already sick of hearing about it. However, I am the kind of person that always needs to experience things in order to form an opinion. I don't listen to judgements about other people, I try to get to know them. I don't believe others when they say somethings doesn't taste good, I like to try it myself. Naturally the same goes for detoxing!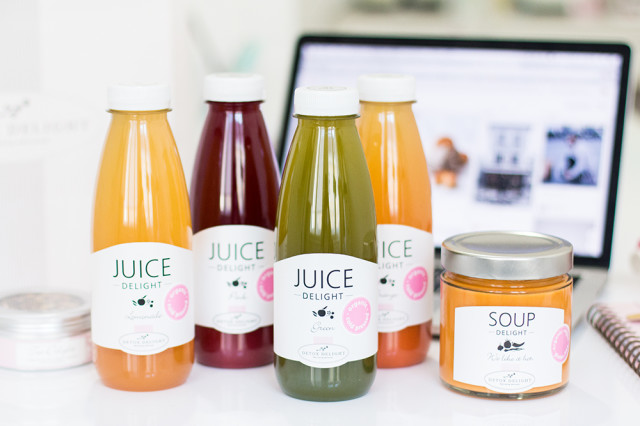 Before I get into a quick resumé of my first 2 days, I want to tell you what motivated me to detox:
– Weight Loss: I'll be honest and skip the blah blah, I think it is a good thing to drop a pound or two before all the holiday feasting begins. As always, I am fine with my body, but I would be lying if I didn't like the thought of my jeans fitting a bit looser (like just about every other girl out there, I guess).
– Timing: I am doing the juice cleanse together with Kathi and this week we both only had meetings and appointments on 2 days, plus her boyfriend is currently studying abroad and Mike is out of town for 3 of the 5 days, which makes things a lot easier (as in: not watching someone eat amazing food while you're sipping on juice).
– Skin (!!): You guys know I have eczema and am always looking for ways to make it better. Whether it is my skin care routine, fitness or diet – I try to make little adjustments that may have an effect on my skin. One of the many promising effects of detoxing is glowy, fresh skin, shiny hair and healthy nails. Sounds good to me!
– Energy: Lately, I've been dreading to get out of bed in the morning A LOT . Not because I don't want to go to work (I love my job), but because I simply feel exhausted and tired. Almost all the time. While you usually get super tired the first few days of detoxing, towards the end your body adjusts. Supposedly people even wake-up bright and early on day 5 of the detox program, filled with energy and drive.
– Discipline: And lastly, I wanted to test my will-power and discipline. Going 5 days without a single bite of solid food seems kind of crazy if you ask me, so I wanted to see if I could do it!
So, how am I feeling? Pretty good actually! Before you start detoxing, you should prepare your body by taking alcohol, coffee, white flour & sugar, … out of your diet and then having 2 fruit/veggie days right before. I took some of those things out of my diet about 2-3 days beforehand and then just did fruits and veggies on the last day before the detox. Which was my worst day so far. I don't really understand why my body reacted so much, because I figured I eat fairly healthy most of the time anyhow. Well, turns out I was super sleepy, had a terrible headache and pain in the limbs BEFORE the juices even started. I felt like I was getting sick …
Day 1 was fairly similar, but at night I actually felt better for the first time. Kathi and I choose a cleanse by Detox Delight that includes either 5 juices (500ml each) + 1 nut milk (also 500ml) or 4 juices (500ml each) + 1 vegetable and fruit soup for dinner (350ml), alternating days. After feeling cold, exhausted, sleepy and having a headache all day, we decided to try the soup first because the thought of something warm was simply amazing. And reality was just as good! The "red lentil & apricot soup" was incredibly delicious and filling. After dinner I took a long hot bath and had some tea and felt content for the first time. I chose to ignore the sore throat that had developed and went to bed early …
Day 2 I woke up feeling better! Even though I didn't enjoy the juices as much as on day 1 (the fun factor was kind of gone), I still got through 3 meetings and a 20 minute walk feeling much more energetic than the days prior. The headache was much better and I felt less sleepy – still as cold though! The body temperature drops automatically while detoxing because you don't have any carbs to burn, which is why the ladies of Detox Delight recommended the soup version for a Winter detox. And let me tell you, they were so right! As I was sipping on juice #5 and the nut milk (which I didn't even finish …) last night, I soo wished for some hot soup instead. The soup has definitely become my personal savior. It is a bit thicker of consistency and the warmth feels so good! Ahh, even just writing about it …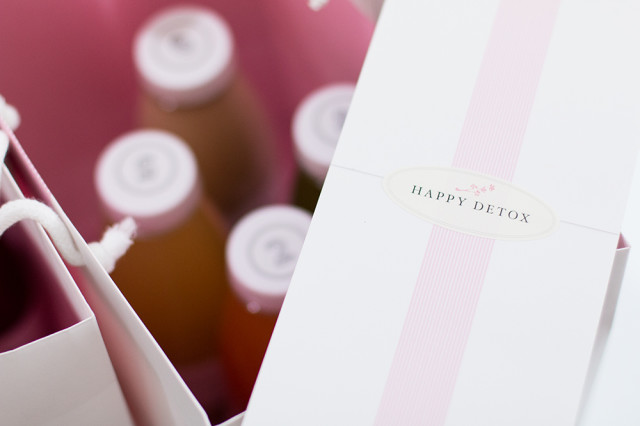 All in all, I am totally confident that Kathi and I will pull through with the 5 days. I am excited to finish today with my soup and then we'll already be half way done. As of this morning, my weight was also down 1.7kg, but I blame that on the 6 L of liquids that we're currently drinking each day.
*a big thank you to Detox Delight for supporting our detox!