healthy chocolate porridge
When I wake up in the morning and the thermometer reads 4°C it makes me want to turn around a.s.a.p. and head back to bed. Or put on 5 sweaters. Neither one of those options are realistic though, so instead I'm currently sticking to a warm breakfast. And the best part? It tastes like dessert, but ist totally healthy. Chocolate porridge is my new morning obsession and aside from the fact that it is super filling and healthy, it is also easy to make. Plus, don't we all love starting the day with some dessert for breakfast?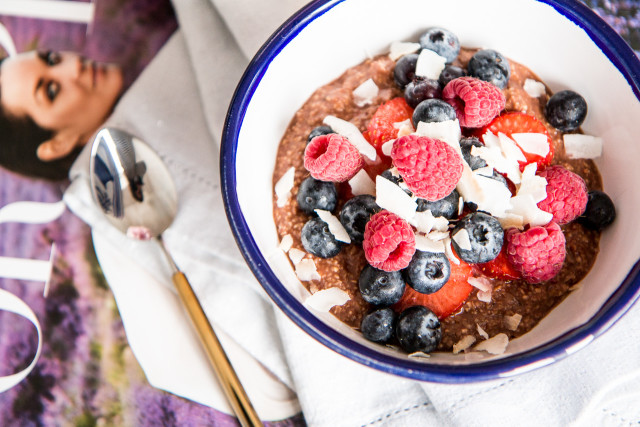 What you'll need:
– 50 gr porridge or oats (I use Verival in the pink box)
– 1 tsp chia seeds
– 1/2 agave nectar
– 1 tsp raw cacao powder
– 100 ml boiling water
– berries and/or coconut shavings
Bring water to a boil and cook oatmeal/porridge as you usually would. Then, immediately add the chia seeds, cacao powder and agave nectar. Stir well. Top the healthy chocolate porridge with fresh or frozen berries and coconut shavings as desired. Super healthy and delicious, you'll love it!