RECIPE: tuna poke
When Mike texted me yesterday, saying he'd make dinner, I didn't know what to expect. Little did I know that he had an ace up his sleeve and he surprised me with amazing tuna poke. We both love fish, especially when it is served in form of maki, ceviche or sashimi. Tuna poke is a raw salad, usually served as an appetizer in hawaiian cuisine – which is where Mike knows it from. Most commonly it is made with yellow fin tuna, sea salt, fresh cilantro, chili, sesame oil and soy sauce. However, for the modern version you can also throw in lime juice, tomatos, green onion, maui onion or bell peppers, and it is usually eaten with a side of tortilla chips. Basically, it is really yummy marinated sashimi: healthy and absolutely delicious!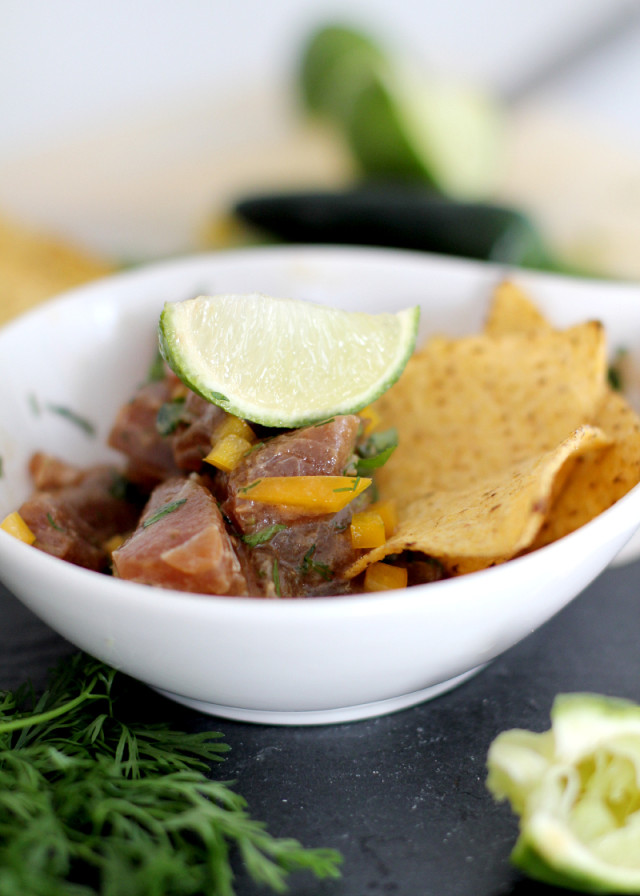 What you'll need:
– super fresh raw tuna
– lots of cilantro
– fresh chilis and/or chili oil
– garlic
– lime juice
– sea salt
– soy sauce
– sesame oil
– toasted sesame seeds
– onion or bell peppers (optional)
– tortilla chips
The preparation is super easy and doesn't take up much time. Start by dicing your tuna into bite-size pieces and place in a bowl. If you want the poke to be more of an appetizer, you can also cut the tuna pieces even smaller, to get the consistency of a salsa or dip. Then, in a smaller bowl, prepare the marinade/dressing with sesame oil, soy sauce, fresh lime juice, chopped cilantro, garlic, chilis, sea salt and chili oil. Mike didn't really follow any exact measurements, just go by taste – but watch out, the sesame oil does have a slightly bitter taste, so don't use to much of that. Mix the marinade with the tuna and let sit for at least an hour in the fridge. Top with fresh cilantro, finely cut bell peppers and fresh lime, serve with tortilla chips. Enjoy!