RECIPE: simple greek salad
A few weeks ago, Mike and I made lamb meat-balls, pita bread, yogurt with fresh mint and greek salad for dinner. While we learned that we're both not the biggest fans of minced lamb meat, I really loved the yogurt with mint and greek salad. Since then the salad has been my go-to lunch for something quick after work. I love the hint of citrus (from the fresh lemon peel) and flavor of parsley combined with the feta, cucumbers and tomatos. It literally takes less than 10 minutes to prepare and also makes for a great side dish when BBQ-ing. My favorite way to enjoy the greek salad is with some pita bread and hummus.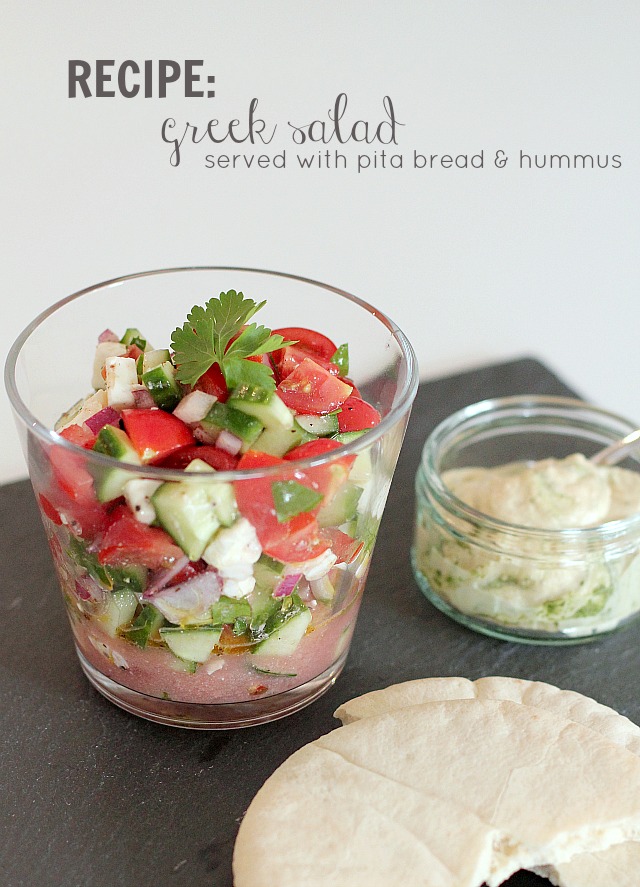 What you'll need:
– 2 regular tomatos, or 6-8 cherry tomatos (which I like to use)
– 1/2 cucumber
– 1/4 red onion
– ca. 80 – 100 gr. of feta cheese
– fresh parsley or cilantro
– sea salt & fresh ground pepper
– 2-3 tbsp olive oil
– 1-2 tbsp red wine vinegar
– the peel of 1 organic lemon
**makes for 1 lunch serving – best served with toasted pita bread & hummus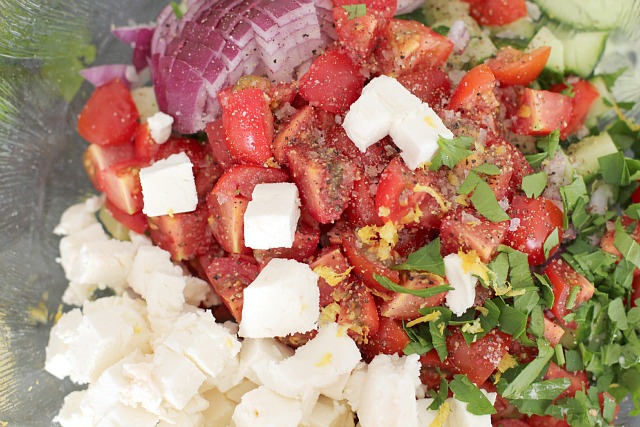 In a bowl, mix the olive oil & vinegar – add grated lemon peel (I use a parmesan grater). Dice the tomatos, cucumber, red onion & feta cheese – add to bowl. Season with salt & pepper and add finely chopped parsley or cilantro. Mix everything well and serve with pita bread and hummus. Easy enough, right?