RECIPE: detox deluxe green juice
For some reason I love anything and everything that comes out of my juicer (Philips: Avance Collection Juicer HR1871/10) and happens to have the color green. I know that I've mentioned it before, but I am super lucky in a way that fruits and veggies are naturally yummy and always appealing to me. It is nothing that I have to convince myself to eat.
One of my favorite SUPER healthy green juices is what I like to call the "detox deluxe" because it is literally the healthiest thing ever and is a great way to start your day. One thing to keep in mind when enjoying green juices is to always have them within 15 minutes of preparing the juice (in order to get the maximum vitamins and nutrients out o fit) and it is also best enjoyed on an empty stomach. Why? Because when you're juicing, you're enjoying a lot of healthy fruits and vegetables but without the fibers they have. So if your stomach is full with other fibers, that'll make it harder to absorb the good stuff in your green juice. Either have it first thing in the morning on an empty stomach, or make sure it has been at least 2 hours since your last meal. Easy enough, right?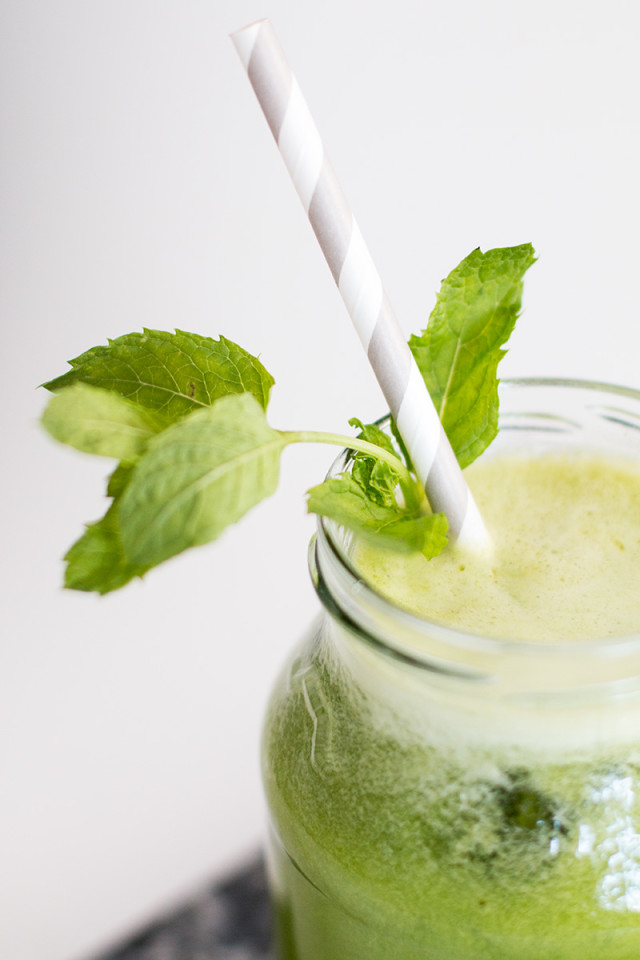 What you'll need:
– 3 stalks of celery
– handful of baby spinach
– half a cucumber
– fresh mint (as much as you like)
– about 1cm of fresh ginger root
– 1 or 2 apples
*depending on as much "other" flavor you need aside from the green stuff, I like it with just 1 apple.
– a few drops of olive oil (or any other healthy oil you like)
Simply place everything in your juicer and serve over lots of ice!