CRAVINGS: summer date night
Even though I would consider myself 100% of a summer girl, I've recently come to realize that my summer wardrobe could use quite a bit of improvement. For some reason I find it much easier to dress for fall, winter & spring, rather than summer. The reason may be that black skinny jeans are my favorite piece of clothing EVER – and they simply don't work for warmer months. Last week, I was on a mission to freshen up my summer attire a bit, only to find that all the stores had already switched to the new fall collections. Sure enough I walked out with a big fluffy winter jacket instead of pretty summer dresses … On a hunt for something for summer, I finally got lucky at GIRISSIMA.com and found a perfect dress by Ganni, that'll work with espadrilles for a casual outfit, but also with heels, sparkly earrings and a nice bag for a summer date night. Plus, it can easily be paired with tights, biker boots and a leather jacket for fall (even though I still haven't given up hope that Summer will return). Definitely went straight onto my wishlist!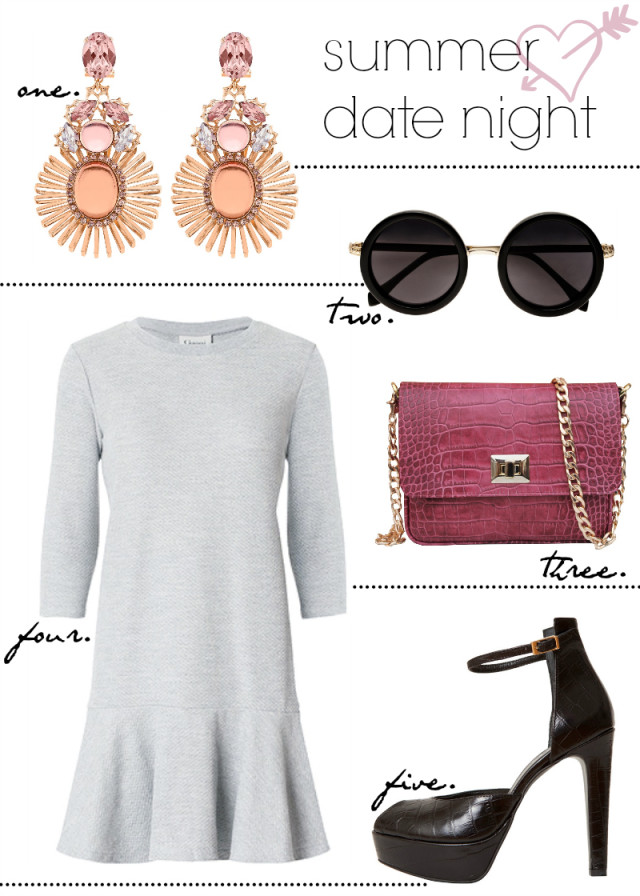 1) For some reason I find myself coming back to the beautiful jewelry by Anton Heunis all the time – I love those earrings! (currently on sale -50%)
2) What would summer be without sunnies? This year it's all about the Le Specs and I just can't get enough! This round pair would be a perfect addition to my collection.
3) Cross body bags are perfect for date nights. They look more elegant than big totes but are easier to carry than clutches.
4) I feel like this dress by Ganni is so versatile and would work for lots of different occasions. Love!!
5) Date night wouldn't be complete with a pair of pretty heels. I love the strap around the ankle on this pair of mary janes!
*in collaboration with GIRISSIMA.com