#LVICONS – Louis Vuitton Neverfull (Part 3)
The final two outfits for part 3 of the #LVicons blogger project are definitely the closest to my heart. For these 2 looks, the wonderful crew from Louis Vuitton suggested shooting on the rooftop of our apartment, with my own Monogram Neverfull and Mike by my side. After almost 8 hours of shooting we saw the sun setting over Vienna and it truly hit me how blessed I am. It was one of the most amazing experiences ever to work on such a great project, and I am seriously beyond thankful for everything this blog has allowed me to do!
Over the past months, I have had some readers ask me how and why I decided to go with the Monogram pattern for my Neverfull MM. And honestly, I am not sure I can answer that question. I always wanted the Damier Ebene, but when the time came to make my purchase, my gut told me to go with the classic Monogram. It is such an iconic pattern and I think for my first Louis Vuitton bag I could not have made a better choice. Some may find the LV too prominent, but I think that it stands for a family name that holds so much history and tradition, and that's why I love it! For my next bag, I will probably chose something more subtle (like the gorgeous epi leather), but I would never want to trade my Neverfull, as I think everyone should have at least one piece in the classic Monogram in their bag collection – and having my initals hot-stamped on the bag makes it all the more special and personal.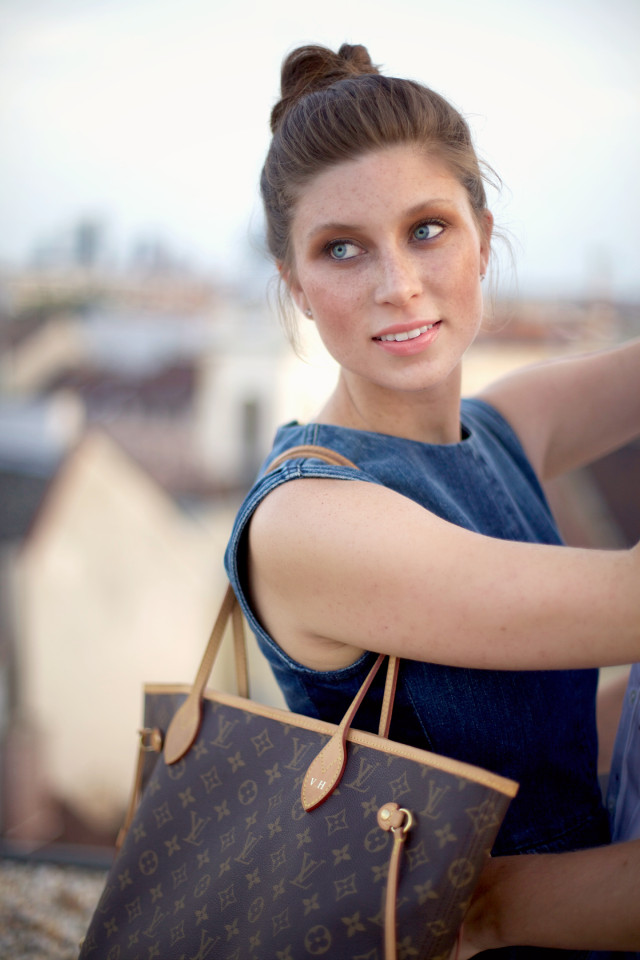 Photography: Andrea Fichtel
Hair & Make-Up: Patrick Glatthaar