CRAVINGS: statement pieces
I feel like sometimes one piece can make an entire outfit. As you guys know, I love timeless items in my wardrobe, which are usually not the most exciting. But if you add a big sparkly necklace or a cool patterned sweater, it can easily transform a look. So this week's cravings (one day late – I know …) are all about those pieces. Take that amazing Hoss Intropia jacket for example, all you'd need with that are some black pumps, skinny jeans & a simple shirt underneath and you're ready to go. Or the way those shorts are styled on the model: all black + one eye-catching piece. It is such a simple equation, but it works every time – trust me 🙂 Which of these items is your favorite?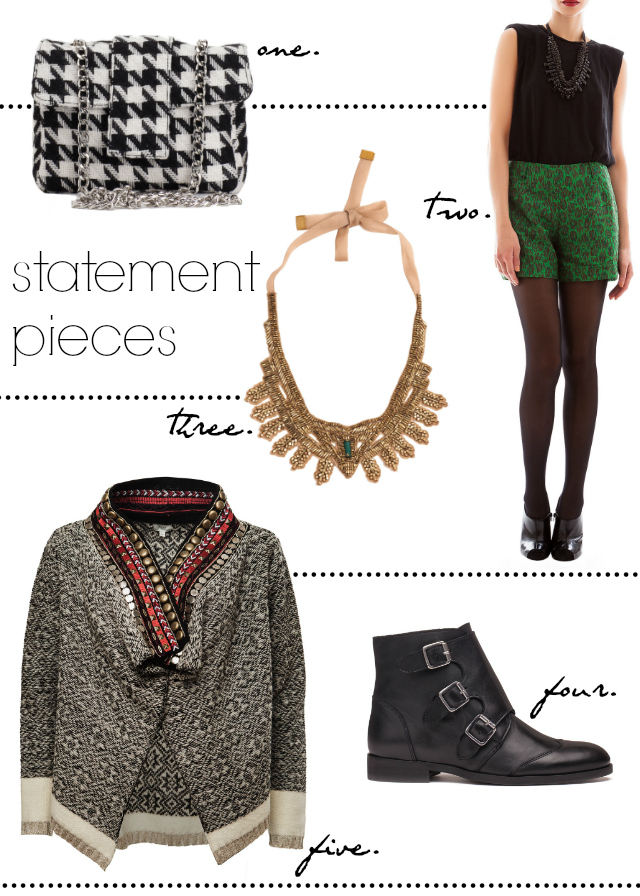 1. I have a major crush on this Carpena Elda bag – love the pattern & the size is perfect for going out!
2. Leopard plus a bit of emerald green? Yes, please! Love these shorts by G Findings, especially because they look so good paired with tights 🙂
3. You guys know I have a major weakness for statement necklaces, and this one is definitely crave-worthy ♥
4. Even though I just found amazing boots last week, these by It Shoes totally caught my eye and I think they're kind of cool. Thoughts?
5. Embellished + patterned + warm wool-blend = perfection! Need this Hoss Intropia jacket in my life for winter!
*in collaboration with Girissima.com