CRAVINGS: shorts, please!
Those that follow along on Instagram (@vickyheiler) have probably seen that I am currently in Croatia, enjoying a few days off and lots of sunshine. When I was packing for this trip on Wednesday, I noticed that while I have plenty of espadrilles and bathing suits, my closet does not offer too many options when it comes to shorts. Which is what I am currently craving. Last year, I got a pair of One Teaspoon denim shorts, which I have been wearing a lot, and last week, I ordered this pair by Cameo, which I think would also work for meetings. I definitely want another pair of One Teaspoon shorts, but also need shorts that can be worn to the office.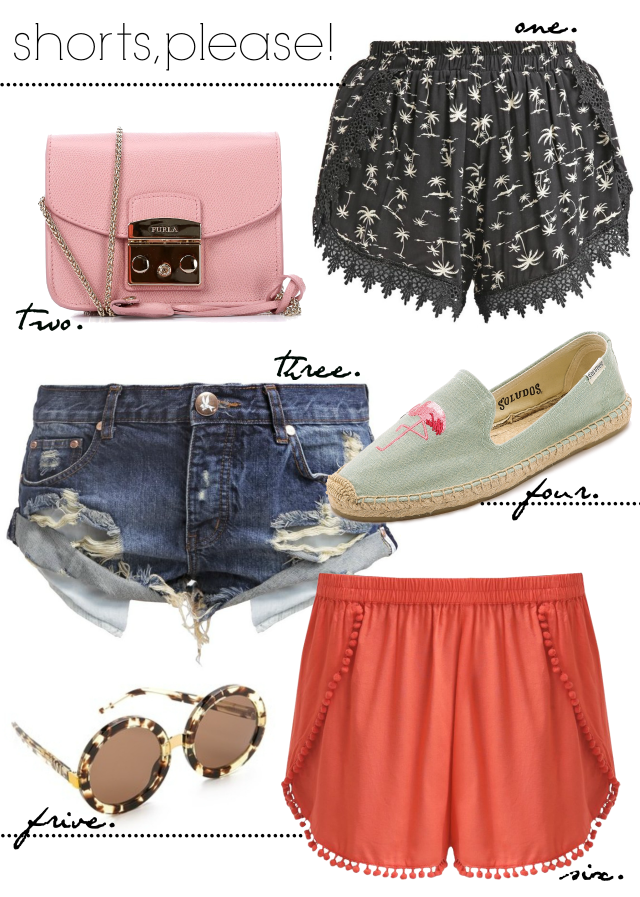 1. Nothing screams Summer quite like some palm trees, which is why I am loving this cute (and affordable) pair by Glamorous.
2. I am a big fan of these cute little Furla bags and can't get enough of mine in mint. So why not add a light pink version for Summer to the mix?!
3. Loving the color of these One Teaspoon shorts – what do you guys think?
4. Through Sincerely Jules and Song of Style, I discovered Soludos espadrilles via Instagram. Obsessed!! I mean, this pair even has flamingos on them ♥
5. Lately, I've been all about my round sunnies (seen HERE) and also love these "Malibu sunglasses" by Wildfox.
6. A pop of color? Why not? Plus, these shorts have the cutest little pompoms attached to the seams!