CRAVINGS: April wishlist
What is it about girls and jewels? Not without reason is there a saying that "diamonds are a girl's best friend". While I only own a few "real" pieces of jewelry, which were all super special gifts from either my dad or boyfriend, I own a fairly extensive collection of "fashion jewelry". I like to add a bit of bling to almost every outfit I wear, whether it is a big statement necklace, golden watch or sparkly earrings … just can't get enough! And it is such an easy way to dress up a simple look. For my April wishlist, I found some stunning pieces on GIRISSIMA.com, which are not only absolutely beautiful, but also affordable. Win-win situation, right? Which combination is your favorite?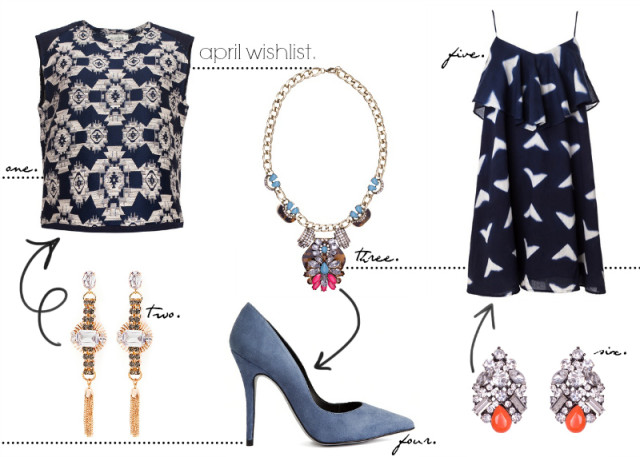 1. With everyone at Coachella this past week, I've been loving the festival style, and all the amazing prints and patterns. This mosaic morocco top by G Findings would also look amazing with a simple pair of black skinny jeans!
2. I don't really own any "long" earrings, but after seeing how amazing they look with a simple white tee or silky blouse, I am totally sold on the idea.
3. My love for statement necklaces definitely isn't a secret around here, and I am obsessing over the blue and pink color combination of this one.
4. While I used to only wear heels with a plateau, I am now back to a simple pump. All of the shoes I have recently spent money on are timeless and elegant, and this pair by Más34 in blue suede as the perfect shape – in my opinion!
5. Being an absolute summer child, I am already shopping for the warmer season. Two new maxi dresses just made their way into my closet, and now I am on the hunt for a flowy shorter dress, like this sun dress by Antik Batik.
6. Lots of rhinestones, all piled into one sparkly pair of earrings = major love!
*in collaboration with Girissma.com