CRAVINGS: advent atmosphere
For the 2nd Advent Sunday, we decided to head home and spend some downtime with our families. Nothing beats a late Sunday breakfast with the loved ones, good coffee, waffles and chatting for hours. Just like every year, my mom has done an amazing job decorating the house and it made me regret not decorating this year. Luckily, however, that special Advent atmosphere can also be translated through other things, such as a faux fur plaid, candles burning around the house and a little bling bling or red nails. One of my favorite home decor stores, Interio, just launched their webshop about 2 weeks ago and to celebrate we've created a special 10% discount for you guys. So if you're on the lookout for a cozy blanket, some Christmas tree decor or whatever your heart desires, be sure to shop with the code BIKINIS10 before the 24th. Happy 2nd Advent!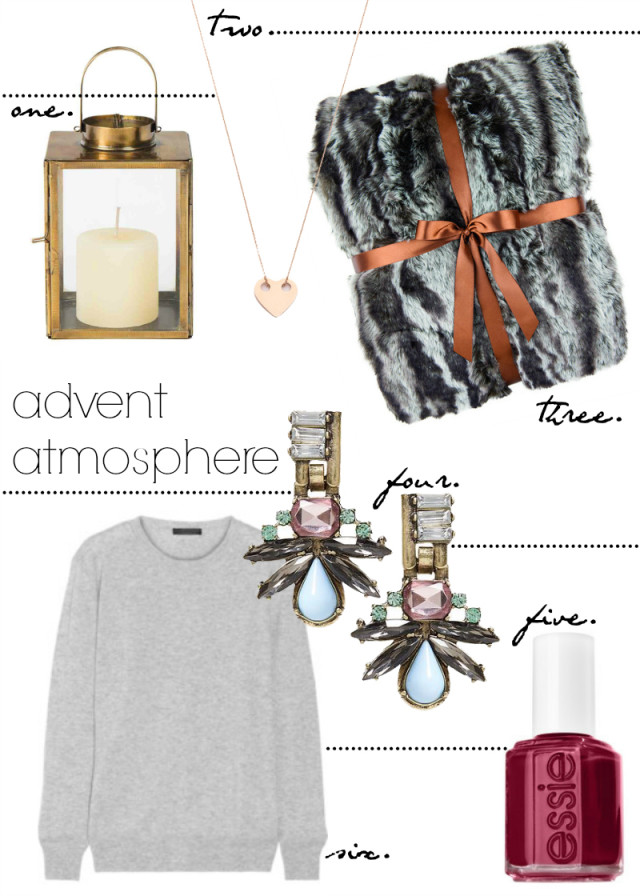 1) You guys know that I have a major weakness for candles. Well, my mom has these pretty lanterns standing all around the house (especially love them on the side along the stairs going up) and now I want some too.
2) Delicate jewelry has been my big winner of 2014 and this necklace is simply perfect! Hello Christmas wishlist!
3) We already own a super soft faux fur plaid from Interio, but I think a second one would be a great idea, that way I don't always have to share with Mike anymore!
4) Nothing like a sparkly pair of earrings for the holidays. Love this super affordable but gorgeous pair or chandelier earrings!
5) This is the epitome of a gray sweater, but when I saw the price tag I just about fainted. Never imagined a sweater could cost that much … so we need to find a more realistic version asap!
6) My go-to nail polish for the holidays is "a-list" by Essie. An amazing shade of red that looks great with a few sparkles on the ring finger!
*product placement supported by Interio