BEAUTY TALK: micellar water.
Here's a little love story of how I met micellar water! But first things first: I've never made my sensitiv skin a secret here on the blog. Ever since birth, I have had eczema and it's been a lifelong learning process. Over the years (especially since my teenage years) my skin has improved tremendously. What used to be a condition that took over my arms, legs, neck and even the super delicate skin around my nose and eye, is now barely even noticeable. When I was younger, I had to wear gloves which here tied around my wrists to sleep in order to keep me from scratching my skin like a crazy person at night. I also couldn't take part in the school swim classes because the chlorine water dried out my already dry skin even more. If any of you have eczema or any other skin condition that causes severe itching probably know what a struggle it can be, especially as a kid.
Luckily, I have a mom with just about the most positive attitude possible. She is the one who taught me to love my freckles and she is also the one who made me realize that out of all the chronic diseases and conditions out there, a rash is not the end of the world – although I do have so many memories of her telling me "if I could, I would trade with you in a heartbeat" at times when it was extra bad. So why am I telling you guys all of this? Well, because I have found certain products that help me. And if my experiences can help just one of my readers, I am a happy camper.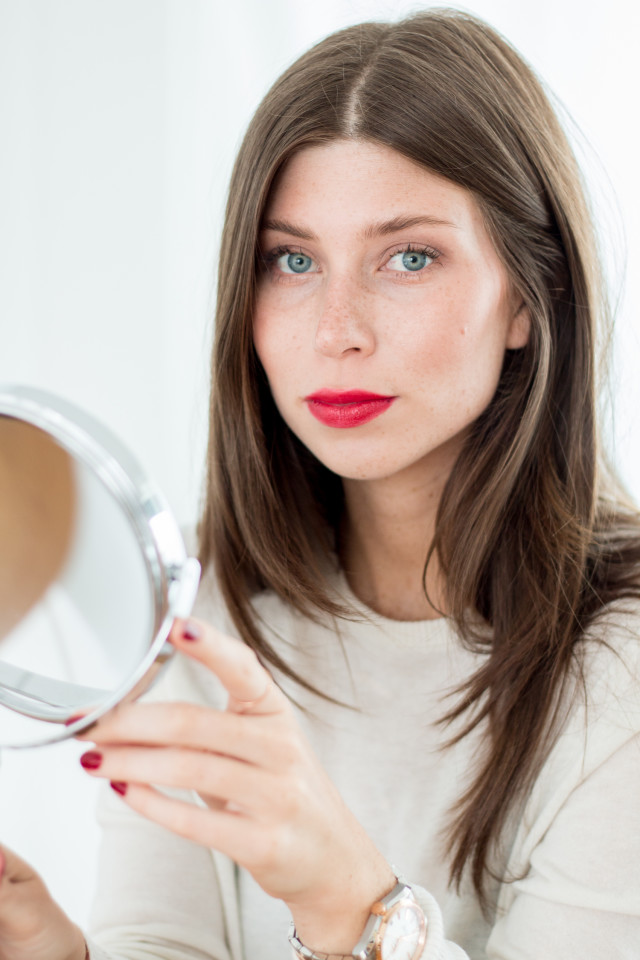 For about 5 years now, I have rarely had episodes on my arms or legs, however, the skin around my nose is thinner than tissue paper and basically tears open when I blow my nose more than once per day. It has always been something that bothers me personally. Even though it may not be as visible to others as it is to me, I constantly felt a little self-conscious about the dry and flaky area. Super dry and cold Winter air doesn't exactly make it any better. [wow, I am taking extra long to make a point today …]
BUT, this Winter, I started using micellar water as a make-up remover instead of washing my face. It wasn't really intentional to skip the water part, but I was on the lookout for something new for sensitive skin. Since I do really well with La Roche-Posay products, I tried their micellar water (available at most local pharmacies or online) when I ran out of my old foaming cleanser. It took me a while to realize the effect not using water to wash my face twice daily had/has on my skin. I think it is safe to say that my skin has NEVER looked better than it currently does. My favorite part is, that even others notice and Kathi recently called me "Porci", which is her word for people with perfect skin like porcelain. ♥ If you've had problem skin (no matter if it is super dry or if you have to battle with impurities), you know what a blessing clear and glowing skin can be.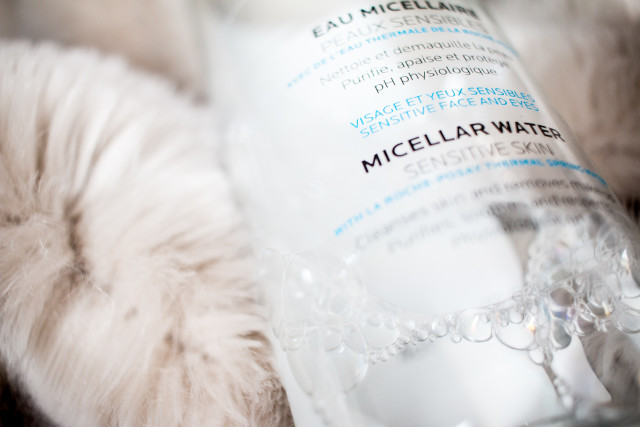 I have been meaning to tell you guys about micellar water for a while now (ever since I made the connection of my improved skin with the daily ritual), but wanted to try out different options and brands before doing so. Since my La Roche-Posay bottle is fairly large, I switched to the dragon blood cleansing water by Rodial (also available at Douglas) at the beginning of April halfway through the bottle. I am actually on a mission to try to fully use all my beauty products before re-stocking right now, so I couldn't get myself to crack open a 3rd bottle. For me personally, both products I have tried are amazing. The product by Rodial has a slightly more noticeable scent (rose water) and left my skin with a tiny bit of a tingle. However, that may have just been my mind after reading "dragons blood" – which of course, has nothing to do with dragons or blood. Here's the official description of both products.
La Roche Posay Micellar Solution: "Gently cleanses face, lips and eyes. Delicately cleanses, removing make-up and eliminating impurities. Agents selected for optimal tolerance and high make-up removing power. This product has a physiological pH and is enriched with La Roche-Posay Thermal Spring Water." (200ml for 15.95€)
Rodial Dragon's Blood Cleansing Water: "Gentle, hydrating micellar water facial cleanser for the eyes and face with hyaluronic acid and vitamin b3. Refreshing rose water removes make-up and impurities whilst dragon's blood comforts skin through hydration and vitamin b3 illuminates, for an instant burst of energy and a brighter complexion. A gentle cleanser with a non-sting, no rinse formula. Suitable for sensitive skin." (200ml for 32€)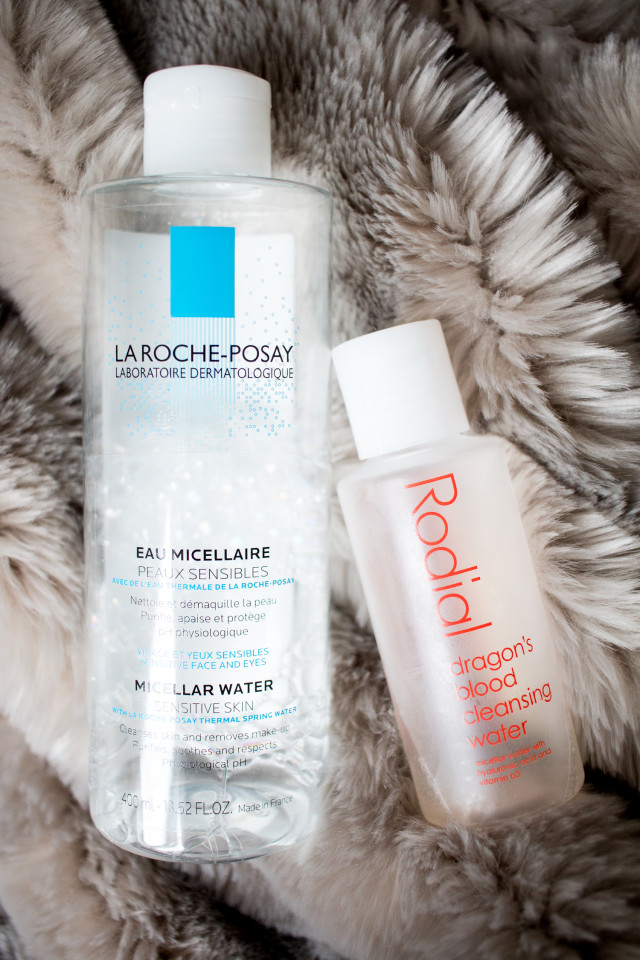 So what is micellar water? "Micelles are nano-sized, single-layer fatty bubbles," explained Dr. Alexiades-Armenakas. "They are able to absorb other fats such as sebum and oils inside." According to dermatologist Dr. Macrene Alexiades-Armenakas "Micelles are attracted to dirt, grime, and oil, and they draw out impurities without drying out your skin,"
"Rather than containing a foamy solution that strips your skin and leaves behind harsh chemicals, micelles cling on to the dirt and makeup on your skin and dissolve them while leaving behind a glowy, hydrated finish."
Simply said: While it is suitable for every skin-type, it is also the ultimate lazy girl product and perfect for traveling. All it takes is a small bottle of micellar water and a cotton pad. Soak the pad, wipe the face and you're done!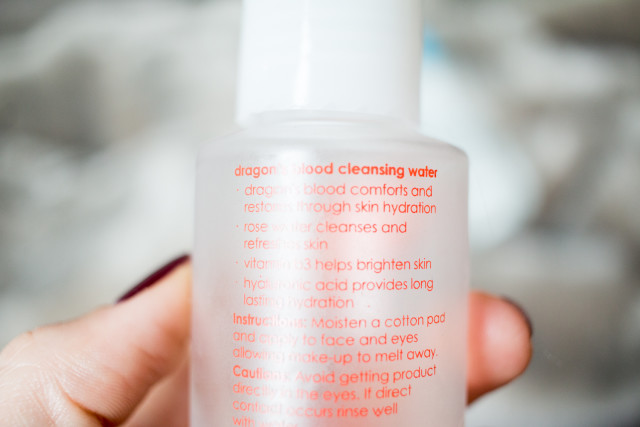 For me personally, it is like liquid gold. I have seen such an incredible improvement with my skin in the past few months and literally never want to clean my face any other way again. The only thing I have noticed that you may still need a specific eye make-up remover, especially for waterproof products or a heavier make-up. However, since I have my lash extensions, I rarely use mascara. The little I do occasionally use on my bottom lashes can be taken off with the micellar water.
It has been a long time since I changed my skin care routine but I am so happy with my new discovery. (As you can probably tell by this insanely long post … whoops.) If you happen to be using micellar water, I'd love your recommendations for brands to try. I definitely want to give other options a try as well, but if you are looking for a recommendation from me, both of the products mentioned above are great!

[thefeedproducts style='four']