VIDEO: fall fashion
Since Fall is in full force here in Vienna at the moment, I've been wanting to share a few of my personal Fall must-haves with you that are currently worn almost daily. As someone who much prefers warm temperatures, I always have somewhat of a hard time adjusting to the chilly Autumn weather and dressing the part. Even though I am excited about warm and fluffy coats, I hate heavy winter boots and shoes. The outcome is usually an outfit that is a bit unbalanced or too cold for the season (seen HERE). This year, however, I am definitely trying to make the most out of the cooler time of the year and am focusing on pieces that will keep me warm while looking the part. Click on the image to watch the video: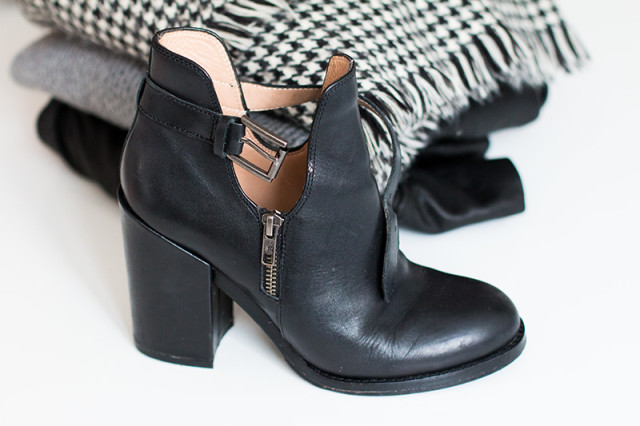 And since the video is in German, I've decided to also round up my personal top 5 Fall items right here in English for you guys:
– Leather Jacket: It is the perfect piece for layering. For those first cooler nights, simply throw it on over a summery top and once Fall really hits you can pair it with warm knits and big scarves. Mine is this one by SET.
– Heeled Ankle Boots: For meetings or going out, I feel that heeled ankle boots are perfect in Fall. They'll keep your feet just warm enough while still looking the part. I purchased these ASH boots in August.
– Scarves! The one thing I love about Fall (except PSL at Starbucks …) are scarves. I even have some light chiffon ones for Summer and just love wearing scarves in general. So Fall is a great excuse to purchase a few extras. My favorite scarf this year is a houndstooth version from ZARA (old). Find a very similar one HERE.
– Sweaters: This one is pretty obvious, but not always easy to go through with. Chunky knits are amazing, but finding good pieces can be hard. My favorite sweater this season is this slightly cropped gray version by MANGO (on sale for 25€).
– Earrings: Even though I am a big fan of necklaces, I find myself leaving them in the drawer during Fall and Winter. Big statement necklaces can easily get caught on your favorite scarf and are even covered by it most the time – so why even bother? Instead I like to focus on earrings which are a nice eye-catcher above the scarf. My favorites are the Mise en Dior tribal earrings and you can find the cheaper version for 10€ HERE.
What are your Fall must-haves?