TRAVELS: a few of my favorite spots in Paris
As I mentioned in Friday's post, I wanted to share some of my favorite spots in Paris with you guys. Now, I know there are probably MANY more gems that I have no idea about – but I have been to Paris 3 times and these are definitely always on my "must visit" list if I only have a limited amount of time! In all honesty, the first time I travelled to Paris (at age 15) I wasn't a big fan … I was staying with a host family but felt really lost & lonely, which kind of kept me from enjoying the beauty of the city. However, the past 2 trips to Paris have been wonderful and I've really learned to love the french capital. The beautiful buildings, the well-dressed women on the streets and the many small pâtisseries that sell the most delicious croissants – what's not to love?
Since my flight was super early, I was able to start my day in Paris at 8 am. Luckily, Anna had a wonderful breakfast recommendation for me, which I couldn't wait to try out. At "Le Pain Quotidien" you can get an authentic Parisian breakfast for 10€ in a super cute little café + they have free wifi. The petit dejeuner includes a fresh croissant, french bread, fresh orange juice, a big cappuccino (or coffee of your choice) and homemade jams. After breakfast there are some great places to shop right around the corner: Marc by Marc Jacobs is literally 100m from the café and on Rue St. Honoré you'll find Colette, an amazing concept store with lots of designer brands, and amazing selection of Celiné bags and it also carries the make-up products by '& other stories'! Rue St. Honoré also offers plenty of other amazing stores, like Jimmy Choo, Miu Miu, Mulberry, …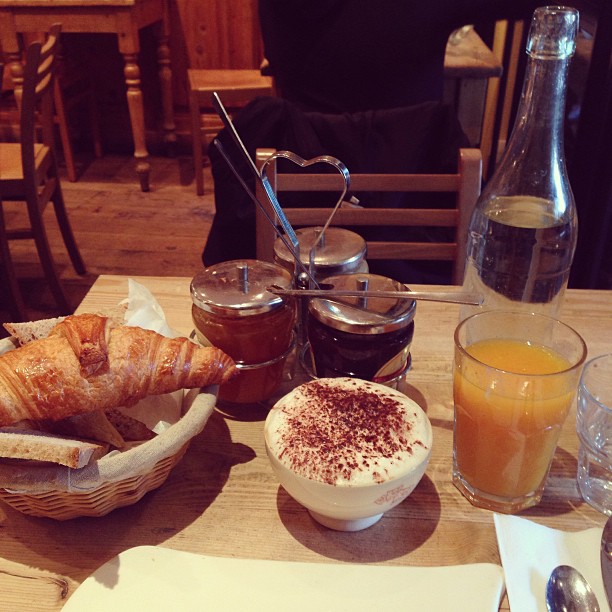 Le Pain Quotidien
18, place du Marché St. Honoré, 75001 Paris
**METRO: Tuileries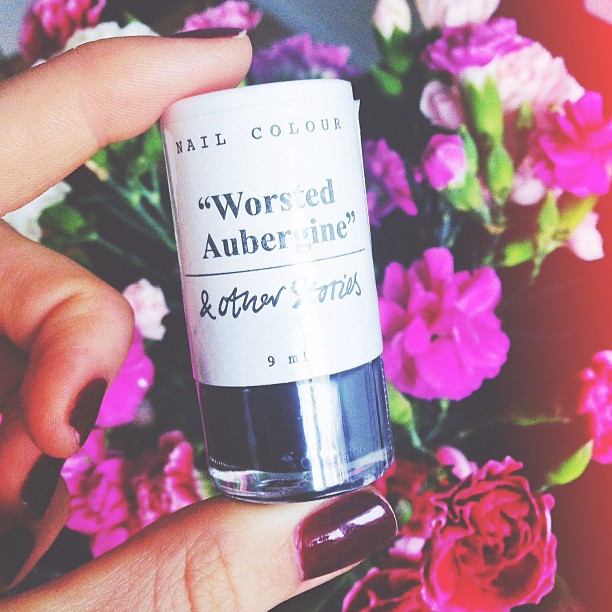 colette
213 Rue Saint-Honoré,  75001 Paris
**METRO: Tuileries
Marc by Marc Jacobs Store
19 Place du Marché Saint-Honoré, 75001 Paris
**METRO: Tuileries
From the Metro station "Tuileries" the Louvre and Champs Elysées are both in walking distance. If you've never been to the Louvre, definitely check that out – even if you just walk around by the building without actually going to see the Mona Lise – I LOVE the glas pyramid!! But since I had already been there, I walked over to the Champs Elysées after breakfast for the fashion show at Le Grand Palais. (On the way you can also get a first glance at the Eiffel Tower.) There are tons of shops on Champs Elysées; I had a quick look around at Sephora and then walked over the the Louis Vuitton store, across the street. It is one of the most beautiful stores I have ever been to and I adore the huge selection of books they carry there – definitely worth a stop! Also, on Champs Elysées you'll find a Ladurée, which is where we had lunch with the Stylight girls. The perfect place for fueling up on a club sandwich and snacking on a few macarons!
Ladurée
75 Champs-Élysées, 75008 Paris
**METRO: George V
After lunch would have been a perfect opportunity to walk up the rest of the Champs Elysées to the L'Arc De Triomphe, but since I had already been there twice I decided to meet up with Vicky of The Golden Bun (who had kindly offered her company) and we headed back towards Rue St. Honoré and shopped a few more things from my "to-do" list and drool over the beautiful window displays of Miu Miu, Jimmy Choo & Co. 🙂 Vicky is currently living in Paris and knew her way around, so we walked all the way to the opera and then on to Galleries Lafayettes and Printemps – while enjoying the gorgeous Parisian buildings and sunshine.
At Printemps I bought a few souvenirs and then got a cab to take me to Gare du Nord, where I caught my transfer to the airport. Definitely a TON of walking for one day, but I always feel that walking lets you experience a city in the most authentic way! I love staring up at the pretty building, watching the locals hurry by and looking through the windows of small cafés and boutiques.
Grands Magasins Printemps
64 Boulevard Haussmann, 75009 Paris
**METRO: Havre – Caumartin