the best tricks to survive long-distance flights.
This year, it seems that I am racking up those frequent traveler miles. After starting our year in Maui, Mauritius was next on the agenda in February. Then in March Mike and I flew to the Maldives and stopped in Abu Dhabi on our way home. April brought along 4 days in Dallas and in May I went to Spain twice – Mallorca and Barcelona. In June I flew to Barcelona again to spend 5 days on a ship and currently I am writing this post from Bangkok. I have gotten so used to being on a plane that it almost feels weird when I go a week without a trip to airport. While all of the flights within Europe are easy by now, longer travels still require a bit of preparation. Especially if the duration of the trip is only for a few nights, a 10 or more hour flight can be quite exhausting. Over time, I have developed a few personal tricks to survive long-distance flights, which I wanted to share with you just in time for those Summer travels to start.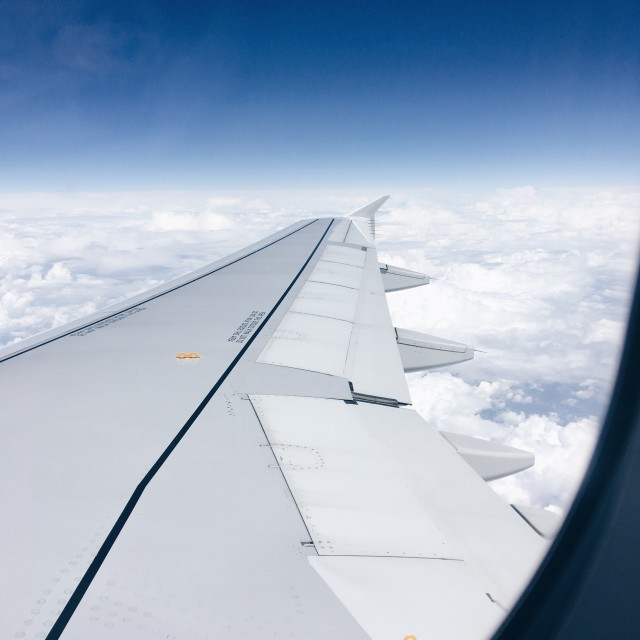 Water! The air on airplanes is super dry, which is extra difficult for someone like me with naturally dry skin. In the past, I would complain about my skin looking horrible and tired for days after a long flight, until I figured out that it was a matter of hydration. Now, I try to start drinking more about 24 hours before the flight, always buy my own water bottle at the airport to keep on hand and as for a cup of water every single time the stewardess passes by. No soda, no alcohol – just water
Sleeping Pills! I'll admit, this one sounds a bit dramatic, but it is the truth and such a big helper. One of the worst travels I can remember was our flight to Mauritius. At one point, we were fairly convinced we'd never arrive. A 6-hour flight to Dubai, followed by a 6-hour layover (10pm until 4am, might I add) and then another 7 hours onboard were no fun. Especially without any sleep. Ever since then, I take half a sleeping pill for overnight flights. Even just 4 or 5 hours of sleep on a plane can make such a huge difference for that first day of the trip. For Thailand we left at 8pm on Saturday in Vienna and arrived at 11am on Sunday in Bangkok. With the trip only lasting 5 days, there's no time for wasted days due to jetlag, so better be safe than sorry. With a few hours of sleep onboard the plane I can usually survive the first days and will sleep through the entire first night!
Skip The Airplane Food! At home, I try to stick to lots of healthy meals and fresh ingredients. Even though I don't necessarily hate airplane food, it is far different from my normal diet and simply adds to feeling groggy and unwell. That's why I no longer eat the airplane food. For shorter flights I always have a paleo or protein bar with me and for long-distance flights I buy something healthy at the airport. For example for this most recent flight I got a mezze platter with hummus, grilled eggplant, some arugula, baba ganoush and more before take-off.
Stick To A Routine! Even though an airplane seat is nothing close to my bed at home, I try to stick to my usual bed-time routine which includes taking out my contacts, brushing my teeth and removing my make-up. Isn't a freshly cleaned face the best feeling ever? Apply an intense moisturizing mask after for an extra fresh and plump look when arriving at your destination.
Sleeping Mask & Earplugs! I am used to a pitch black and super quiet room at home, so even a bit of light will make it harder for me to sleep. That's why a sleeping mask and earplugs are great helpers for a bit of sleep on an airplane. Sometimes I also trade my earplugs for some calming quiet music.
Work Work Work! Obviously not all flights are overnight, so sometimes it simply doesn't make sense to try to sleep. That's why work is my best friend on those flights. No where else do I zoom through my inbox as fast as on an airplane! You can answer and write emails to be sent once the computer connects to the internet, and some flights even offer wifi for an affordable price (Frankfurt to Dallas for 17€). Plus, you can enjoy those first few hours on vacation by the pool or beach rather than catching up on work and time flies by when you're getting stuff done! Win, win – right?
What are your tips and best tricks to survive long-distance flights? I have another one coming up on Friday so all advice is highly appreciated and I hope my input may help some of you get through the next long-haul flight!