RECIPE: sugar free chocolate chia pudding
I seriously used to hate breakfast! Well, maybe not hate (that is a pretty strong word), but simply didn't feel hungry that early in the day and saw no point in eating without the desire to. So coffee on the go it was. However, since I've been working from home for the past 2 months, I've made it a point to start my day right with a healthy breakfast. Nothing big, but all the more nutritious to get my metabolism going. I usually have greek yogurt with fresh fruit or homemade bircher müsli, but recently I discovered my love for chia pudding, thanks to Kathi. I've been having it for the past week or so and am slightly obsessed, trying different variations on a daily basis. Today I wanted to share one of my favorite creations with you guys: Sugar free chocolate chia pudding! It literally tastes like nutella … just sayin'!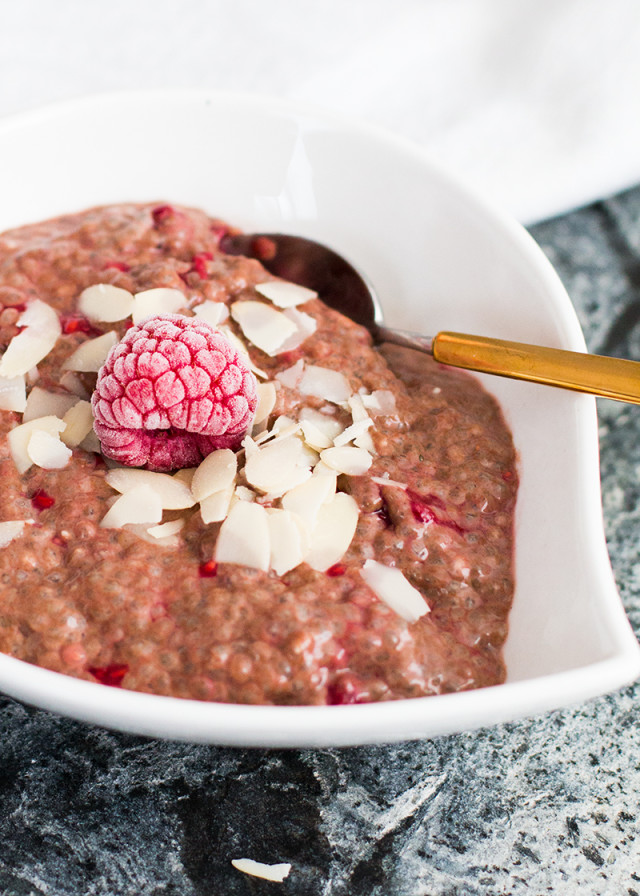 What you'll need:
– 15 gr of chia seeds
– 100 ml of hazelnut/rice milk
– 1 pinch of cinnamon
– 1 tsp honey
– 1 tsp organic raw cocoa powder (no sugar added)
– fresh or frozen berries
– almond slivers, toasted hazelnut or shredded coconut (optional)
Prepare the base for your chia pudding the night before by mixing the milk with chia seeds (shake well) and place in the fridge over night. This will leave plenty of time for the seeds to soak and form a gel-like pudding consistency. In the morning, simply add the finishing touches with cinnamon, honey and cocoa powder. I like to use frozen raspberries and mix them in with the pudding, but you can also top your chia with fresh berries or banana. Enjoy!