RECIPE: homemade pizza pockets with asparagus
After the last, healthy breakfast smoothie recipe (check it out HERE), it is time for a little something savory today. After all, it is the weekend, which is when calories don't count and pyjamas and sweats are considered real outfits (at least in my world). Ironically, I am still in my sweats while writing this, with a belly full of homemade pizza pockets with asparagus. Yumm! While I would love to pretend like it was my full intention to make these delicious pizza pockets when I was shopping for groceries yesterday, it would be a complete lie. I actually wanted to make a strudel with puff pastry, but apparently grabbed pizza dough instead of the pre-made puff pastry. The wrong dough called for some improv action in the kitchen, and luckily the result was pretty satisfying.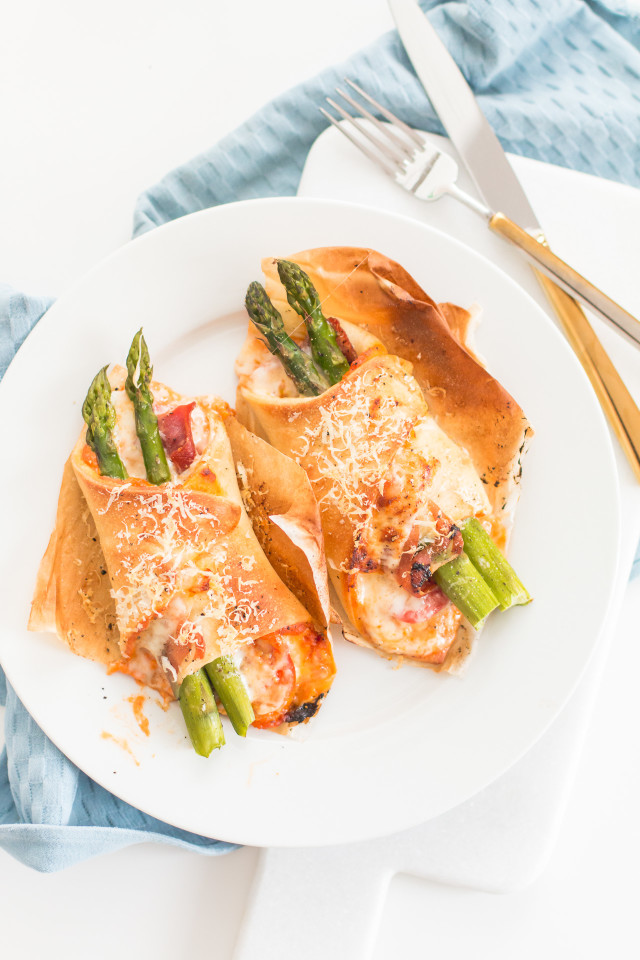 What you'll need:
– 1 sheet of ready-to-go pizza dough
– creamy red pesto (I used the Barilla kind)
– 6 cherry tomatoes
– 6 slices of gauda cheese (or mozzarella)
– 6 slices of prosciutto
– 12 pieces of green asparagus
– salt/pepper
– grated parmesan cheese (optional)
Start by cooking the asparagus for a few minutes so it is firm to the bite. Drain and set aside. In the meantime, pre-heat the oven to about 200°C and cut your pizza dough into 6 square pieces, leaving it on the baking sheet. Spread about 1 generous tsp of creamy pesto on each square of dough, slice cherry tomatoes and place on pesto. Next, layer a slice of cheese and prosciutto on each pizza. Lay 2 pieces of asparagus diagonally across each pizza square and fold opposite corners to form the pocket. Season with a bit of salt and pepper and sprinkle with grated parmesan cheese. Bake for 15-18 minutes until golden brown. Enjoy!