RECIPE: healthy chickpea salad with grapefruit & avocado.
A can of chickpeas has become one of those must-have kitchen essentials to me lately (just like a box of pasta, oats or eggs). Including protein in every meal doesn't always have to equal meat or dairy products. There are a lot of other great sources of protein, such as lentils, nuts or chickpeas. Every now and then, I like to purposely add a vegan meal to my diet and today's super healthy chickpea salad with grapefruit & avocado is one of my favorites! And since so many of you were eager to find out more about my diet changes after last week's breakfast diary, I thought I could try to share at least one recipe per week with you guys from now on.
Here is why this healthy chickpea salad is so great: It includes one source of protein (more than 40 gr per can of chickpeas!!), fresh herbs, super healthy linseed oil and grapefruit which is such a powerful nutrient combination of fiber, potassium, lycopene, vitamin C and choline – all good for a healthy heart.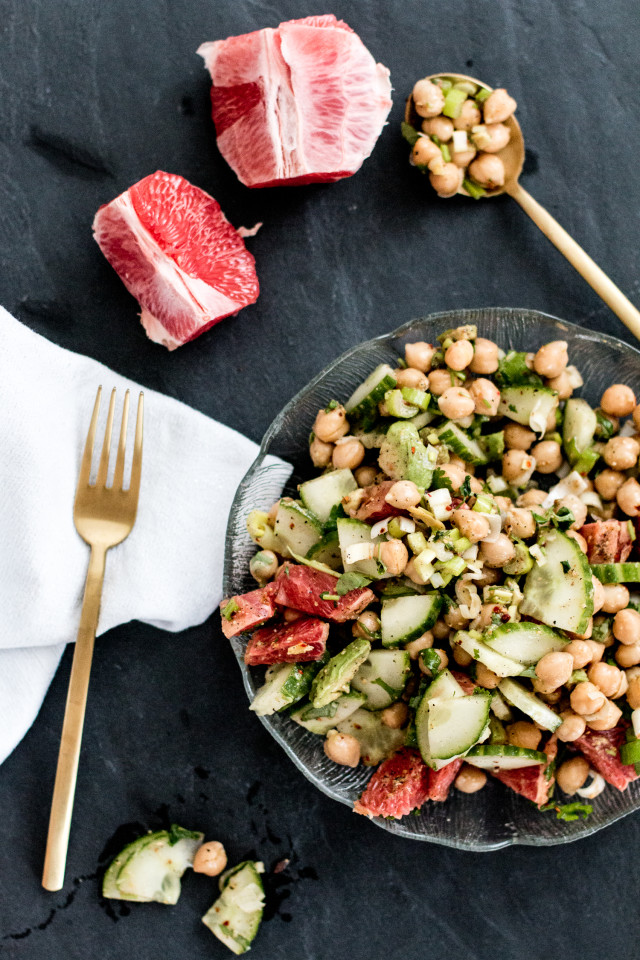 This is what you'll need for 1 generous portion:
– 1 can of chickpeas (about 240 gr)
– half avocado
– half cucumber
– half grapefruit
– fresh cilantro
– juice of half a lime
– 1 tbsp linseed oil
– salt, pepper
– lots of spices!! (I used this mix)
Rinse the chickpeas and chop the avocado, cucumber and grapefruit into bite size pieces. Toss all of the ingredients in a bowl together with the linseed oil, lime juice and spices. Top with fresh cilantro & enjoy! Super easy, right?