RECIPE: healthy banana pancakes
For weeks now, my sister has been terrorizing me with photos of her healthy post-workout pancakes which always look like absolut foodporn! I've been wanting to try them myself and finally got around to it after my morning workout on Friday. They are mostly made of banana and eggs, which makes them not only filling but also healthy (if you skip the syrup …which I obviously didn't). I literally want these every single morning from now on. So, I thought I'd share my sister's recipe with you guys for one of the best breakfasts ever – thank me later!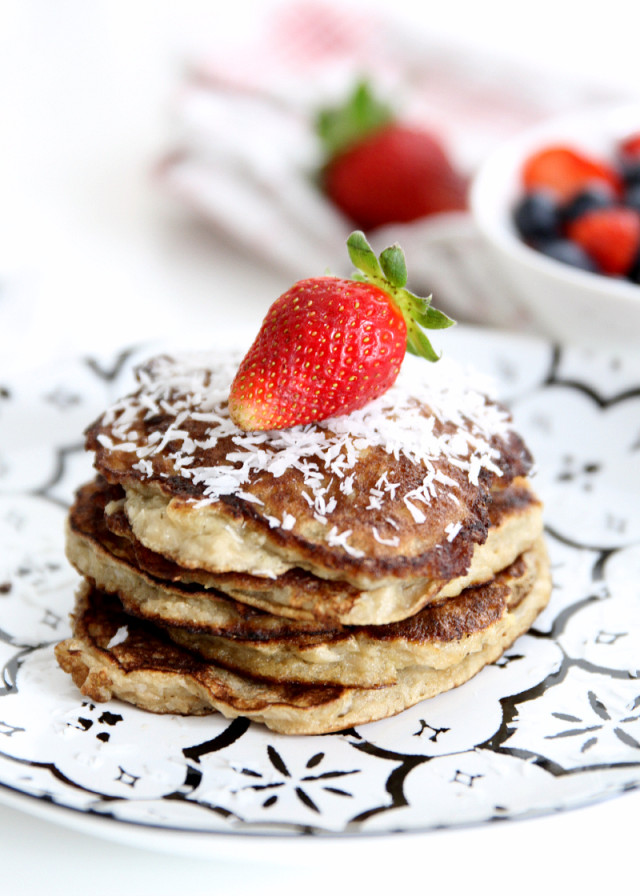 What you'll need:
– 1 very ripe banana
– 2 eggs (1 whole, 1 just egg white)
– 1 tbsp whole wheat flour (ca. 10gr)
– 1 knife tip of natron or baking soda
– 1 tsp coconut flakes (optional)
– coconut fat for the pan
– fresh berries
– maple syrup (optional)
Start by mushing your banana until it become a smooth consistency. Next add your whole egg plus 1 egg white and stir well with a whisk. Then mix the flour with the natron and add to the mix along with the coconut flakes – stir well to form the batter. Heat your pan on medium heat and grill your pancakes until golden brown (mine turned out a bit too dark). Serve with fresh fruit & enjoy!
*my sister also likes to add a bit of dark chocolate shavings to the batter, to turn these babies into banana-choco-chip pancakes! YUMM!!