Postcards from Barcelona.
Back in December, Mike asked me to choose between Barcelona and Hamburg. With no idea what he was getting at, I instantly said Barcelona. Not because Hamburg isn't great, but because I have been in Hamburg so much recently and when it comes to traveling, I am usually a fan of "the farther the better". Turns out he had Coldplay tickets on hold for both cities and after patiently waiting for 5 months, this past week it was finally time for my incredibly Christmas present: 4 days in Barcelona + the concert at the olympic stadium on Montjuïc. Needless to say that this will go down as best present ever!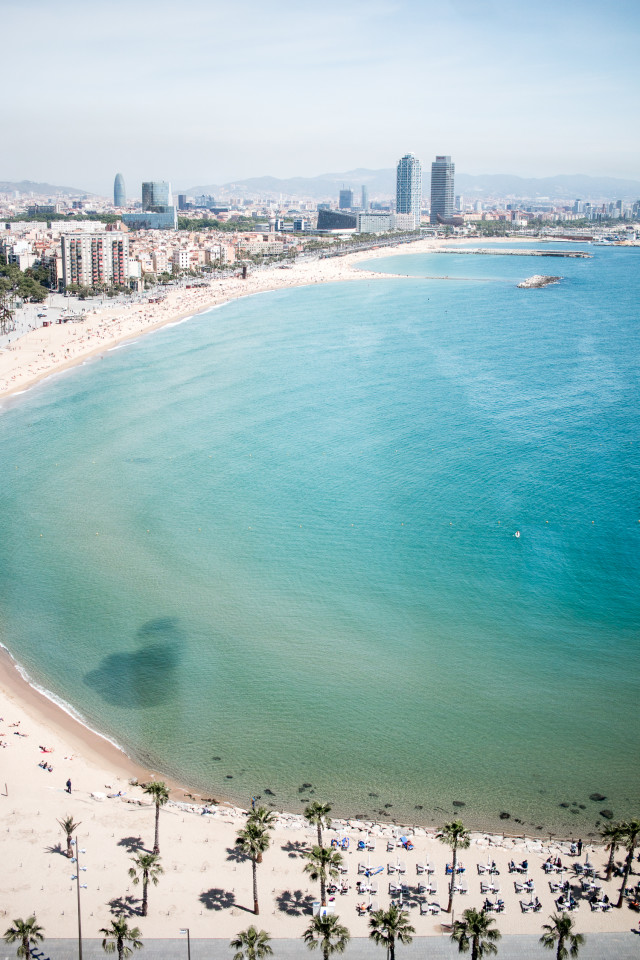 Barcelona and I are not the greatest lovers of all time, but share a really weird relationship. I am not one of those people that is simply blown away by the city. In all honesty, I find it a bit dirty and run down. However, at the same time I am so impressed with Barcelona and there are plenty of things I absolutely adore about it. A city with 1.6 million people that has a beach = love! All of the amazing restaurants = love! The architecture = love! So even though it is not my favorite city on earth, it is so unique and special that a trip is always worth it.
Since we have both been to Barcelona before, we decided to stay down by the ocean instead of in the heart of the city this time around. Mike chose the W Barcelona and it was simply amazing! (I have a detailed hotel review coming up for you guys later this week.) We also ventured out for food a lot, and every single experience was great. I feel like Barcelona is a foodie paradise and I love the culture of going out late (dinner between 9 or 10pm), having good music and really cool restaurants! By chance, a group of friends was also in town, so we were always around 6 people going out, which I can highly recommend. I am sure there are also plenty of romantic date-night restaurants, but for the places we choose a big group was definitely more fun. For the first night we had dinner at Nuba which is a little further up in the city and on the second night we went to CDLC right by the beach which is a definite must when you are in Barcelona – also great for afternoon sangria (even though I have to admit that nothing topped the sangria we had at the hotel).
Of course, the highlight of our trip was the concert on Friday night. It was our 3rd Coldplay concert and even though all of the concerts were amazing, this one was my favorite by far. The setting in the olympic stadium literally took my breath away and when they started playing and everyone's wristbands lit up I wanted to start crying. Unfortunately I didn't bring my camera since they took it away last time we saw Coldplay in Berlin and it was a huge struggle to get it back after the concert, but I hope you guys were able to follow along on Snapchat (@vickyheiler) to understand what I am talking about. If not, be sure to check out this video. And if you ever get the chance to see them live – take it!