Sweet Potato Noodles with Spinach & Feta
I've been a fan of zoodles (noodles made of zucchini) for a while now. I started swapping out regular pasta for zucchini noodles about a year ago when Mike and I tried to skip carbs the entire month of September but still wanted to continue our Sunday tradition. Funny enough, I found it to be just as satisfying as a plate filled with normal spaghetti bolognese. For the past 12 months, I have been using a julienne peeler which worked fine but made the process of making zoodles just about as time consuming as baking a cake. In my opinion, that takes away the entire purpose of a non-fuss pasta meal. Yesterday, however, a professional Kenwood spiralizer finally made its way into our kitchen and guess what I've been doing since? Spiralizing, obviously! For breakfast, lunch and dinner. It is so easy to use (dishwasher safe!) and I am in love with how fast it is. Plus, the different cutting blades allow you to make anything from thin spaghetti to linguini and even tagliatelle. Fancy stuff! Last night we had zucchini & carrot linguini with pesto chicken, apple also works great in the spiral cutter and today's lunch was so good, that I simply had to share the recipe with you guys! Sweet potato noodles with spinach & feta that will rock your world. Plus, the sweet potatoes make the dish super filling and satisfying, which is just what we need when the days are getting shorter and colder, right?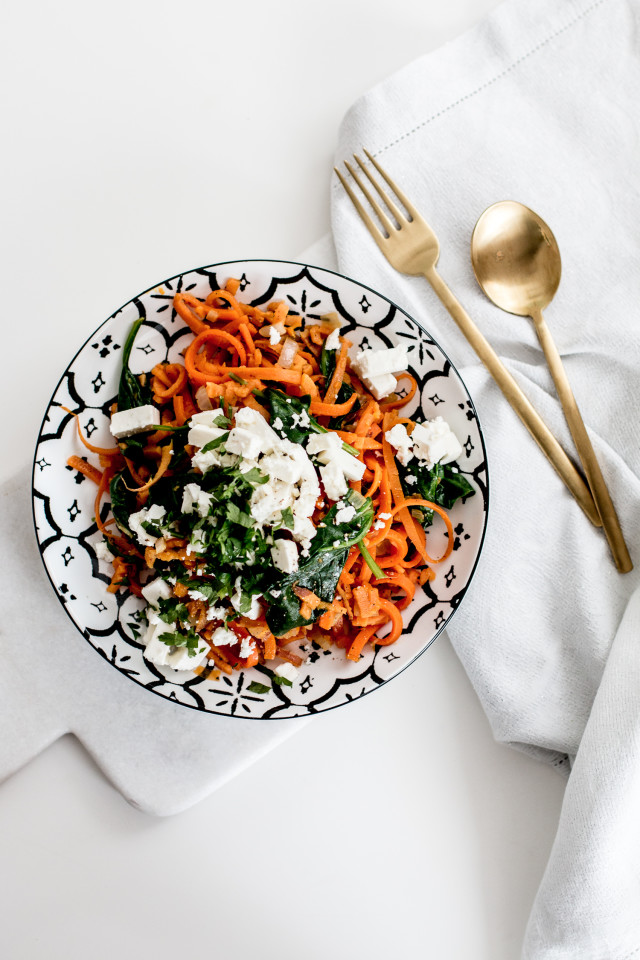 Ingredients:
– 1 large sweet potato per person (about 250gr)
– 1 carrot
– 1 tsp coconut fat/oil for the pan
– 1 clove of garlic
– 1 small red onion
– salt/pepper
– handful of spinach
– 100 gr feta cheese
– chopped fresh parsley
**and of course a spiral cutter, like my Kenwood spiralizer.
Directions:
Start by spiralizing the sweet potato and carrot – I used the thinner option for "spaghetti". In a medium size pan, melt the coconut fat on medium to high heat. Finely chop the onion and garlic, add to pan and sauté. Next, add the (faux) noodles and also sauté for about 5-7 minutes. Add about 50ml of water to continue to cook the noodles. Once the water is more or less evaporated, add the spinach and cook with the noodles for about 2 minutes. Last but not least, season with salt and pepper to taste (you can also add some cayenne pepper for extra spice) and serve with fresh parsley and crumbled feta. Happy, healthy lunchin'!