HEALTHY LIVING: it's all about balance
It has been quite some time since my last fitness post. The main reason for that is that I simply don't work out as frequently anymore and it feels wrong to me to give you guys tipps on how to stay active, while I am kind of struggling with it myself. Life has been super busy lately (which I love) but I've rarely seen the gym and only run about 2-3 times/week at the moment … However, after I posted this photo of myself on Instagram wearing a bathing suit during our vacation on Kuramathi Island I received a ton of emails, asking about my fitness and diet. While I wish I had the time to always answer all your emails, I simply don't but sincerely hope this post clears up a few of your questions.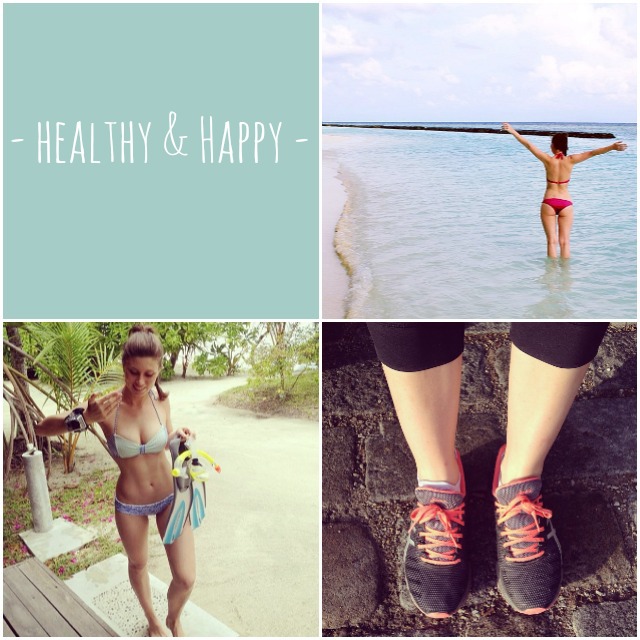 I don't believe in depriving myself of anything, and to me happiness is more important than having a few pounds less on the scale.  However, just like every other girl I am never 100% happy with my body – but I guess that's normal! For staying fit, and most importantly healthy, here are a few things I try to incorporate into my daily routine:
– I run before work 2-3 times per week. Usually around 5 or 6 km. Other than that I try to head to the gym 1-2 times per week for working out with the free weights or taking classes like Zumba, Pilates or High Intensity Pump.
– Some of you mentioned my tummy and abs in your emails: I do a lot of crunches, sit-up and leg lifts on the mat (no machines for me – hate those!)
– For my legs I think running does the most, and I do THIS exercise whenever I am at the gym.
– Get a buddy to run or work out with. It is super easy to cancel plans with yourself, but much harder when you know there is someone waiting for you 🙂
– Walk, walk, walk! I always take the stairs and sometimes I even get off one subway stop earlier and walk the rest. Whenever the weather is nice I even skip 2 stops on my way to work, which is a 15-minute-walk. I do the same thing on my way home and just like that I already have 30 minutes of being active!
– My breakfast is a big smoothie. I am not really a breakfast person but I love fruit and it keeps me full until lunch time. (Find the recipe HERE.) 
– For all of my meals I try to have double the amount of veggies than carbs. So for example if we're having pasta, I make myself a huuuge salad on the side, rather than having a second serving of pasta.
– If I am craving chocolate, ice cream, chips or a cookie … I will have some! Not a fan of big restrictions, but just try to stick to reasonable portions. Sometimes a teaspoon of Nutella + a glass of milk is the perfect solution to satisfy those cravings 🙂
– Fresh ingredients!! I enjoy cooking at home and I make it a point to stick to lots of fresh ingredients. Preservatives, flavor enhancers, fats, and the likes can all be avoided with a fresh home-cooked meal!
– There is ALWAYS a healthy option! In example: For you're next girls night try a cocktails with fresh grapefruit juice, basil and vodka instead of a creamy pina colada or long drink that involves coke or sprite.
I like to think of the points above as a mindset, rather than rules! Rules are no fun and are only made to be broken. So try to think of a few ways to make your life more healthy in general, without making yourself unhappy. And be sure to set realistic goals, otherwise you'll just be disappointed with yourself if you're unable to fulfill those goals.