FOR THE HOME: project entrance area
As much as I love our apartment, I am beginning to feel like it is getting too small. When we moved in almost 3 years ago, we were well aware of the fact that we were  passing on extra space (ie. an office or guest room) in favor of the rooftop terrace. After 10 months of searching, we simply became more realistic and decided that you just can't have it all (unless you have unlimited funds), and the outdoor space was something we weren't willing to compromise on. We love the area where we live and nothing beats our "second living room" during the Summer. However, the longer we live here, the more stuff we collect. Meaning: We're running out of space. In desperate need of more storage room, I have come up with a plan to transform our entrance area, allowing space for a 2 meter PAX closet. My mom is coming into town next week to help me, and I am super excited for a little redo. It's been way too long since I got to shop for furniture! Until it is all done, here is a preview of what I have planned: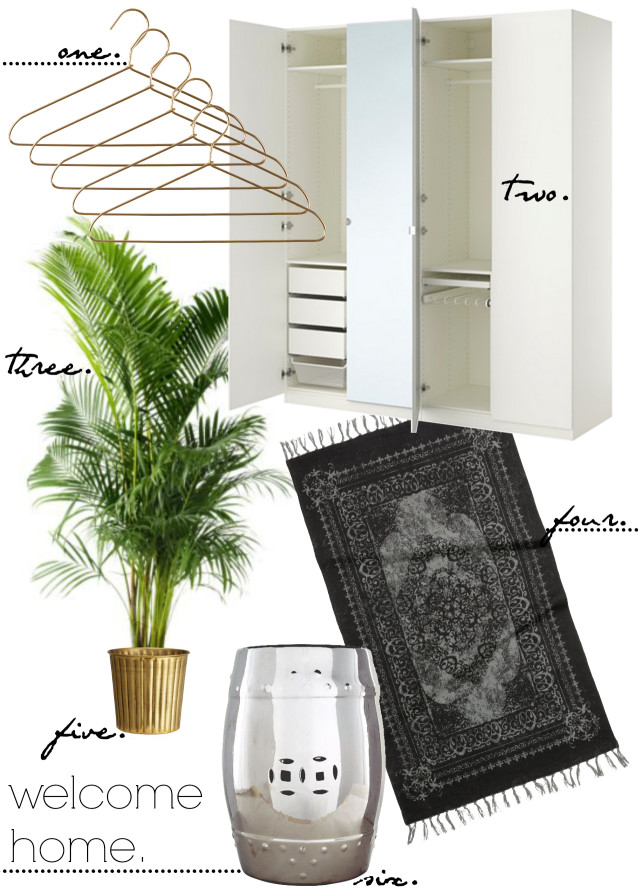 1. Since the entry way closet will also double function as a place for our guests to place their jackets and coats when they visit, I wanted nice hangers. Spotted these pretty metal options in gold and silver, and am currently trying to decided which color to get.
2. The main act: a huge 2m PAX closet. So excited for my mama bear to come into town and help me put it up next week!
3. To make the big mirrored closet seem a bit more welcoming, I want to add a plant to the space. Ideally a palm, but I am not sure if it'll survive, since we don't have any direkt sunlight in the entrance area. Do you guys have any tips on pretty indoor plants that can do without a lot of light?
4. I spotted this rug at H&M Home last week and absolutely love the dark Persian inspired rug. I think it would compliment all the metals nicely.
5. Another H&M Home find, a golden planter for whatever plant I end up choosing.
6. This is the only piece I actually already own. I love our Chinese garden stool in the living room with a bunch of magazines stacked on it, but I think it would be such a good item for the entrance area, so I'll probably move it there. Plus, it'll be convenient to sit on when putting on shoes.
What do you guys think?