FOR THE HOME: how to style a sofa
Last week I showed you guys our bar tray, this week I thought it would be fun to share our sofa and how I have added to it over the past 6 months.
We have a big living/dining room (36 sq. meters) with an open kitchen, which I love SO much!! So the couch and living area really is a major focal point and it also happens to be the first thing you see when you walk into the room. Mike and I both wanted a big couch for the new apartment with enough room for both of us to lay on it. We chose the "DUNE" by Interio.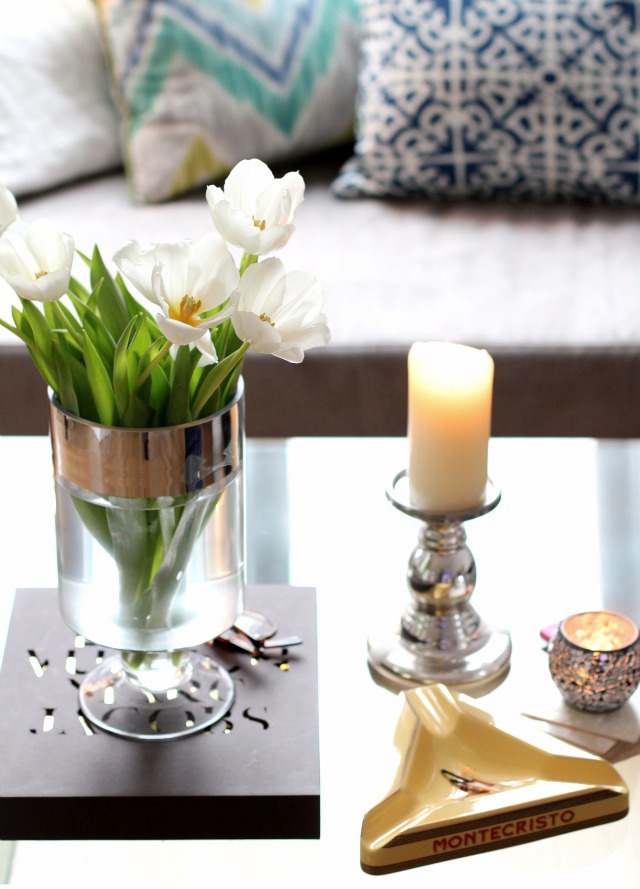 1.) I feel that one of the easiest ways to decorate are definitely fresh flowers. They add an instant freshness and pop of color to any room. I try to have some on the coffee table and dining table most of the time. Vase  and coasters from ZaraHome, candle holder from IKEA and the ash tray was a gift for Mike from my parents.
2.) Books make everything feel cozier and more "at home". No matter if on your night stand, in the kitchen (hello, Jamie Oliver!) or on the coffee table: Books tell stories of what your interests are and are also great conversation starters. I like to switch between only displaying a current favorite and stacking lots of books on the coffee table.
Top to bottom: Domino – The Book of Decorating, definitely THE book to own in terms of decorating room by room // Making a House Your Home has a similar approach as Domino, but a bit more playful & less elegant // The Things That Matter – my personal favorite of 2012! Nate Berkus tells stories of people that have made a home for themselves and why things really do matter // Louis Vuitton & Marc Jacobs, one of those books that are simply gorgeous to look at & it also gives lots of interesting insight to Marc Jacobs as a designer.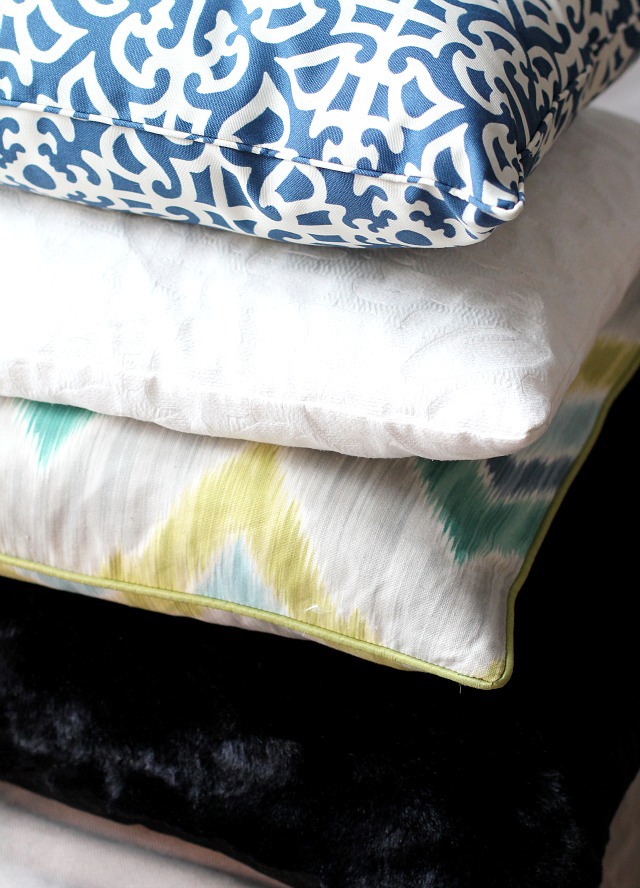 Top to bottom: blue patterned pillow by Jiti Bedding via Westwing.de // off-white pillows (2) from IKEA // chevron pillows (2) in blues & greens by Jiti Bedding via Westwing.de // dark blue faux fur pillow from Interio // the big gray pillows came with our sofa from Interio
3.) Colorful or patterend pillows are a major obsession of mine. I spend way to much money on those fluffy things (I think Mike will probably have a heart attack if I buy one more pillow) but it is so worth it to me. In my opinion, pillows really give character to the place. For mixing colors I try to stick to a certain range of colors (gray, blues and greens) that go well together. For the patterns don't go too overboard, but try to focus on one smaller pattern in a basic color and one bigger pattern (ie the chevron) in different colors, as well as some basics (ie. the white and dark blue).
4.) Another great way to spice up the living area a bit and make it look more put together is by adding accessories, such as a fun side table with your favorite magazines, a big tray with candles on it or a poof. I decided to go for the poof in dark blue velvet from Westwing.de, it goes great with the gray, blue & green color scheme and is a fun element to add to the living room.
I found most of my inspiriation on Pinterest, The Glitter Guide (how to style a sofa) and The Everygirl (how to style a coffee table). Other than that our coffee table "Ally" and the faux fur blanket are from Interio, the lamp "Ludwig" is from ZaraHome and the storage boxes that the lamp stands on are from IKEA.
If you have any questions about certain items, feel free to post them in the comments.