CRAVINGS: Vienna, my love.
Even without traveling, I am usually well aware of how blessed I am to call a beautiful city like Vienna my home. There is so much I love about it, including the historical architecture, the famous café culture and that special feeling in Spring when you can start hanging out by the Danube Canal again. After 8 days in tropical paradise and the desert, it's good to come home to a city that feels familiar but still never ceases to impress me. Vienna is known all around the world for different things, including the Opera Ball, Empress Sissi, the delicious Manner Schnitte – a personal favorite of mine – or the designer Marina Hoermanseder, who has even made headlines on the US Vogue this season. Reason enough to dedicate today's Sunday Cravings to a few awesome things that find their origin in Vienna while we spend the rest of the day out on the deck soaking up some sunshine with friends. Home sweet home ♥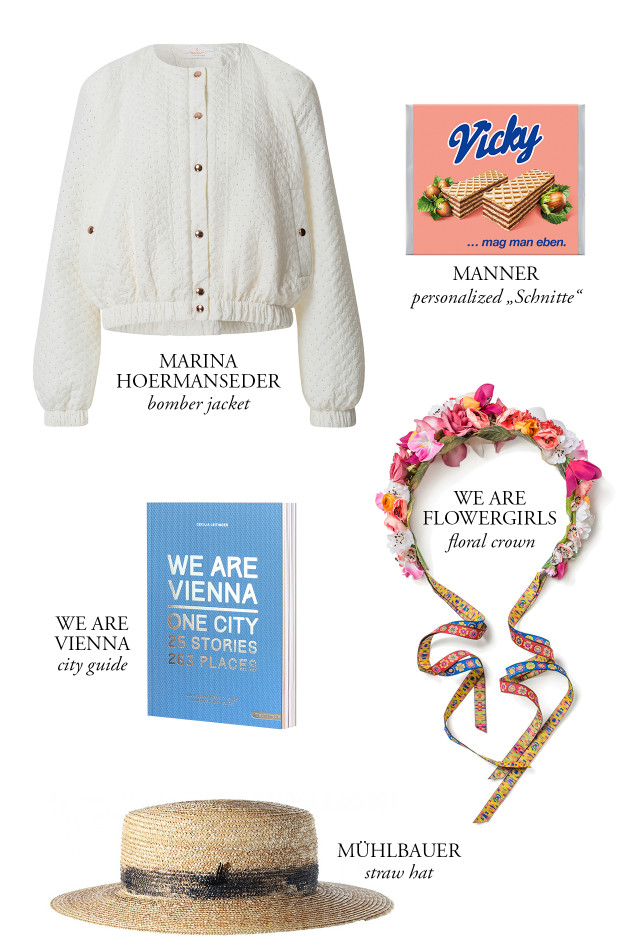 Marina Hoermanseder bomber jacket: If there's one piece that made a re-appearance this year, it is definitely a bomber jacket. Such a must have of the season and I have been drooling over this one by Marina since her show last Summer. Obsessed with her iconic buckle detail on the back.
Personalized Manner Schnitte: Manner is a line of confectionery from the Austria and the company's best-known product are the "Neapolitan wafers", which happen to be a favorite sweet treat of mine. I am a sucker for anything with nougat or hazelnut and these most definitely fall into this category. Currently, the company has a special edition available until April 30th, which allows you to create a personalized "Manner Schnitte", which was waiting at home for me after touch-down from Abu Dhabi this morning. Talk about a warm welcome – a little taste of Vienna.
"We Are Vienna" City Guide: Whenever I travel, I love to get to know a city for what the locals love it for. The small brunch hotspots, the coolest bars or the best interior stores make my heart beat a little faster. Cecilia has become a serious power woman this year and is not only one of the lovely ladies behind We Are Flowergirls, but also decided to create a super cool guide to Vienna with 25 locals and their stories about Vienna that you should definitely check out if you plan on visiting. Or if you live in Vienna and want to discover a few new places, for that matter!
Mühlbauer Finn Rix straw hat: Mühlbauer is another family-owned company that is iconic for Vienna to me. They've been around since 1903 and make some of the most amazing hats you've ever seen. Plus, I adore their boutique in the 1st district! This straw baby would be perfect for a Summer spent by the Cotê d'Azur or along the Amalfi coast, right?
*powered by MANNER