CRAVINGS: summer swim
The past two weeks have been beyond busy and I find myself craving a relaxed summer day, somewhere by the pool – preferably even the ocean. However, Mike and my schedule are currently super packed and there is no vacay in sight (except for a little 4-day getaway in August). So while I keep dreaming about the ocean, I had a look around some of my favorite online shops and found lots of beachy essentials that I would definitely take with me. I love that white, slightly oversized dress, which would look so good with tanned skin! And what better, than to take a dip with a cute, tropical bathing suite, like the one by Poko Pano, found via GIRISSIMA.com?
Speaking of GIRISSIMA: Have you guys entered the 2000€ giveaway yet? You can still take part until Jule 30th for a chance to win a huuuuge shopping spree!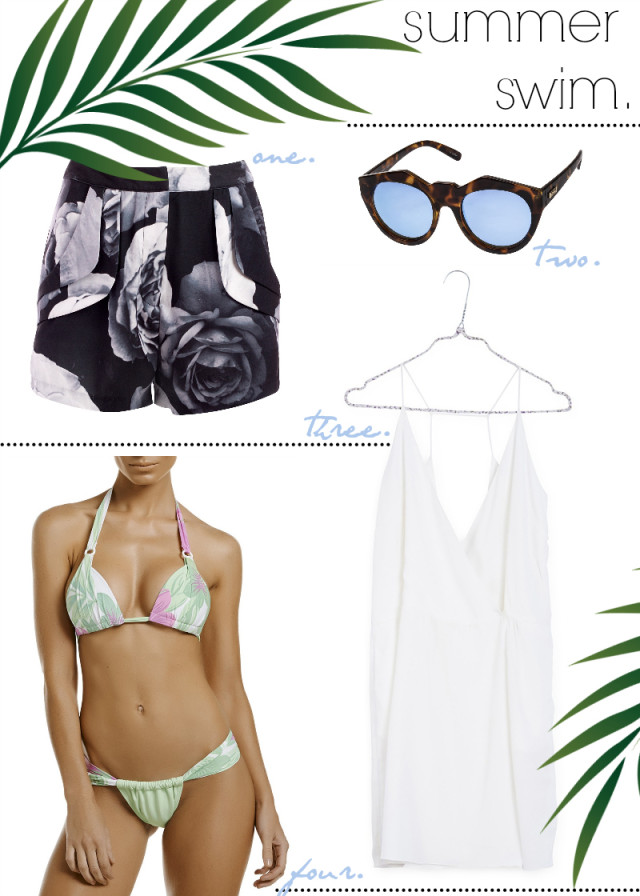 1. We're already in the middle of July and shorts are highly necessary. I adore the pretty print on this pair by Cameo.
2. I've been obsessed with my Le Specs sunnies ever since I got them a few weeks ago, and I certainly wouldn't mind calling a second pair my own!
3. White is always a good idea for Summer! I love this loose fitted dress by Valentina Gari and feel like it would be perfect to bring on a vacation – it works casually over a bathing suit for lunch at the beach, or with strappy heels and bright lips for a dinner date.
4.  Vacation, beach, ocean … they simply don't work without a cute bikini. I just discovered the brand Poko Pano on Girissima and love this tropical beauty!
*in collaboration with GIRISSIMA.com