CRAVINGS: summer blues
While we enjoyed beautiful summery weather last week, the forecast says lots of rain for the next few days. Feels like we've got the summer blues … and speaking of summer, here are a few beautiful blue items that are currently on my wishlist for a bit of ocean feeling!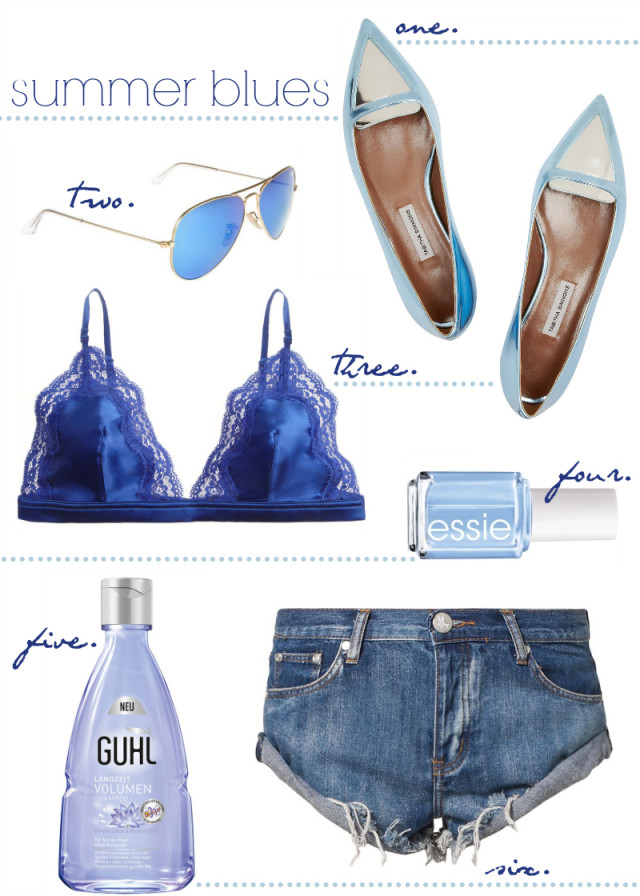 1. I've been coveting Tabitha Simmons flats for a while now, and these beauties literally scream summer!
2. Even though aviators don't look that good with the shape of my face, I am utterly in love with these mirrored ones – wish they looked good on me…
3. Lately I've been living in lace bralets – soo comfortable and pretty underneath a sheer summer top.
4. "Bikini So Teeny" is probably the most fitting nail color ever for summer, let's get out those bikinis!
5. Even though I have lots of hair, for some hairstyles (ie. HERE) I like a little extra volume and body – especially if I wear my hair in waves! Also, do you remember THIS post? I used Guhl's "Langzeit Volumen Shampoo" for that and love the look ♥ Gotta love big summer hair!
6. Ever since receiving my first pair of One Teaspoon shorts I have basically worn them non-stop. Now, a pair of the trashed freebirds is on their to me and I am also coveting this pair of shorts.
What's on your summer wishlist?
*in collaboration with Guhl