CRAVINGS: holiday ready
With all the coziness yesterday at home, I totally skipped my cravings. And cravings are never to be skipped, right? After all, we have to dream about all those pretty items! This week, I've finally found myself getting into the holiday spirit a bit. I am planning first Christmas presents and wearing warmer clothes. This year, I am especially excited about spending the holidays with the family. My brother has been away in Germany for an internship and I can't wait to spend a few days together with all my loved ones. And speaking of the holidays, I am also looking to update my closet a bit. Aside from gorgeous, lacy underwear (which are always a must during the most romantic season of the year!), I've had my eye on a really red nail polish and am on the lookout for the perfect wool coat. Suggestions are welcome, because the baby on my wishlist would make me bankrupt in a heartbeat. Oh, and don't even get me started on that Valentino bag …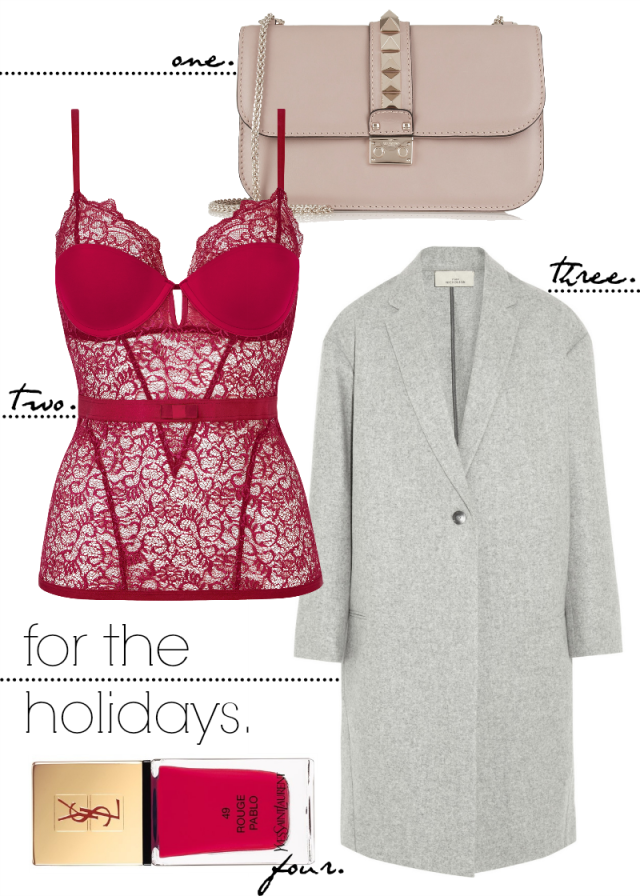 1. To be honest, this bag wasn't always on my wishlist. However, that all changed once I saw it "in real life" on Nina Suess this Summer. It has been haunting me since then!
2. Even if you don't plan on seducing your better half with some stunning lingerie by Triumph, treat yourself to a little something pretty this holiday season. Nothing boosts your self-confidence like gorgeous undergarments. I've had my eye on this stunner for a while now!
3. Finding THE perfect coat seems like an impossible task. Especially when you don't have unlimited funds. This one looks amazing, but my credit card would scream in pain – so the search continues.
4. After I raved about my love for the YSL "fuchsia cubiste" nail polish HERE, a reader kindly suggested "rouge pablo". Love it!