CRAVINGS: fully equipped
If my birthday was coming up next week, there would really only be one thing on my wishlist at the moment (aside from the new macbook pro I desperately need – but that's a whole other story). The thing I am craving right now is a really pretty, high-quality silk blouse by Equipment. Actually, I am craving 4 of them, but I would definitely be happy with just one 🙂
Over the past year I've really managed to get a good grip on my spending habits and I totally stopped "just stopping by Zara or H&M on the way home" – you know those days, when you're not even looking for anything but walk out with a bag full of new stuff? Not happening anymore! The downside of that is that I have to be more creative with my outfits, since I have to work with what I have, rather than shopping for new things every week. BUT on the upside, I now take lots of time deciding on the new pieces that I want to add to my wardrobe (I always try to think "timeless"), and I can also spend more money on things of really good quality. 5 Zara blouses = 1 silky Equipment blouse. But I simply haven't gotten myself to spend 250€+ on a blouse, so right now these babies are still on my wishlist, and not in my closet yet…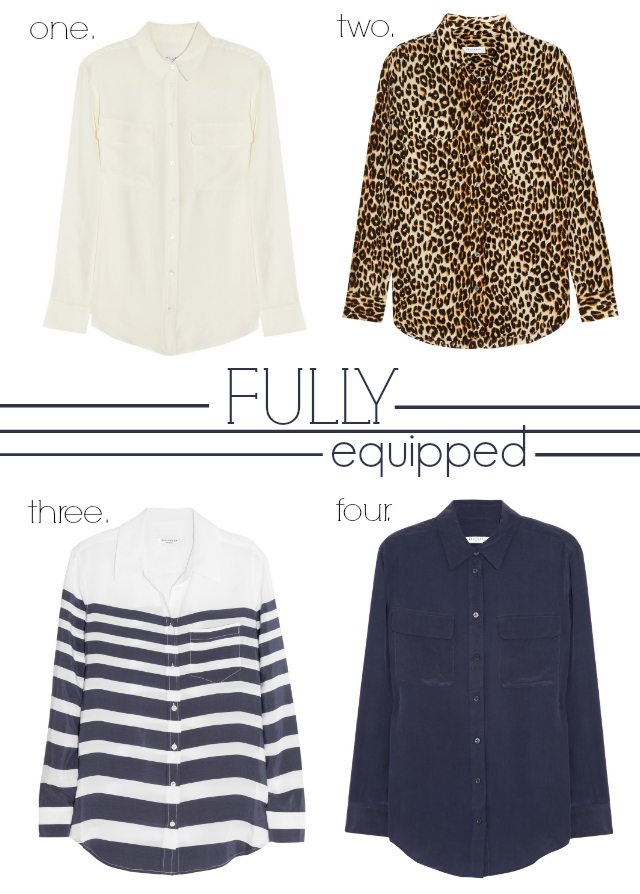 1. Even though I'd love to own every single one of these pretty blouses, for starters I would probably go with the simple off-white as it is definitely the most timeless choice and can be worn in so many ways.
2. A little leopard always makes my heart beat faster – think black skinny jeans, my rocco bag & Miu Miu pumps ♥
3. Lately I've really been drawn to the combination of blue & white. I especially love it during summer time!
4. I don't really own a single blouse in navy, so this one would definitely be a smart-shopping-choice and super cute with a pair of light-washed jeans and a big statement necklace!