CRAVINGS: editor's choice with HALLHUBER
I was recently asked to pick my personal "Editor's Choice" with items from HALLHUBER. Obviously I said "Yes!" right away because I adore the brand and thought it would be an easy task. Unfortunately, narrowing down my top 5 items from their newly relaunched online shop was much harder than I had imagined. So much pretty stuff to choose from, how could I pick just five?? In the end, however, I decided to go with timeless pieces that I already own and love, mixed with a bit of animal print and sequins. The black coated skinny jeans are my all-time favorites (umm I already own 3 pairs …) and the long blazer just made it's way into my closet last week and is so versatile. For everyone that wants to do a little online shopping to end the weekend, be sure to make use of the -20% welcome bonus for the new & improved online-shop for your entire purchase which HALLHUBER is offering right now until tomorrow, the 19th. Happy Sunday, girls!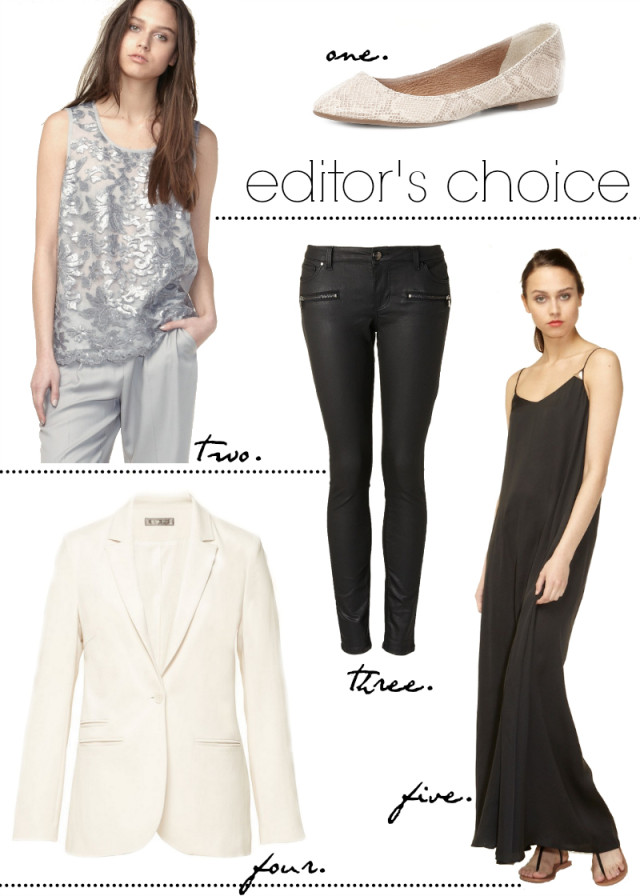 1. Summer is just around the corner, so I am constantly on the lookout for cute leather flats. Add a bit of python print and I am sold!
2. This sequin embellished top was love at first sight. I love how fancy it is, but the slightly oversized fit makes is so cool ♥
3. Obviously the famous black skinny jeans had to be a part of my picks. Major love!
*Since a lot of you have emailed me about the jeans: I wear a size 36 in them and they fit like a glove – I am 172cm tall 🙂
4. The newest addition to my closet is this off-white long blazer. It is perfect for dressy occasions, but also looks great with destroyed jeans and flats.
5. Maxi dresses are a must for summer, and I love how this one is super simple, but the metal details make it special.