CRAVINGS: cool cat
On most days I would describe my style as pretty classy and timeless (not too experimental), with a girly touch. But sometimes I am craving a bit of an edge – biker boots, chains, studs & some black. Today's cravings are for my inner cool cat! Dark lipstick (I've been wanting something Tom Ford forever …), a Stella McCartney clutch (I think the Falabella from last christmas is still one of my favorite purchases of the year), and of course a scarf by Alexander McQueen.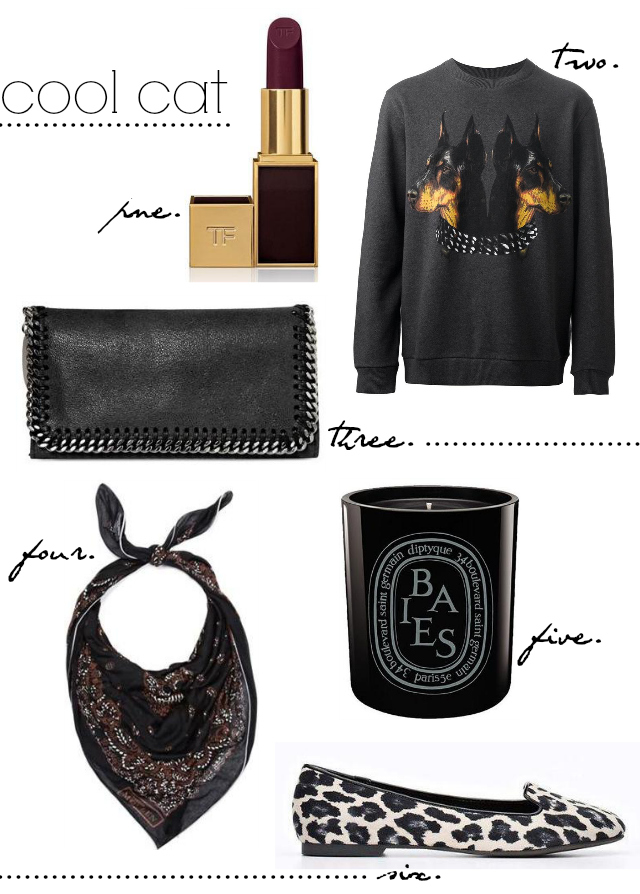 1. I am not sure I could actually pull of this color, but I kind of love the idea of owning some Tom Ford Beauty products.
2. Givenchy is now famous for their edgy "dog-face-sweaters" – I think this one would be pretty cool with my white equipment blouse underneath, black skinny jeans & biker boots.
3. If I had an unlimited bank account I would probably own many more Stella McCartney bags, including this one!
4. It is no secret that I am a huge fan of Alexander McQueen's scarves, I love my girly white & flowery one, but this black version would be perfect for fall.
5. Diptyque is always a good idea & I think this black version of the "baies" candle would look amazing on our glossy white dining table.
6. My favorite neutral: animal print! Loving these loafers ♥