CRAVINGS: casual sunday
For me, Sundays are sacred. I cherish it as the one day per week that is dedicated strictly to sleeping in, coffee runs with the boyfriend, watching movies and amazing food! We always have my sister and a small group of friends over for our "Sunday cook-outs", where we try new recipes and spend most of the afternoon in the kitchen together. It has become a tradition and my favorite part of the week! On today's menu: thai summer rolls, satay chicken with peanut sauce and homemade macarons for dessert. Obviously I don't want to be in my sweats when we have people over, but I am also not a fan of dressing up for a casual day with friends and family. My go-to look is usually a comfy sweater, favorite jeans and whatever else I stumble upon. This week, I have teamed-up with Opus-Fashion for a casual Sunday look that I'd love to wear today! Stripes, comfy jeans and a cool hat! My favorite fashion equation is always "stick to basics and add one or two highlights" – in this case I feel like the hat makes the look complete! How do you guys like to spend your Sundays? Whatever it is you're doing today – I hope you have an amazing 7th day of the week!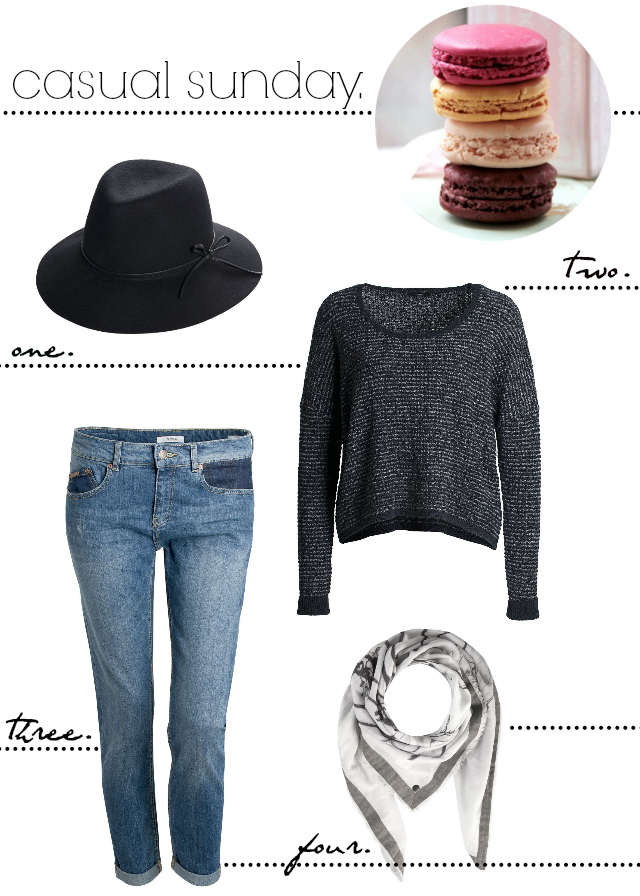 1. The hat is my favorite part of the outfit. I feel like it instantly transforms the casual look into something cool! Plus, a black hat has been on my wishlist forever!
2. Just recently, Kathi and I talked about how we need to add more stripes to our wardrobe. This sweater would be a perfect start!
3. Blue demin = casual Sunday at it's best!
4. Especially with the current weather I never leave the house without a scarf. It is starting to feel like spring, but once the sun disappears it cools down quickly – so a scarf is the perfect companion!
*in collaboration with Opus-Fashion