BEAUTY TALK: Nashi Argan Oil aka liquid gold
The most common question that lands in my inbox is definitely one regarding my hair. I get complimented on my hair ALL the time, and while it certainly is flattering, don't be fooled. Yes, I have thick & strong hair. Yes, I have long hair. And yes, it isn't damaged (because I actually take really good care of my hair). I love my hair, but trust me, it isn't that much better than anyone else's. It takes FOREVER to blow dry and to style it, and during the summer I sometimes secretly wish for less hair since it can produce quite a bit of heat. But, since so many of you are curious about my long locks, I'll try to talk about the products I use, and how I style it a bit more frequently from now on. First up is one of my all-time favorite products: Nashi Argan Hair Oil. I've been using Moroccan Oil for years, and just recently tried the Nashi Argan Oil for the first time. It is crazy! Trust me! Seriously, if you have thick hair that tends to get a bit frizzy and is hard to tame, this will be your best friend forever! Not only does it leave my hair silky smooth, it somehow also cuts the drying time in half. Magic probably, right?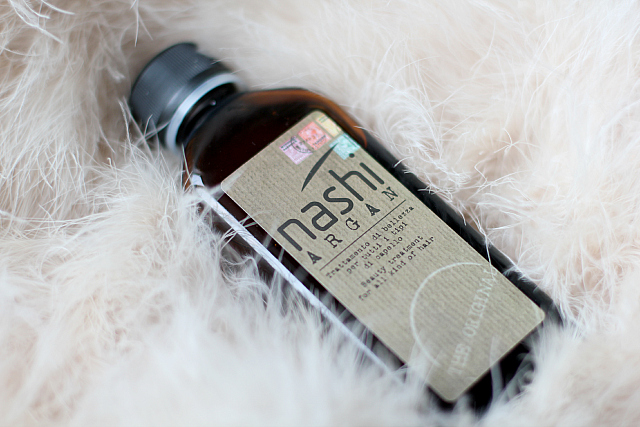 I apply the oil to my damp (towl-dried) hair, mostly towards the ends, but also a tiny bit along my part. Then I style it just like always – I blow dry it straight with a round brush. It used to take me close to 30 minutes after stepping out of the shower, now I've got it down to about 10-15 minutes and am one happy lady!
Since I know a lot of you are going to ask where you can purchase it, I actually tried finding it online – but no such luck … I got mine from a friend, who owns Propaganda in the 1st district here in Vienna. The price for a big bottle is around 45€, which will probably last you all year! If anyone finds it online, do let me know. Once I find a product I love, I tend to go a bit crazy and hoard it (always scared of it being discontinued, like my beloved bronzer by Too Faced).