BEAUTY TALK: favorite hair care products.
From the category of frequently asked questions: what products do you use for your hair?
Since I constantly receive questions about my hair care routine, I thought it was time to give you guys a little update. Before I get into the various products and steps, I just want to mention that this is my current routine. I try to switch the products up every once in a while, since I heard that your hair "gets used" to certain products after a while. However, there are a few brands that have always been a part of my routine for almost 10 years now, such as Kérastase, Remington (for the tools), bumble and bumble and Moroccan Oil. Since all of those are currently part of the deal, I thought this would be a great opportunity for a quick update.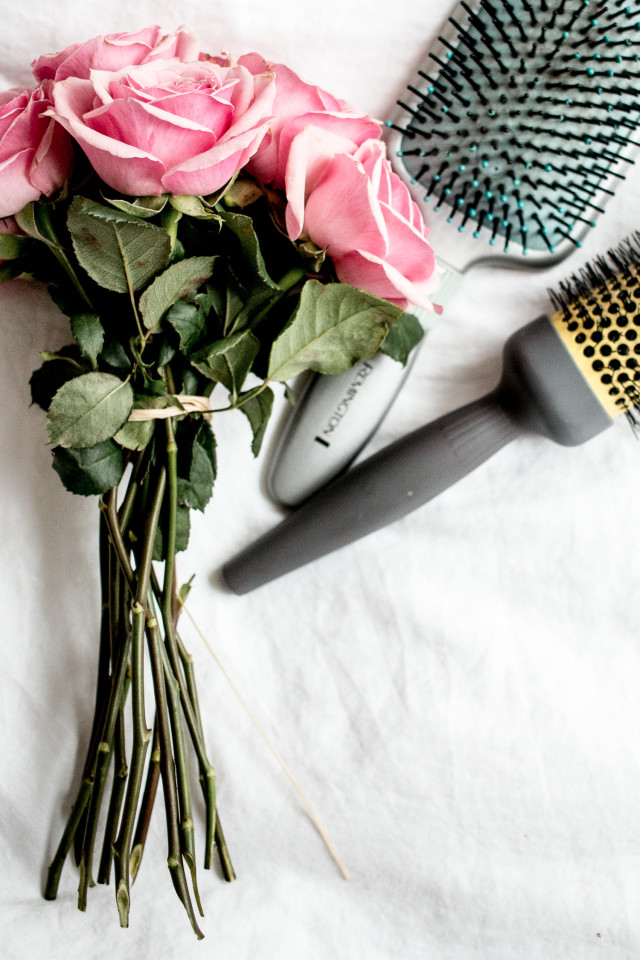 Step 1 "wash & condition": I wash my hair every 2-3 days, depending on how much I workout. By the way, does anyone else plan their workouts according to their washing cycle? Guilty!! For washing I usually use Kérastase products (have been since I was 18 except for a few short breaks) and love their Cristalliste series, the Bain Oleo Relax shampoo and Chronologiste – which is what I am currently using. I never wash my hair without using conditioner after, mainly because my hair is super thick and has a natural wave to it. The conditioner really helps smooth it out. I either use the matching Kérastase product to go with the shampoo or the Moroccanoil smoothing conditioner, which I absolutely adore at the moment. I already ran out of the shampoo to go along with it, but if you want to try something new, definitely give this a try!
Step 2 "deep condition": About once every two weeks I will opt for a deep conditioning mask instead of regular condition. This stays in about 10 minutes and literally leaves your hair silky smooth. I have used the bumble and bumble creme de coco masque for years and still love it. Another great option is the smoothing mask by Moroccanoil.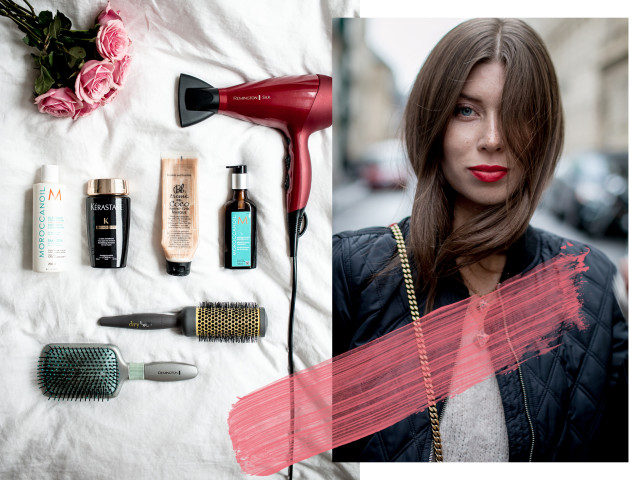 Step 3 "towel dry + oil": Once I step out of the shower, I usually wrap the wet hair in a towel for a few minutes while getting dressed and then gently towel dry it. Once it is not dripping wet anymore, I brush it and add some of the classic Moroccanoil to the tips. About 2 pumps from the bottle. On other occasions I have used the Nashi oil, which works just as great, but I personally prefer the smell of the Moroccanoil.
Step 4 "blow dry": As you guys know, bad hair dryers are my pet peeve at hotels. That's probably because my own dryer is SO good. With thick hair like mine, it can easily take up to 30 minutes to get the hair to dry. However, with my Remington silk dryer and a paddle brush I am all done in about 15 minutes. Plus, I don't straighten my hair, instead I use a round brush and the hair dryer to make it straight, which is literally a mission impossible without a powerful hair dryer.
Step 5 "styling": As I mentioned above, I haven't touched a hair straightener in about 5 years. I personally feel like blow drying it straight with a round brush makes for a much more natural look and gives the hair more bounce. Once the hair is almost dry, I put the upper half up and start with the bottom. Just going over it with a ceramic round brush and the dryer. Next I take town the next layer and part the hair down the center for the last bit of drying with the round brush. For the front layers I then use one big curler to make the hair fall around my face in the right way. You guys can see how I do that in this video ("the blow-out").
I hope I covered most of your questions – if there is anything else you'd like to know, simply leave a comment below.